Christmas Eve has been a historic night for antisemitic violence throughout history, and this past Thursday night, Christmas Eve violence came to NBC's Law & Order SVU. The episode focused on attacks in New York City targeting the Orthodox Jewish community. As hate crimes against Jews (particularly Orthodox Jews) have been up all over the country, and especially in New York, this is an urgent topic to tackle. In both 2020 and 2021, Jews were the most common target for hate crimes in New York. Of 494 total hate crimes committed in 2021, 179 were committed against Jews. Or in other words, Jews make up only 9% of New York's population, but are 30% of its hate crime targets.
Not only did the episode show hate crimes against Orthodox Jews, the writers were willing to broach an uncomfortable part of the story – the most common perpetrators of these recent crimes have been Black New Yorkers. In fact, the police chief asks a question that is probably the reason that a lot of media has been reluctant to cover these stories and describe the perps: "So we can't go after hate crimes against Jews if Black kids commit them?"
When one of the perps is arrested, he describes a sentiment that sadly too many people likely share, "Those people in the funny hats, they think they're better than us." An equally sad part about this exchange is that there are Orthodox Jews who walk around with an arrogant attitude. Bad attitudes are NEVER an excuse to be physically assaulted, but as a community committed to continuous self-reflection and growth, we must always be cognizant of the messages we give off, both explicitly and subtly.
Those were all of the positive aspects of the episode. I have some complaints, as well. The writers found the need to include a white supremacy angle to the story. Now, there are certainly serious enemies from this camp – in fact, two individuals who carried out murderous synagogue attacks in the last few years hailed from this group. But these are not the assailants who are involved in the New York Orthodox Jewish attacks that occur on a weekly basis, and it felt like a distraction to bring in Nazi-style antisemites, who are much easier to hate, rather than to face the discomfort of one minority attacking another. Same thing with the other minorities being attacked in the episode. Middle Eastern and Muslim attacks are horrific and worthy of exploration in their own right. But clumping multiple minorities together, when the perpetrators of the New York Orthodox Jewish attacks seem to be focused on Jews alone, dilutes the terror that "those people in funny hats" are facing everyday. We could have gotten to know the people being attacked and the attackers better, and maybe even see a glimmer of hope at the end, that the communities were working together to increase understanding.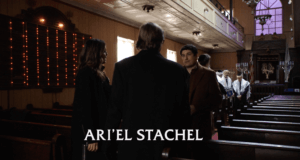 There were some cringeworthy parts to the episode, as well. While the opening shul (synagogue) scene looks reasonably realistic, and my research confirms that there is one non-Hasidic shul in Williamsburg, it is frequented by Hasidim on the fringe, not the clean-shaven guys depicted. I do appreciate that they showed some non-Hasidic Orthodox Jews, a group that is essentially invisible in media, but in the brief time we do see them, they don't say a word. We do hear that one woman is an Auschwitz survivor, but she's not sure if she can survive this. That's kind of a strange line. Another strange line, which references Hatzala (the Jewish ambulance corps) that one of the cops says is that that the victim was "matza-boxed" to the hospital. I never heard this term before and can't find it anywhere online. These Hasidic character shows are so into using Jewish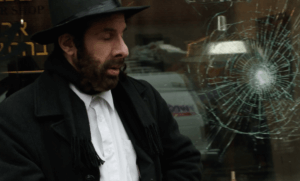 jargon to show they know Jewish jargon that they often use it to the point of lacking authenticity.
After the synagogue scene, we see the typical TV "Hasids," with the typical unrealistic peyos. One has an inauthentic-looking hat. If Orthodox Jewish consultants were in the writer's room (as we are working on with our JITC Hollywood Bureau) from development through production and marketing, these silly mistakes could be avoided.
Besides the costumes that lack authenticity, the names (like Deborah and Aaron) are often wrong, and the accents sound more like Russian than Yiddish. Not all Hasidic Jews, especially the women, even have Yiddish accents (they likely have New York accents). The need to slap on the accent is a result of, I believe, this desire, consciously or unconsciously, to exoticize the community. In a show about including minorities, this is an unfortunate blunder.
Something else I notice when Hasidic Jews are depicted is that they almost always look unhappy. I understand that this is a show where people are regularly assaulted and murdered, so most extras on the show aren't coming on because something good happened. Which makes me wonder when we'll get an Orthodox character on a show who is a regular guy that the audience can relate to. He may have a funny hat or "beanie" but he can laugh and love and contribute to the story in the show, like any other character (and he won't need to escape his Jewish identity to do this). Give us an Orthodox Jewish cop character who can be one of the heroes.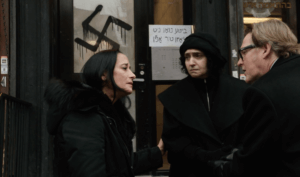 This episode confronted attacks on Orthodox Jews, and I applaud NBC and SVU for doing that. But othering a community on the screen, even in subtle ways, opens the door to violence, as non-humans are easier to attack than fellow men. So yes, we are different in our own ways and most of us are proud of those differences, but we have a lot in common with humankind as well. And the more that media can portray the shared humanity of the "visible" Jew, the safer all Jews will be.
This episode scores a 2 on The Josephs Test by Yael Levy, which.you can see here.
If you found this content meaningful and want to help further our mission through our Keter, Makom, and Tikun branches, please consider becoming a Change Maker today.