Am Yisroel Chai.

These are the infamous words uttered by my heroic uncle, Rabbi Yisroel Goldstein, rabbi of Chabad at Poway in San Diego, California. With his bleeding hands, he screamed these words to his community. With his incredible courage, he shouted out loud that we, the Jewish people, will not be stopped. We won't back down. We will continue to grow now more than ever.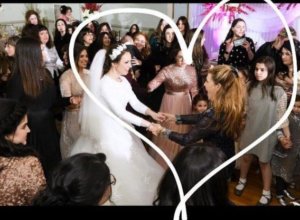 Just two weeks before Pesach, we celebrated the wedding of my uncle, Rabbi Yisroel Goldstein, and his dear wife Devoirie's daughter Baila, in Crown Heights. Lori Kaye was there. She danced with the bride so elegantly, hugged my sisters and danced like nobody was watching. I watch that video every day. She caught up with my sisters, like old friends do. Little did we know this would be the last time we saw her.
Lori has known my immediate family for over 30 years. We consider her family. She was always the first one to volunteer to do chesed, baking challah for Shabbat and dropping them off to friends and strangers. She made us laugh and offered her help so many people in various ways. Her never-ending energy was displayed when she started Friendship Circle exactly one year ago to the day of her passing.
Being that we spent the High Holidays and many Pesach sedarim with the community of Chabad at Poway, over the years, we've built close relationships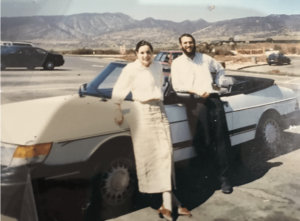 with the congregation members and have come to call them our second family. I met my wonderful husband in Poway as my uncle was our matchmaker, and we later made my oldest daughter's bat Mitzvah celebration in Poway. 
Since we know the layout of the shul, the events that occurred play over again in my mind since the awful tragedy. I know the corridor, I know the room where the children were playing because my own children played in the very same space a few years back when we had a beautiful community seder there. I felt at home, I felt we belonged. This story is not too close to home…it is home. 
I've seen firsthand the devotion that Uncle Yisroel and Aunt Devoirie have to their congregation, building it up from scratch. As children, and young adults, my siblings and I used to dream about living in Poway: a beautiful town, peaceful and lacking the intensity of city life. The events that occurred on the last day of Passover rocked the world. It is a testimony to all of us that it can happen anywhere.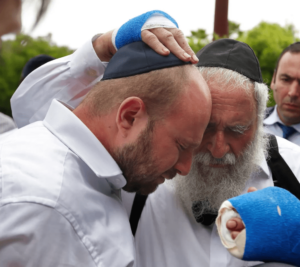 My dear uncle has shown that a broken man can take a truly tragic event and turn it into a remarkable beacon of hope and inspiration for humanity. Despite his devastating injury, he found the strength to inspire his community in its darkest moments. He jumped into action after being shot point blank by an evil terrorist. Less than 12 hours after experiencing the most horrific attack on his personal life and losing a very dear member of the congregation, Uncle Yisroel set aside his physical and emotional pain and extreme fatigue to address the world. Rather than choosing to keep his privacy or point out all of the negativity in the world, Uncle Yisroel has chosen the path of spreading LOVE.
Eleven years ago, Chabad Emissaries Rabbi Gavriel and Rivka Holtzberg, who ran the Chabad house in Mumbai, India were murdered with four of their guests. They were targeted by a terrorist group because they were Jewish. Over Pesach, another Chabad couple in Kenya was terrorized. Chabad is on the front lines in every continent to bring goodness and kindness to the world, as the Rebbe begged the world to accept his important message of doing acts of kindness in preparing the world for a time of peace and tranquility. It is time for the world to wake up and join the campaign.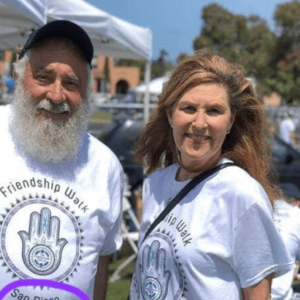 Lori had a pole in her garden that had a quote written in five languages "May peace prevail on the earth." She was already preparing the world for moshiach, besides for all her acts of goodness and kindness! Uncle Yisroel encourages us to use this opportunity to show compassion. Care about your fellow neighbor. Teach your young children about acceptance and tolerance of all races and religions. Let's make a FOREVER difference so that hate crimes are eradicated once and for all. Let's put a moment of silence back into Public Schools, as the Lubavitcher Rebbe requested so many times.
As a direct result of the way Uncle Yisroel has chosen to respond to this atrocity, people around the world from all walks of life, have been offering support. They're able to see the goodness in his heart and want to become partners in this new world of LOVE. We pray that the positive change that has already taken place will continue to impact globally. In the words of my uncle: "From now on I will be more brazen, I am going to be even more proud of walking down the street wearing my yarmulke and tzitzit, acknowledging G-d's presence. I'm going to be using my voice until I'm hoarse to urge my fellow Jews to live Jewish. I do not know why G-d spared my life, all I can do is make my borrowed time matter."
We are strong. We are united. They can't break us.
Am Yisroel Chai.
Thank you to my sister Esty Katz and cousin Chaya Rochel Lipsker for contributing to this piece.
If you found this content meaningful and want to help further our mission through our Keter, Makom, and Tikun branches, please consider becoming a Change Maker today.