While we have previously discussed why Orthodox Jewish men wear yarmulkes (kippahs), and why many also wear hats, not all hats and yarmulkes look the same, and the differences in appearance can be puzzling to outsiders (and frankly even to Orthodox Jews in other groups!) Please use our handy visual guide to understanding Orthodox Jewish men's head coverings. This post highlighting the different communities described below may also be helpful. (Editor's note: We are sure that not everyone fits into the boxes we describe below and that someone will disagree with something we said (hey, we're Jewish!) but we did our best to explain these differences as we understand them. If you have another perspective, feel free to add your point of view in the comments below.)
Pinched Hats
Fedora Hat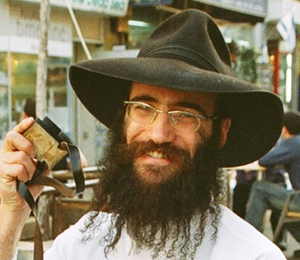 These hats are a standard both in the yeshivish as well as the Lubavitch communities. The flattened pushed-down brim (some describe it as a "crushed" look) is typical of Lubavitch, who often also tend to wear their beards long at any age. A shorter, straighter brim alongside a shorter beard can often indicate that the fedora wearer is someone from the Yeshivish community or the right-wing Modern Orthodox community. (But modern Orthodox men who wear black hats only do so on Shabbos.)
Trilby Hat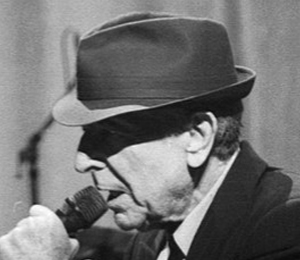 Traditionally made from rabbit fur, these hats were once strongly identified with Frank Sinatra, Inspector Clouseau and Leonard Cohen (pictured). While some pair these hats with the "balebatish" Yeshivish community, they have risen in popularity in the last few years and are the new "in" hat amongst bar mitzvah boys in the Yeshivish community and some in the hipster Lubavitch or Hasidic communities.
Non-Pinched Hats
Kashket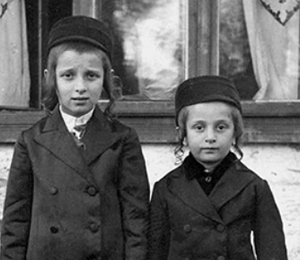 As popularized by Feivel in An American Tail and Tevye in Fiddler on the Roof, this felt cap was once a mainstay for religious Jewish men but fell out of favor. A felt cap worn mostly by Hasidic children on Shabbos, it is a more stylized version of a "newsboy" cap. While popular among adults before WWII, it is now restricted to mostly youthful wearers.
Biber Hats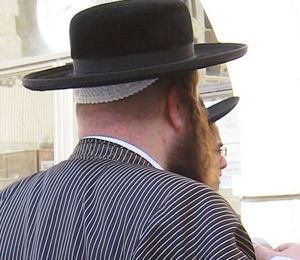 Worn by Hasidic Jews on weekdays (Shabbos, Holidays and weddings are for Shtreimels), Biber (Beaver) hats can be smooth or textured and high or flat (flat being the style worn by Satmar). This style is considered a "flat style" for Hasidic weekday wear, as opposed to the hoiche/high style favored by more branches of Chassidus.
Hoiche Hat
This Hoiche (High) crown weekday style is worn mostly by Hasidic Jews from all different courts, but can also be worn by Rosh Yeshiva in the Heimishe and Yeshivish worlds. Similar to the Biber hats above, they can also have a more felt or furry texture, with felt being more predominant.
Fur Hats
Shtreimel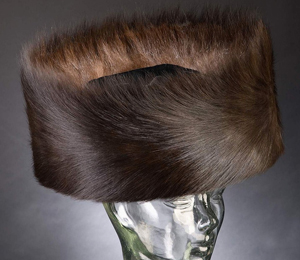 These stereotypically Hasidic hats are worn by married men on Shabbos, Holidays and other festive occasions such as at weddings and minor festivals. In some communities, boys from bar mitzvah age wear them, as do some Litvish Jews in Jerusalem, who are called Yerushalmim. Hasidic Jews adopted the style from nobles in their home countries of Galicia, Hungary and Poland
Spodik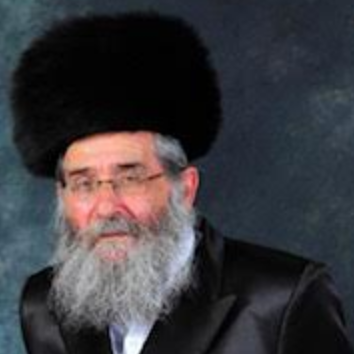 A tall fur hat worn by Polish Hasidic Jews, these are even taller than Shtreimels. Sometimes appearing more natural than the highly-stylized shtreimel, which are rounder, wider and shorter. According to Wikipedia, Spodiks are worn by Hasidic groups including Alexander, Amshinov, Ashlag, Gur, Kotzk, Lublin, Modzitz, Ozrov-Henzin, and Radzin.
Yarmulkes / Kippahs
Black Velvet Yarmulke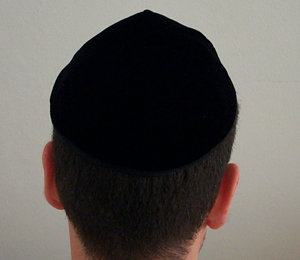 This common head covering can range from the creative (painted or embroidered as seen on young children), oversize (as seen on rabbis and Hasidic men) and others. A standard in the Haredi community, they are also worn by some Modern Orthodox and Centrist Orthodox Jews. (Suede Yarmulkes are also common among Modern and Centrist Orthodox Jews).  Haredi schoolchildren sometimes wear velvet in navy, gray, brown, burgundy and green.
Colorful Knitted Yarmulke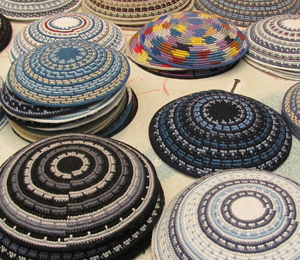 These Modern Orthodox or Dati Leumi staples are usually crocheted into a pattern, but can also include phrases, team logos or be plain black (a sign of the CharDal community in Israel or Centrist in America). While fabric kippahs are now standard in both the Haredi and Modern communities, fabrics range from colorful velvet to burlap to corduroy.
Bucharian Yarmulke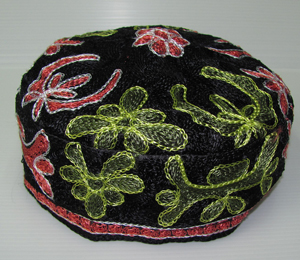 These oversize black kippahs are very structured (almost like a pillbox hat) and often show colorful embroidery across them in floral or botanical patterns. They are worn in the Sefardi/Bucharian community as well as in the Modern Orthodox community. Sometimes children from out-of-town Lubavitch and rabbis from other Jewish streams wear them as well.
Breslov Kippah/Yerushalmi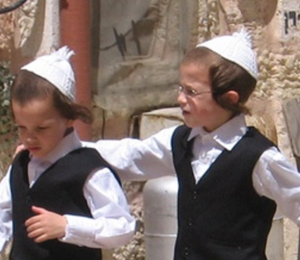 These white, knitted or crocheted kippahs are sometimes plain white and round (such as seen on Yerushalmi Hasidish and Dati Leumi Jews on Shabbos), while Breslov Hasidim wear them in a more pointed style, such as seen on these children. The fringe on top keeps them visually close to the Na Nach style, appropriate considering their shared Breslov roots.
Na Nach Yarmulke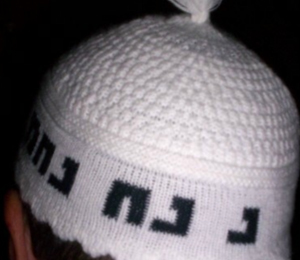 While Breslov Hasidic Jews are known for wearing all-white knit kippahs, Na Nach Breslovers wear ones with "Na Nach Nachman MeUman" stitched into them. This is based on a letter received by Breslover Rabbi Yisroel Ber Odesser on which the cryptic kabbalistic phrase appeared. It became a chant and mantra for the group, which they popularized on everything from bumper stickers to kippahs like these.
If you found this content meaningful and want to help further our mission through our Keter, Makom, and Tikun branches, please consider becoming a Change Maker today.
This article was sponsored by Exhilaread, a thrilling journey to literacy.
If you found this content meaningful and want to help further our mission through our Keter, Makom, and Tikun branches, please consider becoming a Change Maker today.