The most common question I get at our weekly community Shabbos meals is, "You must have spent all week cooking for this!" I always explain that in fact, I only cook on Friday mornings because I don't like to spend my entire week cooking. To make this possible, I've adopted various tricks and methods over my years of preparing hundreds of meals for thousands of guests at our Chabad House. Here are some of my favorite tips that can simplify your Yom Tov cooking and still net you all of the compliments.
Oven-baked grains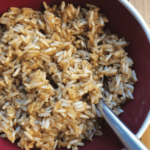 Don't waste your time sitting over a pot on the stove checking if your rice or quinoa is cooking properly. Pour grain, liquid, and any add-ins (such as frozen garlic cubes, shredded carrots, soy sauce or sauteed onions) into a disposable pan, cover the pan with aluminum foil and forget about it in the oven. It bakes perfectly every time and doesn't require dish-washing or stove-watching.
Frozen kugel veggies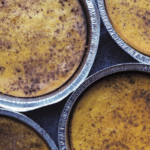 Another huge time-saver is using fresh-frozen vegetables for kugels. For example, using frozen hash browns for potato kugels (and latkes too!) saves hours of peeling and shredding potatoes. I've also had much success using frozen cubed butternut squash, frozen broccoli or spinach, and frozen zucchini for kugels. After defrosting, skip the peeling and chopping, and go straight to pouring in ingredients. My immersion blender is my favorite kitchen tool for blending kugels and dips too!
Mini vegetable sides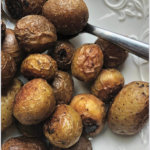 I always like serving a vegetable side dish to complement the main course and other carb-heavy sides, but veggie prep can be so time consuming. That's why I like to use baby carrots, mini peppers, baby potatoes, mini zucchinis or whole mushrooms as a veggie side. After washing your vegetable of choice, arrange on a baking sheet in a single layer and roast with olive oil, salt and garlic for a beautiful and minimally-prepped dish.
Canned apples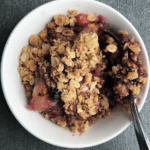 If I want to use apples for a dessert (such as apple crisp, apple cake or even apple kugel), I don't usually have the time to peel and chop bags of apples. Canned apple pie filling is filled with already-peeled and sliced apples–though it is coated in a thick, sugary-syrup. Use the cans in your recipes while reducing the sugar content, or remove some of the syrup before adding it in.
Boneless/skinless soup chicken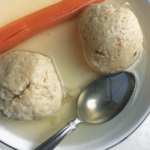 Because I have so many different foods to prepare, I want my chicken soup to be quick and easy. By using boneless/skinless chicken (either dark or white) in the soup, my broth stays clear and I don't need to tend to it throughout the day while it simmers. Make sure to add lots of extra veggies (such as celery root, turnips, parsnips and onions) and some salt to boost the flavor and color.
Slow cooking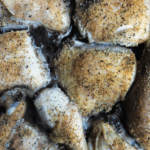 My go-to method for preparing soft, juicy, fall-off the bone chicken and roasts is slow cooking. I have my chickens cleaned, cut and arranged in 9×13 pans before I put them in the freezer, so that when erev Shabbos/Yom tov arrives, all I need to do is uncover the pan (no need to defrost), sprinkle on my seasoning of choice, recover the pan, and bake on low for 3 hours. I treat roasts similarly, by placing in a pan (again no need to defrost), covering with sauce of choice and onions, and slow roasting overnight on a low temperature.
Prepared-ahead-of-time-salads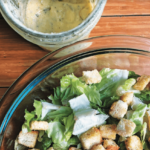 I like to prepare as much of my meal in advance so that I'm not spending the entire evening chopping last-minute ingredients, mixing dressings, tossing salads or dishing out bowls of food. With this in mind, I usually choose first-course salads or pasta dishes that have enhanced flavor when prepared ahead of time (such as sesame pasta or asian slaw), and put them in the fridge already plated, so that they can go straight to the table when necessary. It's also helpful to prepare various bottles of dressings, pre-chopped vegetables (checked lettuce, sliced cucumbers, bagged cabbage or shredded carrots) so that you can throw together a salad in minutes.
Reuvena Leah Grodnitzky's recently published cookbook, "Oneg: A Culinary Shabbos Experience" shares recipes and insights into the beauty of Shabbos. Find out more at www.mamashchabad.org/cookbook.
If you found this content meaningful and want to help further our mission through our Keter, Makom, and Tikun branches, please consider becoming a Change Maker today.