In 2013, I was privileged to meet and film an interview with Senator Joe Lieberman in Senate as part of our first class of Orthodox Jewish All Stars. We recently got a chance to sit down again and chat about what he's been up to since he left government (a lot!) and his new book "With Liberty And Justice: The Fifty Day Journey From Egypt to Sinai."
I started off by letting the senator know that he is the ultimate Orthodox Jewish All Star in my mind – really one of the trailblazers who maintained Jewish observance while achieving tremendous professional success. He replied, "One of the big blessings of my life is that I could stand on the shoulders of Orthodox Jews who have gone before, but also [be alive] at a time when our society was really open to differences…"
While the senator's approach to his success may be humble, his achievements are anything but. Since he retired from the Senate, he is as active as ever, having moved to the New York area to be closer to five of his grandchildren. He joined a law firm in the city and teaches at Yeshiva University on government and politics. He is also involved in lobbying for foreign policy, defense policy, education reform and works to bring bipartisanship to the current government. "I [spent] forty years in elective politics, and I never wanted, God willing, my life to end there. I always wanted a chapter like this, and I'm enjoying it immensely."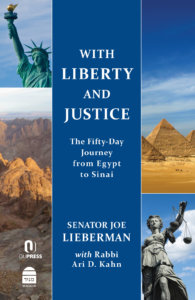 As if his "retiree" schedule wasn't busy enough, Lieberman has found time to continue to write. He is a prolific author who has written on topics including biographies, political history, his personal journey, and his popular book on Shabbos called The Gift of Rest. His second Jewish book, which debuts this week, With Liberty and Justice: The Fifty Day Journey From Egypt to Sinai, is just in time for Pesach. "It combines both my religious interest and my interest in the law. Religiously, it comes from a feeling of observation: while Passover is the most-observed of the Jewish holidays, it is linked…to the least observed of the Jewish holidays, which is Shavuot, the receiving of the law on Mount Sinai."
This connection was crucial for Lieberman to write about, in order to increase awareness of this special time. "To me, it's a shame because among the chagim, it commemorates and celebrates a defining moment when God gave us the…Torah, which is our national mission statement, our destiny."
Lieberman notes that this destiny as a people came from our receiving the law, which draws parallels to his public life, a life in which he has been immersed in upholding and in creating and enforcing laws in America. He organized the book into 50 short essays about the journey, the law and the commandments, with the ability to read each bite-sized essay along with each night's omer count if desired. While Lieberman's main audience is people who observe Passover but never make it all the way to celebrate Shavuos, its message applies to everyone. "I would love to open them both to the holiday [and], to its meaning, and the centrality of law and values in Jewish life."
Lieberman also hopes this book will attract an audience that simply wonders about the role of law in society. "The law becomes the way the society expresses its understanding of what's right and what's wrong…an inspiration for how people could be better than they would otherwise be." He feels that part of the reason for Pesach's popularity among secular Jews is that "The [story of Pesach] has universal appeal… to people who are not at all religious, and even non-Jews…and it happens around the dinner table with family, and that has a social aspect that is very important and very positive."
Although secular Jews have found difficulty in relating to Shavuos, Lieberman hopes that his book will whet their appetite for learning. "[Study groups] give Jews of different levels of observance the opportunity to sit together and talk and learn and discuss Jewish values. We're not able for various reasons to all pray together, but we certainly ought to be able to sit and study the Torah together. Shavuos is the time to do that." Lieberman notes that the Ten Commandments begin not with a command, but with a "declaration that God is God, and that's a source of legitimacy and credibility. It's something beyond ourselves." More than that, he says that the Ten Commandments have been a model for every legal system that has followed. "The Ten Commandments were clearly embraced by the Catholic Church, Protestants, including particularly the Calvinists, they were very much in mind of the people who founded America and who developed our own constitution and declaration of independence and legal system." A fact that resonates with both Lieberman's public political and private religious sides, that he hopes will similarly inspire others.
Moreover, the book captures the beautiful, delicate balance between the importance of law, even as we celebrate the holiday of Freedom. "Freedom is not enough. The Torah tells us that the Children of Israel were liberated from Egypt, not just to be free, because freedom without law…leads to injustice, immorality, violence, chaos. But with the law, we can achieve justice."
If you found this content meaningful and want to help further our mission through our Keter, Makom, and Tikun branches, please consider becoming a Change Maker today.