Pesach is a holiday so rich in tradition….the seder, the traditional foods. I like to keep my meals simple. Most of my recipes from my cookbooks are naturally gluten free so you can make them this time of year as well. Try to keep your meals within the recipes you are familiar with, so you don't feel as full towards the end of Pesach.
Enjoy these yummy recipes that are great for Pesach and all year around.
xoxo,
Daniella
CARAMELIZED ONION & SPINACH SALAD
pareve, Passover, gluten-free, yields 8 servings
I'm a huge fan of onions. They're the "cherry on top" of every dish, whether it's a protein, or in this case, a healthy, balsamic-based spinach salad. With the addition of candied cashews and avocado, this salad is the ideal mix of sweet, creamy, and savory.
Ingredients
1 Tbsp extra virgin olive oil
1 large onion, halved and sliced
1 lb/ 500 g (about 10 cups) baby spinach
1 pint (about 2 cups) cherry tomatoes, halved
1 firm ripe avocado
¾ cup candied cashews or almonds (optional)
Dressing
⅓ cup extra virgin olive oil
¼ cup balsamic vinegar
2 Tbsp honey
1 Tbsp minced fresh thyme leaves (or 1 tsp dried)
kosher salt
freshly ground black pepper
Method
Heat oil in a frying pan over medium-high heat. Add onion; sauté for 5-7 minutes or until golden. Let cool to room temperature.
In a large serving bowl, combine spinach and tomatoes with sautéed onions. Cover and refrigerate.
Dressing: Combine dressing ingredients in a glass jar; seal tightly and shake well. Refrigerate until serving time.
Shortly before serving, peel, pit, and dice avocado. Toss salad with avocado and dressing. Sprinkle with nuts, if using.
Norene's Notes:
Spinach is a superfood. Vitamin and mineral packed, it contains health-promoting phytonutrients such as carotenoids (beta-carotene, lutein, and zeaxanthin) and flavonoids, providing you with powerful antioxidant protection. A cup a day keeps the doctor away!
Preparation: Wash spinach thoroughly before using. Trim if necessary. Place into a large bowl of room-temperature water; swish the leaves around with your hands to dislodge any dirt or sand. Remove leaves, empty the bowl, refill with clean water, and repeat 2-3 times until all sand has been washed away. Dry thoroughly in a salad spinner. Triple-washed packaged spinach is very convenient — ready when you are.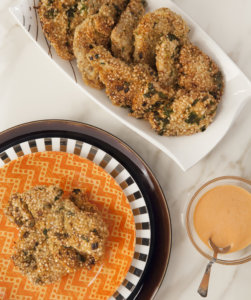 QUINOA FLAKED HERBED SCHNITZEL
meat, Passover, gluten-free, freezes well, yields 6 servings
Schnitzel is the ideal vehicle for creative flavors and textures. This is the perfect protein dish when you want something different. With a flaky, fresh herb coating, this unique version doesn't disappoint.
Ingredients
6 boneless skinless chicken breasts, pounded thin (or 12 boneless skinless chicken thighs, butterflied)
kosher salt
freshly ground black pepper
1½ cups quinoa flakes
4 cloves garlic, minced (about 2 tsp)
2 Tbsp chopped fresh basil leaves
2 Tbsp chopped scallions
2 Tbsp chopped fresh parsley
1 Tbsp fresh lemon zest
2 eggs
oil, for frying
fresh basil, parsley, and lemon wedges, for garnish
Method
Lightly sprinkle chicken on both sides with salt and pepper.
In a medium bowl, lightly beat eggs. In a second medium bowl, combine quinoa flakes, garlic, basil, scallions, parsley, and lemon zest. Mix well.
Dip chicken first into egg, then into quinoa mixture, coating all sides.
In a large nonstick skillet, heat oil over medium-high heat. Working in batches, fry chicken on both sides until cooked through and juices run clear, 3-5 minutes per side.
Pat chicken with paper towels to remove excess oil. Keep warm in an oven at 250°F, or transfer to a serving platter. Garnish with additional fresh herbs and lemon wedges.
Norene's Notes:
Quinoa flakes are gluten-free, cholesterol-free, and an excellent source of protein and fiber. Buy them at your heath food or bulk store.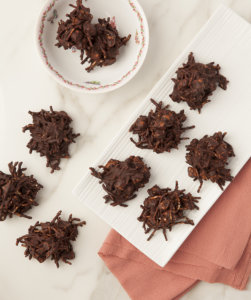 CHOCOLATE CHOW MEIN MOUNDS
pareve, Passover, gluten free option, freezes well, yields about 2 dozen
These chocolate chow mein mounds were one of my favorite treats as a kid (and may help to explain my early ongoing chocolate fixation). Smothered in chocolate, the crunchy noodles have a creepy-crawly look that adds some fun to the dessert table. Great to make with kids!
Ingredients
1 (14 oz/400 g) bar semisweet chocolate bar, broken into chunks
3 cups chow mein noodles (gluten-free or regular)
2 cups mini marshmallows
Method
Line a rimmed baking sheet with parchment paper.
Pour about 1 inch of water into a saucepan. Bring to a boil; reduce heat to a simmer.
Place chocolate into a large, dry, heatproof bowl wider than the saucepan. Place bowl over simmering water. Melt chocolate, stirring often. Cool for 5 minutes.
Stir in noodles and marshmallows. Using a large cookie scoop, form mixture into golf-ball-size mounds. Arrange mounds in a single layer on prepared baking sheet.
Refrigerate for 45 minutes, or until set. Store in an airtight container in the refrigerator or freezer.
Norene's Notes:
It's important to cool the chocolate before adding the marshmallows in Step 3 or they will melt and disappear.
Variations: Add colored mini marshmallows instead of white ones. Add 1 cup shredded coconut to melted chocolate at the beginning of Step 4.
If you found this content meaningful and want to help further our mission through our Keter, Makom, and Tikun branches, please consider becoming a Change Maker today.