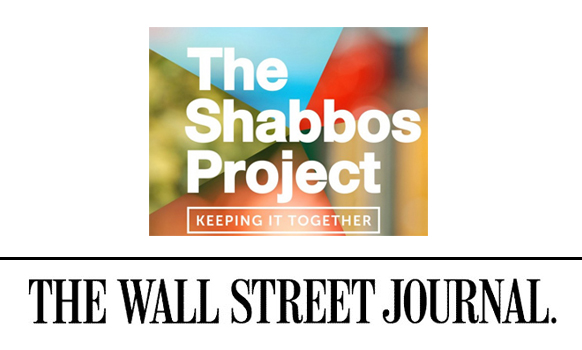 The Shabbos Project: an initiative which began in South Africa a year and a half ago and aims to encourage every Jew in the world observe one shabbos together, has gotten quite a bit of buzz. But how did it all begin? Not how you'd expect! Dan Ariely – a behavioral psychologist whose Wall Street Journal column ("Ask Ariely") I read regularly – was the man behind the plan. Ariely, a secular Israeli, had a question a few years ago: if a Jew were to keep one mitzvah and one mitzvah only, which would be the most impactful? He asked the chief rabbi of South Africa as well as the chief rabbi of England. Both rabbis independently gave him the same answer: shabbos. Why? Because the act of keeping shabbos is so powerful, they explained, that its inspiration would trickle into others areas of life. Our sages teach that "mitzvah goreres mitzvah" – the one commandment leads to another, but the rabbis felt this was especially true for shabbos.
Dan wanted to test this hypothesis so he approached the chief rabbi of South Africa, Warren Goldstein, with a proposal. What would happen, he wondered, if they got all the Jews in the country (which has pretty traditional Jewish community) to keep one shabbos together. This conversation with Ariely is what inspired Rabbi Goldstein to roll out the "one Shabbat" concept.  The project itself was devised and brought into existence by Rabbi Goldstein and in the end, had over 90% participation and the feedback was astounding – numerous lives were changed in meaningful ways. This year, in honor of The Shabbos Project, which takes place this shabbos – October 23-24  – I thought it would be nice to hear from a couple of people who were impacted by 'The Shabbos Project social experiment'.
Yakir Fraiser, a sixteen year old high school student from Melbourne, is the first participant I spoke to. He was raised in a traditional Jewish home, but he never spent a fully observant shabbos until The Shabbos Project. Before his first full shabbos experience, Yakir always expected that twenty-five hours unplugged would be boring. He has never been one to just sit around and do nothing and figured that nothing was all one did on shabbos. In the end, he decided to give it a try because it was just "one day," and if it was insufferable, it would be over before he knew it.
Much to his surprise, Yakir discovered something fascinating over those twenty-five hours – shabbos is truly enjoyable. The exact opposite of what he thought! Over the course of the shabbos, Yakir made a friend from Sydney who was "so normal" despite being religious. This friend, Eliyahu, recognized a passion in Yakir and told him about a Jewish school in Melbourne called Yeshiva College. Eliyahu suggested he check it out. While Yakir did feel differently after that initial shabbos he did not make any immediate changes nor did he look into the yeshiva. He simply returned to life as usual. But then, one day – he doesn't even remember why or how – Yakir found himself on the Yeshiva College website. Before he knew it he was e-mailing them, taking entrance exams and then moving across the country to Melbourne to board with a family there. The family Yakir moved in with was not religious, which Yakir chose purposely, so that he could grow slowly in his observance. This past summer, though, he moved in with a religious family as Yakir is now fully observant. Yakir had never heard that The Shabbos Project was started as a social experiment to test the impactfulness of shabbos on a Jew. "Did it work?" I asked him. Apparently!
I spoke to another person whose first shabbos also took place during The Shabbos Project. He also experienced life-changing but different results. Robby Nissan is a father of two who lives in Israel and headed up The Shabbos Project there. He explained that in Israel there are a lot of secular Jews who  love the traditions – lighting candles, family meals, but struggle with the religious aspects of Judaism because they grew up with bad memories of having rocks thrown at their cars when driving on Shabbos, or religious people yelling to keep Shabbos. (I explained to him that we speak out against that kind of extremism at Jew in the City.)
His family spent The Shabbos Project weekend with a group in a hotel in Jerusalem which was amazing. Dinner took much longer than usual and after dinner there were stories and singing. By the time they were done it was time for bed. The next day they woke up and after shul they played with the kids, went to lunch, took a walk, took a nap – and then it was over. It was perfect. Robby explained that shabbos is a great opportunity for adults to relive their childhoods and show their children the games they grew up with. His sons, nine and seven years old, became fascinated by how much fun you can have without devices and how happy you can be with so little – something too few kids grasp these days.
Since The Shabbos project, Robby does not watch TV on shabbos anymore. It used to be the binge-watching day for him and his wife, but he'd rather be unplugged. He also no longer looks at his cell phone on shabbos unless it's an emergency. Robby appreciates the gift of the "pause" in his life and the opportunity to spend time with his family. He still drives and is unsure if he will take on anything else at the moment – but he is so grateful for all that he has taken with him from The Shabbos Project.
Well, Mr. Ariely, your experiment seems to have impacted countless Jews around the globe since its inception. I can't wait to hear more stories of new lives touched on this year's Shabbos Project.

Check out Dan Ariely describing how he helped launch this world-wide initiative.
If you found this content meaningful and want to help further our mission through our Keter, Makom, and Tikun branches, please consider becoming a Change Maker today.
If you found this content meaningful and want to help further our mission through our Keter, Makom, and Tikun branches, please consider becoming a Change Maker today.