Exactly a year ago today, Jew in the City started a social media firestorm which ended with NBC removing an episode of "Nurses" that featured blatant anti-Semitism in its plot line. The episode, "Achilles Heel" includes a scene in which a young, Hasidic man named Israel is in the hospital for a shattered leg. A doctor explains to the man and his father that he needs a bone graft, or part of a cadaver's leg to be surgically inserted into him in order to heal.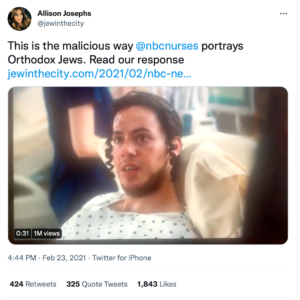 In response, Israel refuses the bone graft saying, "It's God who heals what He creates," after his father makes condescending remarks that the leg they want to use will probably be "a dead goyim leg — from anyone. An Arab, a woman." "Or God forbid an Arab woman," a nurse follows with.
JITC broke the story, dispelling the entire narrative the show portrayed. Only a day after its original tweet went viral, NBC pulled the episode from all digital platforms. (Jew in the City did a demonstration at 30 Rock a week later called, "Ask Me Anything About My Orthodox Life"- a livestream event where they explained that good depictions begin with education.)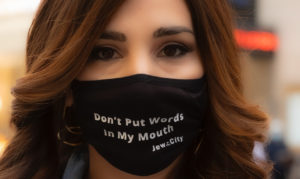 Emboldened by a network tacitly admitting it had made a mistake with anti-Jewish content (something that had never happened before), JITC founder, Allison Josephs, was determined to find a systemic solution to the systemic problem of continuous negative portrayals of Jews in media. Over the summer, she discovered that every minority group has a bureau to advocate for themselves in Hollywood, except for the Jews. So Josephs and her team set out to build the JITC Hollywood Bureau. 
She began by meeting with numerous pre-existing bureaus, which warmly received her, gave sage advice, and made invaluable introductions. JITC has now met with numerous top executives in the entertainment industry, as well as the Diversity, Equity, and Inclusion folks at several networks, including NBC (among others), which has already agreed to bring JITC Hollywood Bureau on for trainings and as consultants. Their reception has also been incredibly heartwarming.
"We went from tweeting to meeting in less than a year," Josephs beams. 
Like other minority Hollywood bureaus, the JITC bureau will sponsor media impact studies, speak on media panels, and conduct writers' labs. It will also provide consultants to work directly with teams on different TV shows and/or movies to ensure portrayal is accurate and positive. The bureau will give out media awards for good representation as well. 
And speaking of Media Awards, JITC's 1st Media Awards will coincide with the official launch of its bureau on March 21. The event will take place at Florence Gould Hall Theater and include the NY premiere of Rock Camp: The Movie, a new film starring David Fishof, an Orthodox Jewish music agent who started a music camp where enthusiasts looking to overcome personal obstacles in life gather to shred with their rock star "counselors" — and learn to rock like the legends. (Watch trailer here.)
Fishof is the son of a Holocaust survivor who lost all but one sister in the war yet he did everything he could to still keep Shabbat under the horrendous conditions he was experiencing. Fishof explains in the event trailer that his father's life had a huge impact on him. "How could I not maintain these Orthodox values?" he shares.
JITC is currently filming a documentary with PhilmCo Media to examine the Jewish portrayal problems that have existed in Hollywood since its founding and continue until today. The documentary will show how these depictions incite anti-Semitism and how the new bureau will combat this. A sizzle reel of this film will also premiere at the event.
"The bureau will prevent the constant negative and cartoonish depictions and will replace them with whole and human Jewish characters who proudly lean into their Judaism," Josephs explains.
A limited number of tickets will be open to the public. Reserve your spot today. All the money raised at the event will go toward funding the bureau's work. To donate, click here.
If you found this content meaningful and want to help further our mission through our Keter, Makom, and Tikun branches, please consider becoming a Change Maker today.