Over the past few months, Covid-19 has shut down synagogues, forced minyans to move outdoors and kept many people home alone for the holidays. But for Robyn and Gregg Stern, Covid did something quite unexpected. It was the impetus for them to commit to being shomer Shabbos.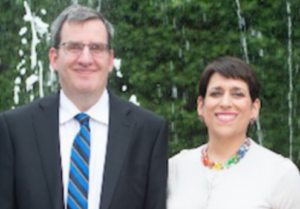 "My wife and I had an 'a-ha' moment," Gregg says of a Shabbos afternoon in May, when New Jersey was in the midst of its shut down. "It dawned on us. We did it.  Hashem forced it. It was like a light switch."
Now they won't even touch a light switch on Shabbos. But that's not where their story begins.
The Sterns were always proud Jews, but far from religious. "We had little basis for Torah observance," says Gregg. "We did Chanukah and Passover. Those were the things."
Seven years, ago Robyn did a very big thing. She went on an all-women's trip to Israel. The Sterns say, "it was the start of an excellent journey."
Robyn recalls, "the first Friday [after I came] back, I lit Shabbos candles. I've been lighting them ever since."
Also ever since then, the Sterns have been slowly and steadily growing in their observance. But there was one hurdle they couldn't overcome; driving on Shabbat. "We kind of lived with it. And everyone at shul just ignored [it]," Gregg said. "I would drive home and hope no one saw me."
The Sterns live over four miles from the closest synagogue. Even as they took on many other mitzvos, they decided that driving to shul was a better option than not going at all.
Then Covid struck. The shuls shut down. They no longer had an option to drive to services. "We were bummed out," Gregg said.
So with no choice but to spend every Shabbat at home, the Sterns got a taste of what it means to be fully Shomer Shabbos. It was as delicious as Robyn's homemade cholent.
According to Gregg, "After one Shabbat lunch, I turned to Robyn and said 'it's going to be impossible to go back to driving on Shabbos. Even when shul opens, it won't make any sense.'"
Robyn was all in. "We were both on the same page," said Gregg. "That helps."
But could refraining from one Shabbat prohibition make that much of a difference? For the Sterns, it made all the difference.
"It's a feeling of relief," Gregg says. It's comfortable. We're Shomer Shabbos. I feel it in my soul. It's in my soul."
Now instead of driving every Shabbos, Gregg goes downstairs, faces East and begins davening at the exact same time that davening begins at shul, all because of Covid.
"Covid gave us an opportunity to take the last step," says Gregg. "Once we realized there was no turning back, we said, 'we're doing it.'"
If you found this content meaningful and want to help further our mission through our Keter, Makom, and Tikun branches, please consider becoming a Change Maker today.