As we begin our preparations for the most involved Jewish holiday of the year, we couldn't help but get a little excited about these fun, exciting, handy and delicious Pesach products! From the beautiful Ibex Designs hand-painted kriyas yam suf (splitting of the sea) table runner, to the drool-inducing innovation of Manischewitz's S'more Matzo Kit, to the game of the Exodus that's a thinking match for the whole family: Torah Line, we have everything you didn't know you needed to enhance your Pesach. Chag Kasher v'Sameach!
As kids, we couldn't wait to have s'mores all summer long. The vacation starts sooner with this thoughtful all-in-one kit from a name synonymous with Pesach. The kit includes mini matzahs, marshmallows and chocolate, making it an easy, all-in-one interactive experience. Isn't this just a marketing ploy, you wonder? It is! And a brilliant one at that. When the box arrived at Allison's house, her kids were clamoring for it because it screams "fun" and "this is for kids!" Passover can be a very difficult holiday for picky-eaters (i.e. most children). So purchasing this kit and having it on the shelf as a special treat to look forward to as the days of the holiday move slowly for the restless natives is a great way to keep Passover exciting. Plus, as one of Allison's children noted, who sampled the wares before the holiday, "This is amazing! It's even better than real s'mores!"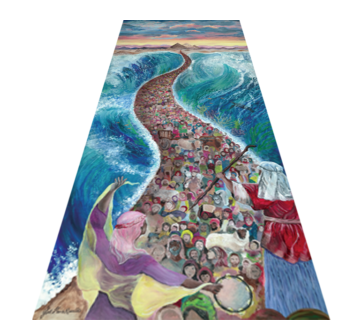 Ibex Designs Splitting of the Sea Table Runner
Many families have started setting their seder table with a diorama of the splitting of sea. Artist Yael Harris Resnick and her husband Benjamin found a way to beautify the seder table more efficiently. They used Yael's original oil painting of the Exodus to produce a heat-resistant table runner for the seder table (or any other day). It looks beautiful and it's functional too – you can put hot serving dishes and pots directly on it (up to 80C/180F). Even if you enjoy making your own diorama, this is a great option if you don't want to set it up again for the second seder – or set it right on top of the runner! 16″x40″ – 41×102 cm.
Torah Line – the Game of the Exodus
The seders are a time to get our kids engaged in the Exodus story. What better way to get conversation flowing than by pulling out this creative game combines which Torah knowledge with competitive, collaborative play. While other games in the series will be released soon, their first one,
Exodus From Egypt, 
reviews
parshiyos
Shemos, Va'eira, and Bo in time to create an exciting, engaging view of the Pesach story's events. For 1 to 4 players aged 6 to adult, it offers 15 minutes of competitive playtime. 90 event cards are played with advanced and trivia game rules. The TorahLine card game is available on Amazon with free shipping for Prime members!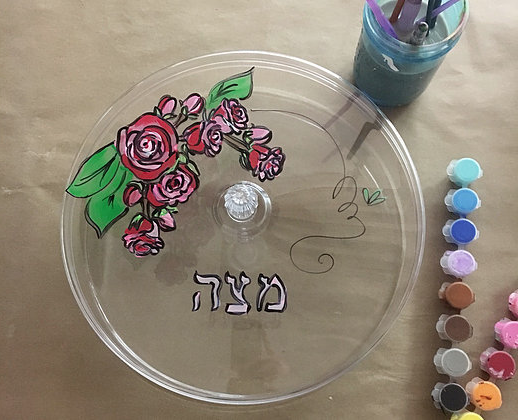 Paint Your Own Matzah Box Kits!
Why store your beautiful, fragile hand shmura matzah in the cardboard it came in when you can honor, protect and beautify it with a gorgeous clear lucite box – that you hand-paint yourself! These adorably awesome kits from Not Too Shabbey come with EVERYTHING you need to create a masterpiece; designed and personalized glass, paints, and brushes. Follow the paint-by-number grid or paint it however you like! With designs such as flowers, frogs and matzah with wine, it can even be personalized for your family before purchase. Such an innovative way to make the holiday all-the-more creative, or at least keep kids occupied while you cook up a storm.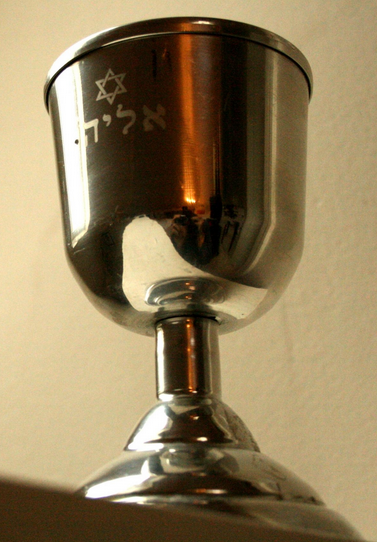 The Magic Elijah Cup That Drinks Itself!
"Elijah will drink and everyone will see the wine disappear. And if Elijah drinks this year, who knows, maybe next year we will be in Jerusalem." Made of bright sturdy aluminum, this cup features a secret compartment which "drinks" the wine you pour for Eliyahu HaNavi (Elijah the Prophet). With no batteries or electronics involved, its perfect for Yom Tov use, but the magic of how it works remains a secret until you see it for yourself!

Coconut Aminos – a delicious and healthy substitute for Soy Sauce
This is a flavorful, all-natural organic sauce you will want to use all year round! Reminiscent of a lighter, slightly sweeter soy sauce, this Star-K sauce is Kosher-for-Pesach without any additional certification. Nutrient-rich and filled with minerals and essential amino acids, this will make up for all the KLP treats we're otherwise binging on. Not only that, but it's lower in sodium than any soy alternative. Available at both health food stores such as Whole Foods and large supermarkets such as ShopRite and Stop n'Shop, you won't be able to believe you ever used the imitation soy sauce. Try these aminos on fish, chicken, salads, stir frys, omelets and more.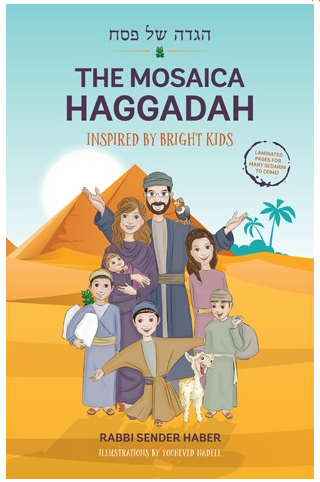 The Mosaica Haggadah
Why is this Haggadah different from all other Haggadahs? Feldheim's new release of the Mosaica Haggadah featuring Rabbi Sender and Chamie Haber and their family is just in time to help your children bring meaning and insight to the Seder. Just like one of the Four Sons, sometimes our kids don't know how to ask. This book has brilliant questions from actual children at the ready, with answers that will be thought-provoking for adults too.  Featuring real questions and insightful comments of dozens of bright and engaging students, fascinating and meaningful short explanations by a world-class educator alongside stunning illustrations on laminated pages (useful in case of spills!), this will be a Haggadah you will want to include at your table for years to come.
This is a sponsored post. To find out how you can sponsor a post, please email paige@jewinthecitydotccom.
If you found this content meaningful and want to help further our mission through our Keter, Makom, and Tikun branches, please consider becoming a Change Maker today.