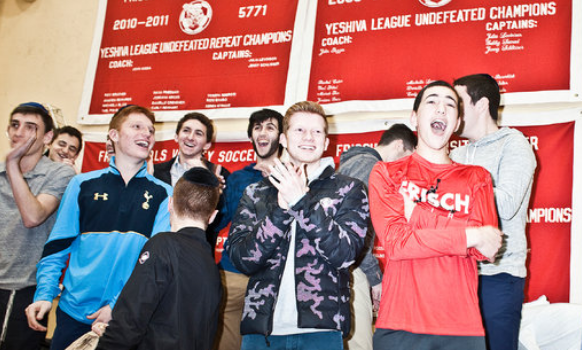 An Interview With The First Hasidic Woman Elected To Public Office In The U.S.
Attorney and Hasidic community activist (and Orthodox Jewish All Star!) Rachel Freier won a contested primary for a civil court judgeship in Brooklyn's 5th Judicial District and took her seat on the bench this week as a civil court judge. Freier, the first Hasidic Jewish woman to hold elected office in the United States spoke to Gothamist about her career, the role of women in traditional Jewish life, and the historic nature of her judgeship.
LES Mainstay The Pickle Guys are Opening a Fried Pickle Restaurant
The team behind popular Lower East Side kosher shop The Pickle Guys is getting into the restaurant business for the first time with a new fried pickle shop. The kosher pickle shop recently moved to a new location at 357 Grand St., where the retail store will soon be accompanied by a small, counter-service restaurant.
Jason Dov Greenblatt's New Gig
Jason Dov Greenblatt of Teaneck, who began 2016 as the Trump Organization's chief legal adviser and became one of two special advisers on the U.S./Israel relationship for his longtime boss, Donald J. Trump, this spring, will enter the new year ready for a new title. He soon will become the new Trump administration's special representative for international negotiations with focuses on Israel-Palestinian peace process, the American relationship with Cuba, and trade agreements.
A 'World Unto Itself' in New York Area Yeshivas: Floor Hockey
Floor Hockey in Orthodox Jewish private schools has grown enormously popular in recent years. The championship match can fill an arena with as many as 1,000 fans, with more people watching live online. Players in elementary grades at Jewish schools now set their sights on yeshivas with the most powerful hockey programs. The teams play in the Metropolitan Yeshiva High School Hockey League, which includes 18 varsity and 15 junior varsity teams for boys. There are also 12 girls' teams, which play in the spring season.
Avi Ganz, Kippa and Tzitzits-clad American, Impresses Judges on The Voice Israel
On Israel's "The Voice," the judges were astounded to turn their chairs and discover it was a frum Jew who was belting Bob Marley with such talent. But the truly impressive part of the performance came when a judge asked Ganz "Why did you choose God?" Ganz responded, "I didn't. God chose me."
This 15-year-old Orthodox Girl is a Pingpong Champion
Estee Ackerman was raised around a basement pingpong table, a traditional gathering spot for Sabbath-observant kids on long Saturday afternoons. After taking an avid interest in the game, Ackerman joined professional clubs and earlier this month, the Long Islander won five medals including two golds at the U.S. Open Table Tennis Championships in Las Vegas.
When the Sun Sets Early, It's a Race to Prepare for Shabbat
Sometime in November, right after the end of daylight saving time, as we turn the clocks back an hour, the shorter days become a challenge for keeping Shabbos. For this Op-Ed author, Fridays inevitably become a complex operations problem, figuring out how to cram in a full day of work, errands, Sabbath preparation and child care in half as much time…but it's worth it for the taste of heaven it creates.
If you found this content meaningful and want to help further our mission through our Keter, Makom, and Tikun branches, please consider becoming a Change Maker today.