As the son of a Holocaust-surviving cantor, David Fishof spent his childhood surrounded by Jewish liturgical music. Then as a young adult, he added in rock 'n roll.
Fishof grew up in Hackensack, New Jersey and attended Breuer's Yeshiva in Washington Heights. "I had a brother Joey who was a graduate of Yeshiva University. He had a Jewish rock band called the Ruach Revival….I wanted to be in the band, but I wasn't good enough. My dad said, 'well, why don't you try to book bands?'" So he started booking talent in the Catskills.
He started a column in the Jewish Press when he was twenty-years-old to write about Jews in show business. He wrote it for five years, interviewing great comedians. "From there I started booking these artists with Jewish organizations." He signed his first client when he was twenty as well.
Ready for the next challenge, Fishof decided to open a sports agency and soon signed Lou Piniella of the Yankees. He negotiated his contract with George Steinbrenner. Fishof wrote a book published by an imprint of Harper Collins about how to negotiate, called Putting it on the Line, recounting his experiences with Steinbrenner and more.
Next, he picked up Phil Simms of the New York Giants, along with his teammates. "I loved these players. They were so respectful of me and my Orthodox Judaism…On Friday afternoons, Phil Simms would turn to me and he would say "'have a great Shabbos.'"
In the 45 years he has spent as a sports and music agent, Fishof recounts one of his favorite stories. In 1987, the Giants were in the Super Bowl with the Denver Broncos. "Phil Simms was playing against John Elway. John Elway was the quarterback that everybody was talking about. The Denver Broncos were favored to beat the Giants by 10 points…I was with him the whole week and then it was Friday and I said to him, 'Phil I have to leave for the Sabbath.'" Fishof was staying at a hotel and gave Simms the hotel's number to reach him in an emergency and he would call him back after Shabbos. Simms turned to him "On the biggest day of his career, on his Super Bowl eve, he turned to me and said, 'Hey, don't worry. Your Sabbath is more important than the Super Bowl.' and Simms went out that Sunday to break every record by any quarterback ever. They beat the Denver Broncos by 9 points."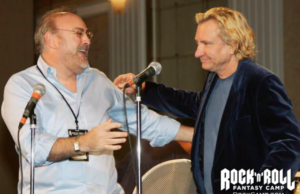 The musicians he subsequently worked with were also respectful. He remembers Ringo Starr dancing and singing "Is Shabbos over?" wondering if Fishof would be available for work. "I always put in all my contracts, when I was touring with The Monkees (Fishof reunited them) and Ringo, that the artist needs a car at 7:00 in the morning, because I would take the car and look for a morning minyan. That was my game on the road. Then I would find a local kosher deli and invite them to the show, so then I could find a minyan for Maariv after the show, and they would bring me dinner!"
Over the years, Fishof would also invite his clients to come for Shabbos meals. "I remember inviting Mark Bavaro of the New York Giants to come to a meal. He saw the two challahs and he started grabbing one, because, you know, he's a football player, and he eats 20 pancakes a day, so he thought that roll was for him. I said, 'No, Mark, I've got to cut that up.'" Another time, Ringo Starr was his guest for Friday night dinner where he met Fishof's grandchildren. Roger Daltrey of The Who has also been a Shabbos guest. "I think I've educated these people a lot."
As his success grew, Fishof kept close to his roots. "I love Jewish music. It's my passion. All the years that I was on the road, I listened to Jewish music to remind me that I'm frum. When I was on tour… with Ringo Starr for fifteen years, and the Monkees and Roger Daltrey of The Who and I'd come back to my room and just put on Mordechai Ben David, Avraham Fried or Yaakov Shwekey's music and it would just remind me, okay, remember who you are… It kept me grounded."
Twenty five years ago, Fishof got tired of always being on the road. He was looking for a  way to stay in the music business while being close to home. That's when he came up with the idea of a Rock and Roll Fantasy Camp, where people can come and learn to play music with their musical heroes. Guests can jam with "Brian Wilson of the Beach Boys or the guitar player from Soundgarden or Judas Priest the band or Joe Elliot from Def Leppard or Aerosmith."
He created the camp as a place where people could come and take master classes and make music for four days straight. "They're learning from these musicians, they're playing live at the Whiskey A Go Go, they're recording at Capitol Records, they're recording at Abbey Road Studios." Since then, due to the camp's popularity, it has been featured on The Simpsons, The Ellen Show and now, with the movie Rock Camp – a documentary on his beloved musical getaway. It can be seen on Amazon Prime, Apple TV, and more and has a 94% rating on Rotten Tomatoes.
Fishof agreed to make the movie on the condition that he was featured as being Orthodox. "It's a very soulful movie. I'm very proud of it."
Orthodox Jews also come to the camp. "We usually spend a great Friday night Shabbos meal together, and I find a way to work around them, because they don't play on Shabbos. I give them extra time on other things."
This January Dave Mustaine of Megadeth, and players from Iron Maiden and Deep Purple will come to Florida and play with campers. "Roger Daltrey came to one of my first camps and said 'I love this. When are [the campers] performing?' I said, 'they're performing tomorrow night at The Bottom Line,' he said 'I want to perform with them.'" Slash from Guns N' Roses stayed for 12 hours, well past the time he was booked to teach. The opportunity to give back is attractive to the musicians. Gene Simmons from KISS and Nancy Wilson from Heart both told Fishof how much the camp meant to them. "They are at a stage in their career where they've achieved everything, and here's an opportunity to be known as professors and share their knowledge."
Fishof is proud to set an example for other Orthodox Jews in the Arts and in Entertainment. People have come to him and said "'You know, I really don't want to tell my boss that I keep Shabbos or that I want to keep kosher and how do you do it?' To me, I've been able to make a lot of great friends and change people's lives over the years by sharing my stories, so I'm a big fan of that. People will see that when they do business with Orthodox Jews that we're much more careful in how we do business, and we do it the right way."
Find out more about Rock and Roll Fantasy Camp at www.rockcamp.com.
If you found this content meaningful and want to help further our mission through our Keter, Makom, and Tikun branches, please consider becoming a Change Maker today.