---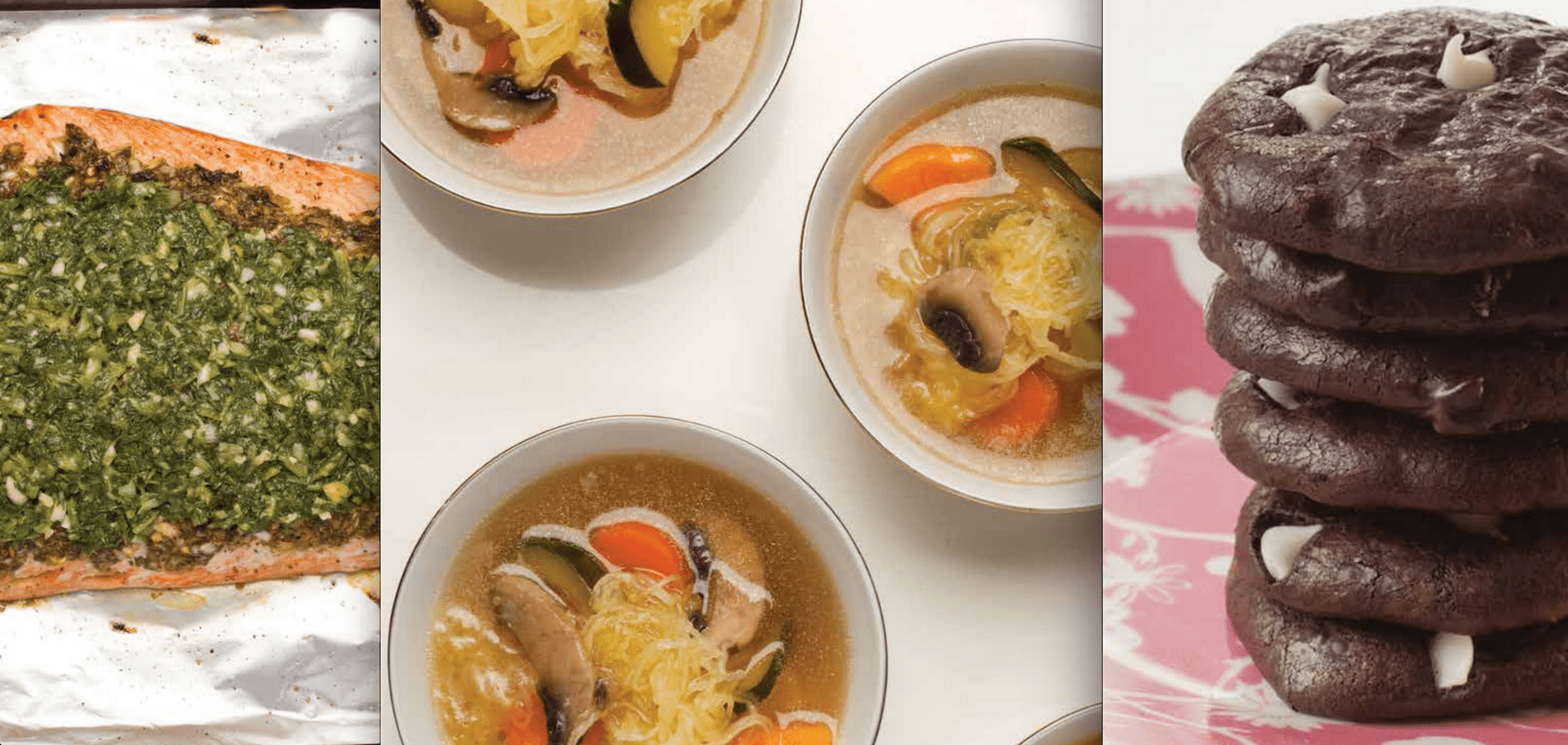 3 Easy, Yummy Dishes You Must Have At Your Seder
Making tasty and healthy meals are an important part of celebrating Pesach, especially when we change the way we eat for eight days. I always try to make sure that my cooking is full of flavour and variety, while also being easy to make. I hope you enjoy my delicious recipes, and be sure to check out more in both of 'The Silver Platter' cookbooks: 'Simple to Spectacular' and "Simple Elegance.'
Chag Kasher v'Sameach!
xo,
Daniella
Herbed Salmon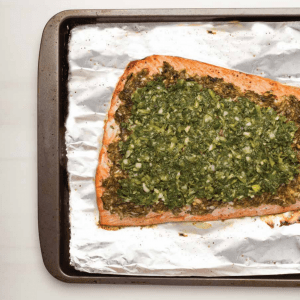 pareve | passover | gluten-free | freezes well | yields 6-8 servings
Ingredients
1 skinless, boneless fillet of salmon (about 2 lb/1 kg)
kosher salt
freshly ground black pepper
11/2 cups fresh parsley
1 cup fresh mint or basil
11/2 cups fresh dill
6 scallions, trimmed
4 cloves garlic (about 2 tsp)
2 Tbsp olive oil
juice of 2 lemons (about 6-8 Tbsp)
1-2 Tbsp honey
Method
1. Preheat oven to 425°F. Line a rimmed baking sheet with aluminum foil; coat with nonstick cooking spray.
2. Place salmon onto prepared baking sheet. Sprinkle generously with salt and pepper.
3. Using a food processor or mini prep, process parsley, mint, dill, scallions, and garlic until coarsely chopped. Add oil, lemon juice, and honey; pulse briefly to combine.
4. Remove 3-4 Tbsp of herb mixture and set aside. Spread remaining herb mixture evenly over salmon. Let stand 20-30 minutes if time allows.
5. Bake, uncovered, for 15-18 minutes, or until salmon flakes when lightly pressed with a fork.
6. Transfer salmon fillet to an oblong serving platter or cut it into individual portions. Spoon on reserved herb mixture. Serve hot or at room temperature.
Vegetable Soup with Spaghetti Squash Noodles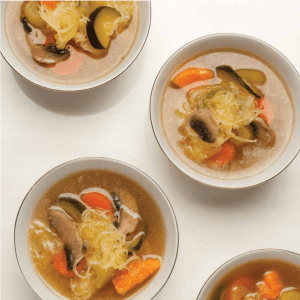 pareve | passover | gluten-free | yields 10 servings
Ingredients
1 medium spaghetti squash (about 3 lb/ 1.4 kg)
2 Tbsp olive oil
2 medium onions, diced
2 cups mushrooms, sliced
4 cloves garlic, minced (about 2 tsp)
2 sweet potatoes, peeled and cut into chunks
3 carrots, peeled and sliced 3 stalks celery, sliced
2 medium zucchini, cut into half- moons (do not peel)
1 Tbsp kosher salt freshly ground black pepper
6 cups water or vegetable broth
2 Tbsp chopped fresh basil
Method
1. Preheat oven to 375°F. Line a baking sheet with parchment paper.
2. Noodles: For short strands, cut squash in half lengthwise; for long strands, cut it into 1-inch rings. Discard seeds and pulp. Place squash, cut side down, on prepared baking sheet. Bake, uncovered, for 35-45 minutes, or until tender.
3. Soup: Meanwhile, heat oil in a large soup pot over medium heat. Add onions, mushrooms, and garlic; sauté for 6-8 minutes, or until golden.
4. Add sweet potatoes, carrots, celery, and zucchini, stir in salt and pepper. Add water. Bring to a boil; reduce heat. Simmer, partially covered, for 30- 35 minutes, or until vegetables are tender.
5. Add chopped basil. Simmer until heated through; adjust seasonings. Ladle soup into bowls. Use a fork to separate squash strands; add a portion to each to bowl.
Flourless Fudgy- Wudgy Cookies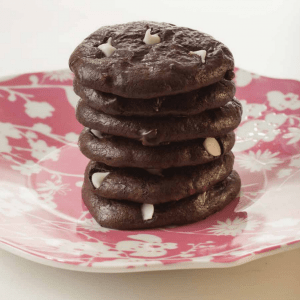 pareve | passover | gluten-free | freezes well | yields about 30 cookies
Ingredients
21/3 cups confectioner's sugar
1 cup unsweetened
cocoa powder
pinch kosher salt
3 egg whites
2 tsp pure vanilla extract
1 cup white chocolate chips
Method
1. Preheat oven to 350°F. Line two baking sheets with parchment paper. 2. In a large bowl, combine confectioner's sugar, cocoa, and salt.
3. Add egg whites and vanilla. Mix well, forming a sticky dough. Stir in white chocolate chips.
4. Using a small cookie scoop, drop dough by rounded spoonfuls onto prepared baking sheets, leaving 2 inches between each cookie.
5. Bake for about 10 minutes, or until set. Let cool on the baking sheet. Remove from pan with a flexible spatula. Store in an airtight container in the refrigerator or freezer (they thaw quickly).
Want more great content like this delivered to your inbox? Sign up for our weekly newsletter here:

Daniella Silver comes from a long line of talented artists; in her case, artistry manifests itself in her culinary creativity, transforming simple ingredients into spectacular dishes. When she learned that two of her children had food allergies, Daniella had to modify many of her family's favorite dishes, and she became inspired to create her own repertoire of recipes. As both a culinary artist and a busy mom of three, Daniella's cooking reflects a focus on wholesome, family-oriented recipes that are beautifully presented and full of flavor. Combining her talent, creativity, passion, and enthusiasm, Daniella has created both magnificent cookbooks; 'Simple to Spectacular' and 'Simple Elegance' to help cooks of all levels simplify their cooking and enjoy better food. Daniella lives in Toronto with her husband and children. Find "The Silver Platter" cookbooks on Amazon, Artscroll and/or local Judaica stores. You can visit her Instagram @daniellasilvercooks.