Disclaimer: The views and opinions expressed herein do not necessarily state or reflect those of the Department of Defense.
On Memorial Day, we remember and honor the brave men and women who served in the armed forces and made the ultimate sacrifice for our freedom. But how many Orthodox Jews throughout American history have proudly served their country? While the current number may be in the several dozens, thousands of frum Jews have been part of the U.S. military since the Revolutionary War.
There are quite a few Orthodox Jews who have achieved notable success in the U.S. military. The two current highest ranking religious Jews in the military are a Navy Captain and an Army Colonel who wears his yarmulke with his uniform and was quoted as saying, "Occasionally, I get funny looks, but they get used to it. I think the military population in general is more tolerant of others and friendlier." The best-known Orthodox Jew in U.S. Military history is Rabbi Mayer Birnbaum who wrote about getting drafted into Patton's army, liberating concentration camps, and helping survivors rebuild in his autobiography Lieutenant Birnbaum.
The highest ranking Orthodox Jew in the Air Force was a Colonel who stopped a fellow frum Jew from having to fly on Yom Kippur. There was also a Naval Commander who recently retired after 20 years of active duty service, flying S-3 Vikings Submarine Hunters and E-2 Hawkeyes off aircraft carriers.
Orthodox Jews in the military are hardly a recent phenomenon. Chaplain Ephraim Travis, who was raised Orthodox, and is the Assistant Brigade Chaplain for the 174th Infantry Brigade of the US Army Reserves is part of a proud military family. His grandmother worked for the Department of the Army, and both his grandfather and great uncle served in WWII. He has met other frum veterans who served in WWII who explained to him that it's a stereotype that "Jewish boys don't fight." When Pearl Harbor was attacked, many Orthodox Jews were moved to enlist just as their secular brethren were. Mayer Radhan was one of those men, and he served in the South Pacific during WWII, putting on tefillin daily and keeping strictly kosher.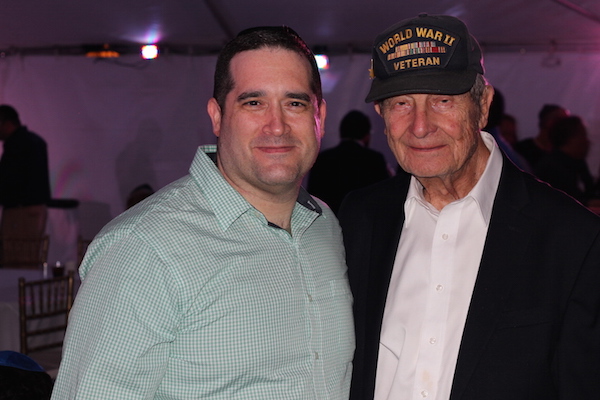 Travis served in Iraq for almost a year. For four months, he was the token Jew on the base, but he was there to ensure that free exercise of religion was being protected. He has seen that mitzvah observance can be difficult in the Armed Forces if one lacks necessary knowledge. "There were enlisted soldiers who went in uninformed," Travis explains, "thinking they could keep Shabbos and kosher…A [service member has] to declare their Jewish background if they want to get kosher MREs (Meals, Ready to Eat)." Travis's biggest challenge as an Orthodox Jews in the military was Shabbos in Iraq where he had to walk many miles in 115 degree heat, but he wouldn't trade it for anything. "It's not an easy life, but it's a very rewarding life." Not everyone in the frum community is supportive of his service, but there are notable exceptions. Travis lists some of those who have helped him, including Kosher Troops, MSAWI, the Aleph Institute, and a great woman in Far Rockaway, Marla Turk, who would send packages of challah, and snacks.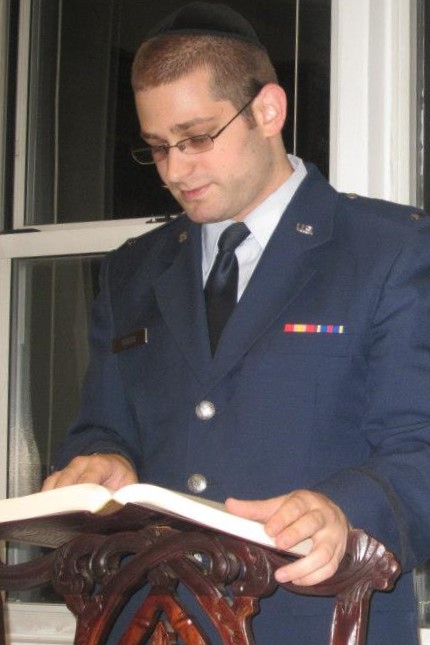 While the U.S. Armed Forces have a strict grooming policy, there have been exceptions made for bearded-rabbis serving in the Chaplaincy. Captain Chaim Stitzer, a frum active-duty Air Force Cyberspace Operations officer explained, "The Department of Defense requires accommodation of religious practices unless it will interfere with mission effectiveness, morale, or unit cohesion. Generally, if you're cordial, respectful, and go out of the way for them, they will accommodate you." Chaim says that becoming an officer rather than enlisting was an easier route for him observance-wise, and that the Air Force was the most open to religious requests. The Army and Marines had many more weekend trainings, and in the Navy, you would be on a ship for six months at a time.
The Defense Logistics Agency issues tallesim, siddurim and even haggadahs for Pesach. Stitzer advises to let superiors know of religious needs as far in advance as possible. "Strive to be the best you can be wherever religion is not a factor, so that people will respect you when it is." Stitzer says, "You can use your frum experience to help you in the military: getting up early, following rules, but it also flips, being in service can help you keeping mitzvos too. It applies both ways."
Travis sums it up well. "[We have] a unique role as frum service members…we are at the forefront of being a light unto the nations…It's important to have mutual respect and admiration for people from other walks of life. They say, 'I don't understand, but I admire you for your commitment to your traditions.' It's an incredible opportunity to be mekadesh l'shem shamayim. My job is to love people and take care of them to the best of my ability; Hashem will take care of the rest. They can say, 'that Orthodox Jew who happens to wear the uniform, he or she is all right.'"
Editor's Note: An earlier version of the article incorrectly stated that hundreds of Orthodox Jews had served in the U.S. military since the Revolutionary War. We regret the error.
If you found this content meaningful and want to help further our mission through our Keter, Makom, and Tikun branches, please consider becoming a Change Maker today.