Pesach is a time of year that can induce anxiety and fear in some people. While there is certainly a considerable amount of work involved in getting both a home and seders ready for the holiday, stressing over what to make should not be on your to do list. Instead of making lots of matzo-meal-laden dishes – perhaps the ones your mother and grandmother made – consider this a chance to get into fresh, clean eating with foods you'd want to eat year round. My gluten-free, Pesach-friendly recipes are simple, straight-forward and made with wholesome ingredients. Plus they're easy to scale up or down making them a great option for any size gathering.
A few years ago, my entire cooking style changed when we found out that our daughter has a gluten allergy. Since then, I've been creating and sharing flavorful, colorful, and delicious dishes that don't feel restrictive for Pesach or any other time of the year. I've picked a few of my favorite gluten-free/Pesach friendly dishes from my new cookbook, Simple Elegance, that I think work best for Pesach. As a bonus, many of my desserts are naturally gluten-free, which means there's no need to add potato starch or matzo meal as a flour substitute.
Hope you enjoy. Happy Pesach.
Daniella
The Silver Platter: Simple to Spectacular & Simple Elegance

The Silver Platter cookbooks feature over 160 recipes each that explore new kosher dishes, tastes, techniques and presentations, all while keeping families happy with great-tasting, wholesome food. Working closely with Norene Gilletz—the "matriarch" of kosher cuisine—Daniella creates dishes for every occasion. Each recipe includes straightforward instructions, a gorgeous photograph, "Norene's Notes" with tips and techniques, and full nutritional information. More than 80 percent of the recipes are gluten-free, perfect for Passover and gluten-free diets. Whether it's a weeknight or a holiday celebration, The Silver Platter cookbooks have a recipe that's spectacular to serve and surprisingly easy to prepare. So… get cooking!
POMEGRANATE & PERSIMMON SALAD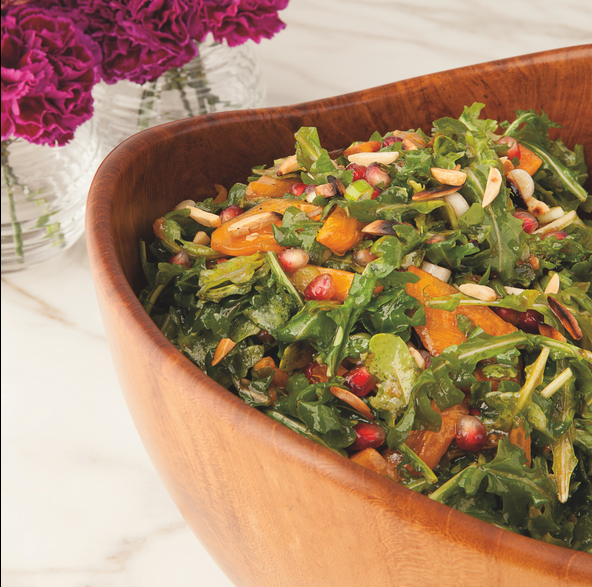 Pareve, Passover, Gluten-free, yields 6 servings
In a last-minute recipe rush, I whipped together this pink and orange salad to take to my mom's for the weekend. To my surprise and delight, it was a big hit! My mom and sister went crazy for this sweet and juicy dish. I also love those pomegranates around Rosh Hashanah time!
Ingredients:
8 cups arugula or mixed salad greens
3 scallions, thinly sliced
1 cup pomegranate seeds
2 firm (Fuyu) persimmons, thinly sliced
¾ cup toasted sliced almonds
Dressing:
⅓ cup extra virgin olive oil
⅓ cup pomegranate juice
3 Tbsp balsamic vinegar
2 Tbsp honey
1 clove garlic, minced (about ½ tsp)
kosher salt
freshly ground black pepper
Method:
In a large bowl, combine arugula with scallions, pomegranate seeds, and persimmons. Cover; refrigerate.
Dressing: Combine dressing ingredients in a glass jar; seal tightly and shake well.
Gently toss salad with dressing and almonds just before serving.
Norene's Notes:
No persimmons? Substitute nectarines or fresh apricots. No pomegranate seeds? Substitute dried cranberries. Different, but delicious!
There are two main types of persimmons: Fuyu and Hachiya. Fuyus are round, crisp, and squat, like a tomato, and can be eaten like an apple or a pear. Hachiyas are oblong, soft, and pulpy and are usually used in baking. Store persimmons stem-end down at room temperature.
This dressing is also wonderful on any leafy salad greens, or as a marinade for chicken, meat, or fish.
How to seed a pomegranate: Score around the middle of the pomegranate, but don't cut through. Twist to separate pomegranate into two halves. Invert one-half in your palm over a bowl, seeds facing down. Tap the top firmly with a wooden spoon to release seeds into the bowl. Discard white pith. Repeat with the other half. Seeds will keep 2-3 days in the refrigerator.
ROASTED CHICKEN WITH NECTARINES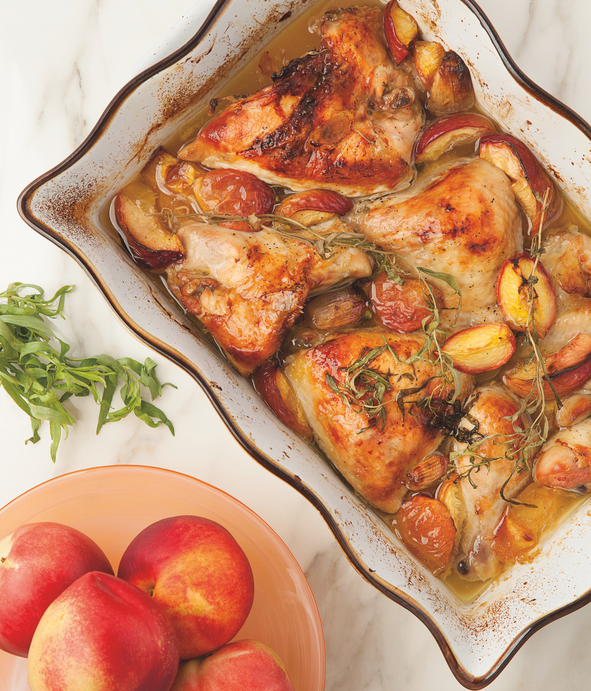 Meat, Passover, Gluten-free, freezes well, yields 4-6 servings
Sweet nectarines and fresh tarragon bring the beauty of the summer season to this simple chicken dish. The wine-based broth infuses the chicken with a slightly sweet, subtle anise flavor while keeping it moist and tender.
Ingredients:
1 (about 3 lb/1.4 kg) chicken, cut into eighths
2-3 large nectarines, quartered and pitted (do not peel)
2 shallots, peeled and halved
kosher salt
freshly ground black pepper
3 Tbsp brown sugar
¾ cup sweet white wine
½ cup orange juice
¼ cup honey
6 sprigs fresh tarragon or thyme
Method:
Coat a 9 x 13-inch baking dish with nonstick spray.
Trim and discard excess fat from chicken pieces. Arrange chicken in a single layer, skin-side up, in prepared baking dish. Add nectarines and shallots, tucking them between chicken pieces. Sprinkle chicken, nectarines, and shallots with salt, pepper, and brown sugar.
In a medium bowl, combine wine, orange juice, and honey. Mix well. Drizzle evenly over chicken, nectarines, and shallots, coating all sides. Top with tarragon sprigs. If you have time, marinate for 30 minutes or overnight in the refrigerator.
Preheat oven to 375°F.
Roast, uncovered, basting occasionally, for 1 hour and 15 minutes, or until cooked through, golden, and juices run clear.
Norene's Notes:
Variation: No nectarines? Use plums, peaches, or apricots. Even dried fruit works well in this recipe (e.g., 1½ cups dried apricots, prunes, or nectarines).
Wine adds flavor and will tenderize the chicken. Save the leftover wine from your dinner party and store in the refrigerator to use in this recipe.
CHOCOLATE DIPPED PINEAPPLE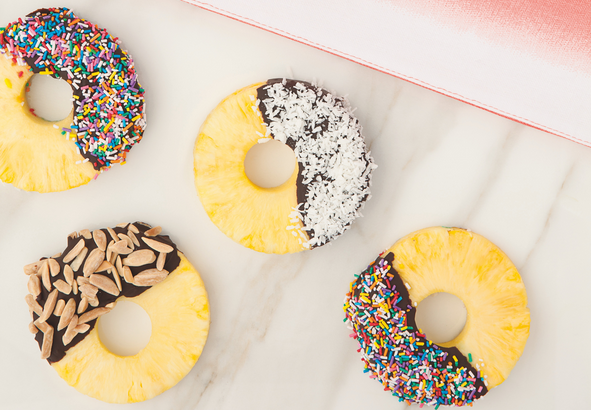 Pareve, Passover, Gluten-free, yields 8-10 servings
This simple, tropical treat is a must-make summer dessert. With sweet, juicy Hawaiian flavors, it's also great for barbecues and birthday parties.
Ingredients:
1 (14 oz/400 g) bar semisweet chocolate, broken into chunks
1 peeled, cored pineapple, cut into ½ -inch thick rings, patted dry
½ cup shredded coconut
½ cup slivered or sliced almonds
½ cup candy sprinkles
Method:
Line a rimmed baking sheet with parchment paper.
Pour about 1 inch of water into a saucepan. Bring to a boil; reduce heat to a simmer.
Place chocolate into a large, dry, heatproof bowl wider than the saucepan. Place bowl over simmering water. Melt chocolate, stirring often. Cool slightly.
Dip half of each pineapple ring into melted chocolate, allowing excess chocolate to drip back into the bowl.
Arrange pineapple in a single layer on prepared baking sheet. Sprinkle with topping of choice.
Refrigerate for 15-20 minutes, until set. Store in an airtight container in the refrigerator. Stays fresh for 1 day.
Norene's Notes:
Be sure to pat the pineapple slices completely dry before dunking them into the melted chocolate or the chocolate will not coat them.
If you found this content meaningful and want to help further our mission through our Keter, Makom, and Tikun branches, please consider becoming a Change Maker today.