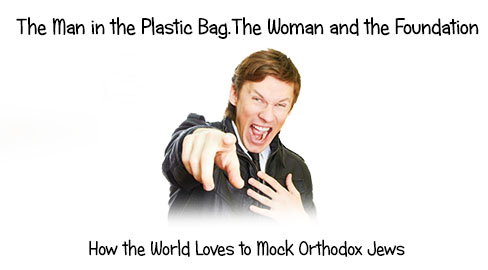 Did you hear the one about the Orthodox man in the plastic bag? How about the one with the Orthodox woman who sued the makeup company over foundation that didn't last all of Shabbos? Likely, you heard both, as these two stories spread throughout the Internet like wildfire over the last few weeks. Although I don't find either of these stories funny, they have made Orthodox Jews the laughing stock of the world wide web. Commentators have been having a field day mocking and trashing religious Jews and our practices, and reporters have done very little to put these bizarre stories into context.
The Orthodox man in a plastic bag "story" broke in mid-April. A photo of a man with a yarmulke and beard sitting on a plane in a body-sized clear plastic bag (with the bag knotted above his head) was posted on Reddit. The picture instantly went viral and spread without any verification and very few details. Site after site posted the photo without knowing who the man was, when the incident took place, or why the man was sitting in a totally enclosed plastic bag. There was only conjecture. Only several days after the photo was posted did YNet write an article claiming that a rabbi in Israel had told the man in the picture to enclose himself in a plastic bag because he was a Kohen (a Jewish priest) and needed to protect himself from becoming ritualistically impure as the plane flew over a cemetery. The man in the bag was never named.
What not a single site noted – and I read MANY articles on this topic – was how many Orthodox rabbis completely disagree with the idea of enclosing oneself in a plastic bag! I checked with rabbis from across the spectrum of Orthodoxy: Modern, Yeshivish, Centrist, Sephardic, Lubavitch, Hasidic. Not a single one said that being totally enclosed in a plastic bag was an appropriate thing to do in terms of Jewish law and many of them noted that it was and insane thing to do. There is certainly an idea of a Kohen taking measures to protect himself from becoming tamei (ritualistically impure), but it can't come at the cost of endangering himself by asphyxiation or by causing a chillul Hashem (a desecration of God's name). One of the messages my rabbis and teachers tried to impart to my classmates and me during our year of seminary study in Israel was that the Shulchan Aruch  (the Code of Jewish law) is a four volume work, but the "fifth" book of the Shulchan Aruch is seichel (common sense).
Good reporting means not only having the facts behind a story, but also giving voice to the other side. I can't tell this rabbi how to rule on Jewish law or the man in the bag which rabbi to go to, but I'd venture to say that the VAST majority of Orthodox Jews are against the practice of sitting in a sealed plastic bag. If the world doesn't hear from these people, though, it's as if they don't exist. Instead of reporters setting out to discover what's mainstream, the whole Orthodox Jewish community gets judged by one person.
What about the more recent story of the woman suing the makeup company because the foundation she purchased didn't last the full twenty-four hours it claimed, and it ruined her Shabbos (since she couldn't reapply the liquid foundation)? This story also was printed and re-printed all over the Internet with people once again bad-mouthing and mocking Orthodox Jews. The reporting was also very weak for this story as hardly any news outlet mentioned that this lawsuit is *class action*.
I spoke to a legal expert who explained why that information is so crucial. First off, the woman who's named in the suit has almost nothing to gain monetarily. Maybe she'll get the $40 back she spent on the foundation. That's it. The lion share of the $5 million claim (that's what the lawyers are suing for) goes to the lawyers in cases like these. From the way the story was framed in most of the articles, you'd think the plaintiff wanted to be compensated for her "pain and suffering." In truth, there is very little incentive for her to sue.
Second of all, while I don't know what the law firms involved in this case did, the legal expert explained that many class action law firms are known to seek out plaintiffs for their suits. Some will even go as far as hoodwinking potential plaintiffs, as the lawyers are the ones who will benefit the most from a win. While I won't make any accusations about the attorneys, I've been hearing murmurings on social media sites that the woman named in the suit didn't understand what she was getting herself into, was given bad legal advice, and has suffered greatly since the story broke. Not one reporter bothered to interview the plaintiff  directly as to why she'd go to all this trouble to sue a makeup company if she has so little to gain.
The legal expert also noted that even if this law suit was this woman's idea, no law firm should have ever taken such a frivolous case. He said that any judge would throw out this suit immediately. Everyone reading the article has condemned the plaintiff, but where is the outrage towards the lawyers for taking on such a ridiculous case? And just like with the man in the bag, there was no balance offered in any article where other Orthodox Jewish women had the chance to explain that most of us would never dream of bringing such a law suit.
The Orthodox world is certainly not perfect. There are many wonderful aspects to it, but there are real problems as well, and when those problems are discovered, we must speak out against them and work to improve them. But these recent stories are not indicative of larger problems. They merely bizarre aberrations. But since so few people personally know an Orthodox Jew and the media hasn't bothered to ask any of us what is normative behavior, these stories will now define us. Through social media, WE have the power to report the side that the mainstream media hasn't reported. Please help publicize the fact that these cases do not reflect the vast majority of Orthodox Jews.
[Watch Jew in the City's video response on this topic here: JITC Unplugged: A Response To The NYPost's Holy Chic: Extreme Makeup and Shabbos]
If you found this content meaningful and want to help further our mission through our Keter, Makom, and Tikun branches, please consider becoming a Change Maker today.
If you found this content meaningful and want to help further our mission through our Keter, Makom, and Tikun branches, please consider becoming a Change Maker today.