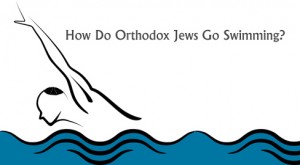 Dear Jew in the City,
This might seem like a silly question, but how do Orthodox Jews go swimming? Do they have places that are separate for men and women? If women cannot swim with men then can you ever swim with your whole family or just your husband if it's private or is that not allowed?
Thanks,
Jody
Dear Jody,
It's not a silly question at all! I'm sure it's hard to imagine how people who adhere to a high level of modesty handle water activities. As someone who didn't grow up Orthodox, I was like most secular people who, when I went to the beach or pool, walked around in nothing but a bathing suit. By the time I hit my teens – I insisted on wearing only bikinis. But then I started learning about Jewish modesty and realized that I was essentially walking around in my underwear!
I mention this not to pass judgment on people who wear bathing suits in mixed company (because I never thought twice about it back when I did it) but rather to make the point that although swimming covered up or going to a single sex pool or beach seems like an odd thing to do, there's actually something kind of odd about walking onto a patch of sand and willingly taking all of your clothes off in front of strangers!
As I've written before, both men and women have specific laws of modesty geared towards them. Men are more the "lookers," so they're restricted more in terms of what they can see. Women are more the "show-ers," so they're restricted more in terms of what they can bare.
When it comes to nuclear family members, it gets a little more complicated and different communities do different things. In more centrist and modern circles, as a certain age is reached (even the age I speak of has a range), sisters and mother's walk around (or swim with) brothers and sons in a less modest way than they'd be around men that were not part of their immediate family, but still generally have a sense of not being provocative around these family members. So families in these circles could have the entire family swimming together in private pools or private beaches. In the most right wing circles, sisters and mothers dress totally modestly around brothers and sons from a young age.
If private pools or beaches aren't an option, another possibility are swimming pools with separate hours for men and women or going to single sex beaches. The last thing that could be done is for the woman to dress modestly at a regular beach and for a man to go to a regular beach that's basically empty.
But what if all the women are covered appropriately – is mixed swimming OK for non-family members? I'm sure there are communities that don't, but I recently spoke to my rabbi about it and he said that as long as the women are dressed modestly co-ed swimming is fine as the prohibition on mixed swimming is about the state of undress, not the water.
There are different ways to handle dressing modestly at the beach and pool. In the past I've worn a thick, loose t-shirt that covers my elbows, a draw-string skirt, a bandanna on my head, to go for a sporty look. Modest swim dresses that kind of look like elbow length surfing attire (just with a skirt) have been getting more and more popular in the last few years too.
But there's a new concept for swim dresses which combines a cute sundress you'd wear around town made of out material that is fit for water. This dress can be an everyday dress, a cover up, or a swim dress. I was recently contacted by ba'al teshuva (returnee to obsevance) fashion designer Amanda Sculnick, who came up with this idea and is part of an up and coming modest fashion line she created called Sarah á la Mode.
Amanda explained how she struggled early on in her religious journey with how to dress as an observant Jewish woman, especially in the summer, as she didn't want to lose herself and her style in the process. Amanda's struggle is something that resonates with me very much as I believe that the healthiest way for a person to take on observance is to make sure they incorporate as much as their old self (as Jewish law permits) into their new religious self.
What's fabulous about these dresses is that you don't order by size – they're custom made for you. Amanda sent me one which I absolutely love and have been wearing all over the place. We decided to spread the modest fashion fun to one of you and create a contest on Facebook so you (or the woman in your life) can win a free dress too! Just like the JITC Facebook page to learn how to enter the contest. Happy modest fashionable swimming!
All the best,
Allison (aka Jew in the City)