During a family visit to Israel in the summer of 2015, we discovered the sprinkler section of Teddy park, situated roughly between the walls of the Old City of Jerusalem and Mishkenot Sha'ananim (site of the iconic Jerusalem windmill).  My children were thrilled to run through the geysers spraying water twenty feet into the air on that sunny August afternoon.  Sitting under a tree watching them run through the sprinklers, along with more than one hundred Israeli children, I thought of my great-great-grandfather, Matisyahu Naftali Elbe of blessed memory.  According to our family tradition, he was the first Jerusalem child born outside the Old City walls in modern time, in the Mishkenot Sha'ananim neighborhood founded by Sir Moses Montefiore.  I imagined him playing in the same spot, sans sprinklers, with the walls of Jerusalem behind him.  Nearly one hundred and fifty years have passed since then. Part of his family ended up in America for some time, but here they were, returning to the same ancient hills of Jerusalem.  It was a homecoming of sorts, though our home at the time was in Bergenfield, New Jersey, where I was a community rabbi and local educator, our children went to stellar Jewish day schools and our family and social network was located.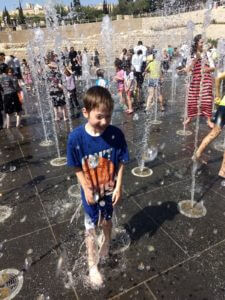 How does one navigate the competing pulls of home and homeland? My wife and I struggled over the decision to move our family from our home in New Jersey, surrounded by dear family and our beloved community, to Israel, our national homeland.  To make the decision more difficult, we had both grown up in the nearby town of Teaneck, New Jersey, with decades of relationships with the people and places of the greater Teaneck/Bergenfield area.  Ultimately, we moved to fulfill the mitzvah to settle the Land of Israel, to live in the one and only covenantal and holy land – and the lifestyle that enables – and to be on the frontlines of building the future of the Jewish People in Israel.  These motivations are totally sufficient.  However, perhaps one final reason helped propel us forward, despite the challenges of leaving family and community.
I still remember the first night I ever spent in Israel.  I was a sophomore in high school.  Staring out the window of my room on that quiet evening upon the lights and highway in the distance, I beheld a terrain which was at once totally foreign and unfamiliar and also a place I knew and felt was home.  How is that possible?  I had never stepped foot there.
I thank my school and synagogue communities, along with my family, for instilling within me, from when I was a child, a profound appreciation that Israel is our national homeland.  Growing up, it was an intellectual and emotional given that a Jew outside of Israel yearns to return home.  Aside from my upbringing, students of the Bible recognize that the Land of Israel is the Divinely gifted homeland of the Jewish People and exile from the Land is a terrible punishment.  From the time Avraham and Sarah entered the Land of Israel until the exile post destruction of the First Temple, with the exception of our years in Egypt and our journey in the Desert, the geography of the history of the Jewish People is the land of the twelve tribes of Israel.  Furthermore, a Jew who prays with the accumulated liturgy of over two millennia beseeches G-d multiple times daily for the ingathering of the Jewish people and a return to Jerusalem.  Consequently, when a Jew places his or her feet on the ground of Israel, one has come home.  Perhaps one has been away for one hundred and fifty years, perhaps for two thousand years, but it's still your home.  This desire to return to our homeland, to live in the land G-d destined for our nation, further impelled us to making aliya.
In our recent parsha, Avraham purchases a burial plot for Sarah, taking the first step in establishing roots in the Land.  Although he could have received burial rights for free from the local residents, he insisted on paying top shekel.  As a family burial ground reflects a lasting relationship with the land, Avraham could no longer remain a stranger in this holy place.  The time had come for him to live as a resident.  From the time of Avraham, the move to Israel is a move towards our homeland.  It's an orientation in life, a direction toward which to strive.
For many years, aliya existed as a long-term goal for us, though one which we weren't sure how and when to actualize.  I would speak about the importance of aliya from the pulpit and made a big deal when families in our shul made the move.  At school, I would teach my students about the partial return of the Jewish people at the beginning of the second Temple period and considered with them how our generation compares and how we will respond to the opportunity to return home. We even took our children to Israel twice when they were younger, to instill within them a love for our homeland and for them to feel comfortable there.  In addition, much to our daughters' chagrin, I avoided buying a real kitchen table for our home, to subtly communicate that we were there temporarily.  Nonetheless, the more years we spent together with our beloved family and community, anchored in New Jersey, the more distant that dream felt.  Blessed with busy lives raising a family, working, and serving our community, it was easy to push off thoughts of aliya, especially as those thoughts required us to consider fundamentally changing our lives.
For us, the moment of truth came when our oldest daughter entered high school.  We realized that our window of opportunity to make aliya as a family was quickly closing.  We did not want to overwhelm her academically and socially with making aliya in her final years of high school.  To wait until she graduated high school, we would have the same hesitation for our second daughter and then again for our other children.  If we would wait until everyone graduated high school, perhaps some of our children would have already chosen to stay in America.  We also recognized that the earlier we moved, the easier it would be for our children to learn Hebrew and integrate into Israeli society.  Conversely, the longer we waited, the more complicated life would get and the less of a chance we actually move.
For months, my wife and I couldn't make the decision.  We would talk about it over and over, at home and in the car, and go through the pros and cons.  We would consider the potential impact on our children, how it would affect our family and community, and where we could continue to make a contribution in the Jewish world.  How could we leave our family?  How could we leave our shul community, to which we were so deeply connected?  We were consumed by the choice, but it was too difficult to commit to a decision.  Ultimately, we recognized that if raising our family in Israel is important to us, we needed to go.  We only have one life to live and we could not watch our decades-old aspirations for aliya slip away, pushing them onto the next generation to go through the same decision.
There are certainly challenges which accompany aliya.  Still, in these immensely difficult days of the current war against savage and evil forces, one thought which has not crossed my mind or my wife's mind is to leave Israel.  If anything, we are more committed to staying and feel more connected with the People of Israel and the Land of Israel.  We have greater clarity that the destiny of the Jewish People is here in Israel.  We live in a blessed generation, where, Thank G-d, Jews around the world have the opportunity to make aliya and live in the flourishing and strong State of Israel, a modern-day miracle.  Perhaps this is the time to return home.
If you found this content meaningful and want to help further our mission through our Keter, Makom, and Tikun branches, please consider becoming a Change Maker today.