I am regularly accused of being an apologist for the Orthodox community by those who have left observance and are angry, while simultaneously accused of being too negative by community insiders who don't want to discuss the problems. I hope my analysis will not disappoint either group. I've always tried to approach issues with nuance, and I believe I've gotten better at it as I get older and the more I learn and become exposed to. That being said, I've also come to understand that nuance is threatening to anyone who views the world with a more simplistic lens. So here we go…
A Hasidic Jew once told me about going to a rebbe of a large sect to ask permission to attend graduate school. The rebbe not only gave his effusive blessing, he said more people from the community should do this as well. He ended by saying that this Hasid should never tell anyone that he (the rebbe) had given such permission. Obviously this person didn't follow the last part of the instructions, as the story was repeated to me.
There is something absolutely wonderful about this encounter — the encouragement to pursue higher education and professional dreams by the head of a strict Hasidic sect. Here, we've been led to believe this sort of thing is not allowed and the head not only gives permission, but wishes that more would follow!
At the same time, there is something absolutely tragic about this encounter. If the rebbe is supposed to be leading his flock, who is he scared of? Why isn't he leading?
Years ago, I met with someone high up within a large blackhat institution. We discussed both the unfair treatment the Haredi community gets in the press, as well as the underlying problems that exist within it. He explained that everyone is always looking to the right of them and concerned with how they'll respond. The fear is, "What will the more insular and stringent groups say or do if we do X or Y?" he explained.
I asked, "And the most right-wing factions are worried how the kanayim (zealots) will react if they do X or Y?" The leader concurred. At that point I interjected, "So the entire community is basically being held hostage by a select number of kanayim?" He sadly nodded.
The New York Times published a damning exposé on Hasidic schools of New York yesterday. It was their front page, top of the fold article on September 11. The article was an uncomfortable read, because it raises serious issues about failings in the community in terms of secular education and corporal punishment that we must deal with. Jewish law requires us to follow the law of the land, protect the vulnerable and teach our kids a trade, so they'll be able to support themselves when they grow up. These are non-negotiable laws.
The article was an uncomfortable read for another reason: the framing of Jews as child abusers and sucking public funds to do so, is really problematic imagery. It fits right into antisemitic canards.
Frankly, the fact that this article played into them does a disservice and creates a distraction from the important topic at hand. First, we'll unpack this unfortunate framing. Then we'll discuss the issues in Hasidic schools.
Economic Uncertainty = Jews As Scapegoats 
Not only are many elements of the article poorly framed, the group that's being exposed bears the brunt of the vast majority of Jewish attacks, as antisemitic violence has risen in recent years, and these people are the most Jewish looking Jews. We all know that in times of economic hardship — like inflation and an impending recession — Jews have always been the perfect scapegoats.
But don't take my word for it — here are just a few choice comments from readers on the New York Times's Instagram page where the article was posted:
"This is a well-known fact but nothing gets done in fear of the Jewish community backlash." (i.e. look at how powerful the Jewish cabal is).
"It's a cult that we allow under religious pretext. It's sad and sickening." (That we allow.)
"And the women just become broodmares and house slaves." (They hate their women.)
"Tragic. The cult is strong. These kids need help."  (They hate their children.)
"Ignorance is a powerful tool for brainwashing."
"The similarity between the Hasidic and the Taliban."
The last comment is interesting because there have been studies done for other minority communities about negative media leading to negative sentiments and increased violence against them (we're actually raising money for such a study right now in our recently launched Hollywood Bureau). But when a group of mostly non-violent people get compared to violent terrorists, it's not hard to imagine how such a sentiment could open the door to increased violence against them.
Increased Sensitivity To Reporting On Other Minority Groups
Investigative reporting on a religious Jewish community is not inherently antisemitic, but there seems to be increased sensitivity in recent years toward other minority groups and the backlash they might face with negative reporting. The lab leak theory of the Coronavirus was immediately quashed by traditional media outlets because the pandemic brought terrifying violence against the Asian community and members of the media didn't want to fuel that fire. After the George Floyd murder and BLM protests, there has been a widespread understanding in media that when the black community is depicted as criminals, it increases police violence against the community. Even after 9/11, when media was far less sensitive to these issues, there was a growing understanding that Islamophobia was worse than ever and media played a role in preventing it. Similar concerns towards the Jewish community's safety don't seem to be taken into account in the following framings in this article:
Jews As Leeches
People are struggling economically right now, and citing $1 billion of taxpayers' funds going toward yeshivas feels extremely large to the average reader trying to pay his bills. Broken down over four years, according to OJPAC, this $1 billion actually amounts to $2500 per student (including Covid funds and lunch vouchers). Without those add ons, it's actually $1375 per student. This is compared $25,000 per student that the city funds public schools. This is a far less dramatic way to explain the numbers and would be far less inciting for a community under attack.
Jews As Cultish Separatists 
Antisemitism allows for Jews to always be the perfect enemy. We're too rich, when being rich is considered negative and too destitute, when poverty is derided. A popular trope is "Jews are separatists," and one of the first few paragraphs of the article feeds into this idea, "The leaders of New York's Hasidic community have built scores of private schools to educate children in Jewish law, prayer and tradition — and to wall them off from the secular world." The verb "wall off" implies imprisonment. Another word that could have been used in its place is "protect." I think whether one feels imprisoned or protected makes a world of difference in whether one is part of a cult or part of a healthy and happy close-knit society.
Our organization's Makom branch deals with hundreds of ex-Hasidic Jews to help them find a positive place in the Orthodox world. The vast majority of our Makom members felt that their homes and societies were prisons and cults. But it's not because a Hasidic lifestyle is intrinsically that way, it's because our members come from homes where they did not feel seen, heard or held, and where love was conditional upon them following the rules and in many cases, schools that reinforced this negativity. This phenomenon is called emotional neglect and it leads to insecure attachment. In other words, when you come from a dysfunctional home, it feels like a prison you can't wait to escape from. This is a fair and important topic to discuss, but it doesn't account for the numerous Hasidic Jews who feel protected and embraced by their way of life due to being raised in healthy homes. Framing this community as "walled off" is dangerous language.
Jews As Misogynists 
The article notes that pictures of girls and pictures of pigs are blotted out of textbooks in certain schools. Let me state quite unequivocally that I am no fan of women being removed from Haredi publications. But the choice of these two words — girls and pigs — written side by side could easily imply equivalence, when that is not the motivation at all. Removal of women is due to a stringent interpretation of modesty. Pictures of pigs don't need to be removed according to Jewish law, but probably due to a Kabbalistic interpretation they avoid seeing pictures of pigs.
Random Hasidic Children Looking Distressed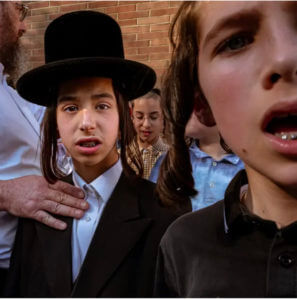 There are definitely abused children in the Hasidic community, as there are abused children in all communities. Most of our Makom members were abused, so I don't want to downplay the seriousness of the topic.
And yet, the pictures in the article of random Hasidic boys on the street looking distressed are DEEPLY unhelpful.
The picture of this boy on the left looks like a deer caught in headlights. His teacher's hand near his neck looks foreboding.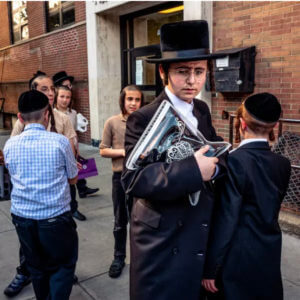 So too, the Hasidic boy on the right is just making his way through the street. We have no idea what was on his mind when the photographer snapped the picture. Maybe he's late to class. Maybe he just got into a fight with a friend. Perhaps, like celebrities, these grimaces are due to a camera being shoved in a face. There is definitely a colonialist approach to how this community is being viewed and depicted. Like with Pocahontas, the smart, brave secular folks must save them. Which leads me to my final point on this topic.
Lack Of Generosity Towards The Community
I understand that an investigative report is not written to stroke the egos of the people it's written about —and the community is very suspicious of reporters and do not easily let them in. Even so, the goal of an investigative report, I hope, is to create change. And no one is open to change when you shout at them how bad they are. The community has real issues to face, but they also do some things in exceptional ways. The hospitality in the community, the generosity of so many of its members, the number of organizations that exist to help in every way you can possibly imagine is exceptional. It's like nothing that I've ever seen anywhere else. I believe some more detailed descriptions about these positive elements of the community would have made the difficult parts easier to swallow.
Facing the Challenges
And now, let's get to the difficult parts within the schools themselves. I already mentioned the children from dysfunctional families who don't feel seen, heard, held or unconditionally loved. They often develop a rage within, because so many of their basic needs were unmet in their formative years. I believe many of the activists against the yeshiva education system are coming from this vantage point. But there's another response to family dysfunction that we need to address – the family member who never wants to discuss the problems. The family member who covers up the issues and wants to pretend everything is OK because the problems are too painful to face. I believe we see some of that dysfunction from the slavish defenders of these schools. This is also an unhelpful response. 
I don't have an exact number of how many schools are problematic and how many have made positive changes vis a vis child safety, secular education and financial transparency. We've begun to dig into this issue through our Tikun branch — our branch dedicated to communal repair. What we've discovered is that child safety curriculums and protocols have made their way into some schools, as well as independent financial audits, so the schools can operate with transparency and accountability.
I know of 4 separate secular curricula that have made their way into a large number of New York schools, but back to the opening story — none of the people we've spoken to in any of these areas want to be public about the positive changes that are occurring (Menachem Bombach, in Israel, is the only Hasidic educator I know who publicly discussing the positive changes he's brought about in his schools). The people we've spoken to in New York are all afraid of zealots trying to stop their progress, so they're operating quietly and under the radar. This is a huge problem both in terms of promoting positive change and in terms of having accurate information to report.
We are currently in Elul — a month of personal introspection. I don't think it's a coincidence that this article came out now. Self-evaluation, apologizing and committing to do better are the hallmarks of this time of year and I would say, the foundation of being a religious Jew. It is not shameful to make a mistake. It is shameful to not face and correct those mistakes that we've made.
We can feel proud of all the things the community does right while also taking responsibility for where we are falling short. Doing a mitzvah publicly is considered a kiddush Hashem — a sanctification of God's name — and community leaders can use this opportunity to do teshuva — to apologize for where they have fallen short, to validate the people who are hurting and to create a systemic plan to ensure child safety protocols, checks and balances and improved secular education across all schools. It would be a tremendous kiddush Hashem. And when you're self-reflective about where you need to grow, you become more trustworthy when you explain the positives that already exist.
The Jewish people are too strong and resilient to be held hostage by a select number of zealots. May the new year ahead bring courage, clarity and a renewed commitment to living up to our beautiful way of life.
If you found this content meaningful and want to help further our mission through our Keter, Makom, and Tikun branches, please consider becoming a Change Maker today.