The entire Jewish world was shaken on Saturday when a terrorist held four people at a Colleyville, Texas synagogue hostage on Shabbat morning. Luckily, the vice president of Congregation Beth Israel synagogue was able to dial 911 discreetly and get help. What followed was an 11-hour standoff between authorities and Malik Faisal Akram, a British national who was holding the hostages (which included the synagogue's rabbi) at gunpoint. He also claimed to have explosives on him.
Inspector Richie Taylor — one of the highest-ranking Orthodox Jewish officers in the NYPD — carries his phone on him over Shabbat for emergency situations and was notified quickly. Although not in Texas, he immediately communicated with officers around the country and connected with volunteer community patrols to alert and mobilize people in preparation for more attacks. He says one "can never be sure if an incident is isolated or if there are many components to it like 9/11. It wasn't just one plane but four."
In case the hostage situation was a countrywide attack, Taylor and the volunteers knew New York City would be next since it is the "highest terrorist target in the U.S." All synagogues and places of worship were put on alert to prepare for an attack, but with the proper investigation, the police department deemed the Texas hostage situation as a singular incident.
Taylor urges that everyone should report incidents to 911, even if it is just a verbal slur. He says, "people may feel shy or timid to make a report" but "harassment can really affect someone for a long time." Additionally, if low crime is tolerated, then that will lead to worse crimes, so it is best to "nip it in the bud" right away. The department will know where to send the officers, because it is usually a select amount of people who are committing all of the crimes in the area. Taylor has noticed a pattern that when someone is arrested for burglary. "Burglaries in that area sharply decrease," he says.
Taylor has always had a passion for public service. By the time he was 13, he was helping his friends who were Hatzalah volunteers before joining the organization himself. He looked at the volunteers in awe because they would wake up at three in the morning and run out in the freezing cold to help strangers in need. He went from volunteering at Hatzalah to becoming a police explorer at 15. He believes it was a great opportunity to "get a backstage pass into policing, public service, community relations, how to keep people safe and most importantly, how to make people feel safe." He was motivated to become a police officer because he recognized that he had the "opportunity to have a personal touch in any situation and make an impact." From police explorer, he became a police officer and eventually made his way to inspector.
Taylor's love for Judaism also grew organically. He was raised in a traditional Jewish household in Brooklyn and became shomer Shabbat and shomer kashrut at a young age. He switched over to yeshiva in 5th grade, married at 20, and now has five children.
Taylor believes that Judaism and police duties go hand in hand. Early on, his rabbis always spoke about the beauty in helping others and the concept of Pikuach Nefesh (saving a human life takes priority over everything). He explains that this concept "not only allows someone to drive a car on Shabbat to save a life, but if someone like him is trained and qualified to save lives, then he has an obligation to do so."
Taylor includes every life under his responsibility to save, not just Jewish lives. Taylor says, "saving a life is as if you are saving the entire world and how many people look at their child or spouse as the entire world." He continues, "you can truly save someone's entire world from a concept that we learn in the Jewish religion."
Taylor says there is "never a shortage of crises" even on holidays and Shabbat — as seen in the Colleyville attack — so he always keeps his phone on him. He often receives calls about missing children and elderly patients, and he constantly receives calls from Hatzalah to help. Yom Kippur is one of Hatzalah's busiest days because many older people get sick from fasting and Hatzalah volunteers are constantly taking them to the hospitals. Taylor adds that he "just sees that and gets inspired" because they are "giving so selflessly to strangers."
Taylor also addresses the concerns citizens have regarding the low/no bail for criminals in the city. Taylor assures that the new mayor, Eric Adams, takes public safely seriously and he is "righting the wrongs that we've seen in the past." Adams has already made moves to appoint tougher judges over criminal cases in the city. Taylor states that he is "optimistic about the future."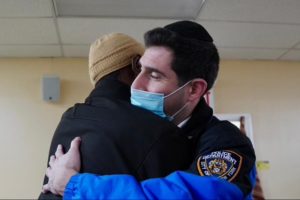 A couple weeks ago, a beautiful picture circulated social media of Taylor and an Imam from the Bronx fire hugging. Taylor was at the sight helping alongside the volunteers who were delivering hot food, providing shelter, and collecting resources and clothing for the victims. Taylor says the "embrace was real, and it was a loving hug of humanity." He continues, "how much of a blessing do we have to be a giver and consider that and appreciate that. We should always use our positions to the fullest potential to help the greater good." He ends on a positive note that "courtesy is contagious, giving is contagious, love is contagious" and with good deeds we can "push out the darkness like a candle."
If you or someone you know is in need of help, you can refer them to the below numbers:
Counter Terrorism Tip Line: 888-NYC-SAFE
To provide anonymous crime tips: 1-800-577-TIPS
If you found this content meaningful and want to help further our mission through our Keter, Makom, and Tikun branches, please consider becoming a Change Maker today.