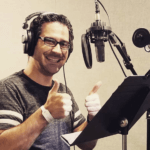 Acting isn't an easy profession, all the more so when you are an Orthodox Jew. But to be an award-winning actor that's also Shabbos-observant? Elliot "Eli" Schiff might be one of the only ones in the world. After winning not one, but two awards at this week's SOVAs (Society of Voice Arts and Sciences), Schiff sat down with Jew in the City for another installment of Seven Questions With. Here's what he said.
What award did you win on what projects?
I won two awards (I had been nominated for three). The first category is Outstanding Promo – TV or Web – Best Voiceover for a Promo I did for Disney Jr for a TV series called Puppy Dog Pals. The other was for Outstanding Promo Campaign – TV or Web – Best Voiceover for a series of promos I did for Disney XD's Big City Greens. The video for the awards show is here. My award is around the 55 minute mark, and the second one is directly after it.
What was your Jewish background/education growing up?   I grew up frum from birth in a Modern Orthodox household with my parents and two younger sisters. We kept Shabbas and Kosher and were/are fully practicing. I was fortunate to grow up around a fairly large family (including 2 great-grandparents, 3 grandparents, parents, aunts, uncles, and many many cousins), who mostly practiced the same way we did. I was born in Brooklyn and we moved to Woodmere when I was three. Growing up I attended elementary school at the Hebrew Academy of Long Beach (HALB) back when it actually was in Long Beach. I went to the Hebrew Academy of Five Towns and Rockaway (HAFTR) for high school and then to college at YU. I also attended Jewish day camps (like Camp Avnet in Dix Hills) and sleep away camp (Mesorah) and worked at Morasha. Now [my wife and I] send our children, Jakey, Bailey and Serina to Jewish schools and camps as well!
How did you get into voiceover work? Did you do other forms of acting first?  I had always loved cartoons and video games, but I was never the class clown-type who was always making funny voices. I'm a bit more of an introvert, actually! But I identified more with the TV promo network voices like that of FOX, CBS or ABC. So when I moved out to Los Angeles at 24, I started to take voice over classes, and I sort of fell in love with it. But I didn't quite pursue it fully at that point. I would take the occasional VO class, but I was still training for on-camera and theater work (including plays, improv and sketch comedy). My wife, Chari Pere, and I got married in 2010, and had our son Jakey in October 2012. Over time, I just started to feel less interested in on-camera work, and though I still loved performing on-stage, there just wasn't enough time for that once Jakey was born. Chari and I discussed focusing on voiceover solely. In 2017, after a lot of training and hard work, I was fortunate enough to start working in various areas of voiceover.
What have you voice-over'ed for and what other projects have you been in ? I've been involved with many different areas of VO over the years. I've done commercials for Google, Arco, Disney and I currently have a commercial airing on the radio for AHA sparkling water! I've also worked in video games such as Genshin Impact, Final Fantasy Brave Exvius, Trials of Mana and Afterparty. I've worked in dubbing, most recently for the anime Jojo's Bizarre Adventure, worked in eLearning, audiobooks, narration, even IVR (Interactive Voice Response) for the phone for various companies. I am also fortunate to work as an Audio Description narrator on various TV shows, films, educational videos and even children's books. Audio Description narration is designed to help those who are blind or have low vision to be able to have access to TV, films, theater and other areas. I've narrated for shows such as Succession and The White Lotus (HBO), Growing Up Animal (Disney+) and various other shows for Netflix and Syfy.
How does your observance interact with your career? Hollywood isn't so accommodating to Jewish observance generally. Has it been challenging? Part of the reason I chose to go into voice acting is because, for the most part, it can be scheduled and can accommodate Shabbos and the Chagim. I grew up in a pretty creative family. My dad used to imitate the Cowardly Lion and other characters from the Wizard of Oz or other funny commercials and TV shows/films. My mom was always very creative, making up lyrics to songs for parties (like my grandparents' 40th anniversary) or painting us characters on t-shirts or crocheting them onto kippas for me! But when I told my parents I had planned to move to LA to be an actor, they were pretty concerned that it meant I was giving up Shabbos and all of the traditions I grew up with so I could fit in. I clearly remember telling my parents that I had no intention of compromising my Judaism or practice in pursuit of my goals. In acting terms, when you've got another job you're busy with, you call that a 'booking' and let the person scheduling know that you are already 'booked' for that day/time and assuming there is flexibility, they can schedule around it. I told myself that whenever it was Shabbos or a holiday, I was already 'booked' on another job, so I wasn't available. In voiceover, as long as you are up front about the times you're unavailable, often people are understanding and flexible (depending, of course, on the genre/job. Some, like promos, are more pressing and have a quicker turnaround). One of my favorite things to do (at least before COVID) is to have voiceover friends join us for Shabbos and other celebrations. We've had people familiar with Jewish traditions, and people who had never been to a Shabbos meal before. I always love getting to share the experience with them and get to know them better, and have them get to know me and my family too. Since most of my colleagues and my agents know that I'm an Orthodox Jew, and I generally give them notice when I will be unavailable to work, I don't tend to get put into a position where I have to choose between Shabbos and working.
How did you climb to this level of success? How does one land parts? Impress the right people? There are a lot of things that had to align for me to get to where I am today. But I think that's probably true for most people in the arts! Every road is so unique to the individual that there isn't really a clear path to climb. That said, there are three major components to how I got to where I am today: 1) Training- I cannot understate how important training is. Innate talent is great, but you need to take classes and use what you have in order to grow and learn what you can do well, and what you might not want to (or maybe even shouldn't) do. 2) Support system- people joke about actors being mean and backstabbing each other, but in voiceover, most people are helpful and supportive. I got my first repeat client through a friend, and got several of my agents that way as well. Your colleagues become your friends, and are there for you when you have questions, for a shoulder to cry on when things go wrong, and to cheer you on when things go right! It is so important to surround yourself with friends and family who support you through all the ups and downs that this career will inevitably bring. Having a wife who also works in the arts and has always been so supportive has definitely helped me through many of those tougher times. 3) Patience and Persistence- The most common thing you'll hear from voice actors is that a career in voiceovers 'is a marathon, not a sprint.' Meaning, this is a career that you build over time. It is very rare for someone to become an overnight sensation. As an independent artist, you need to consistently show people what you can do, and that you can do it time and time again. When people get to know you and the quality of your work, they are more likely to hire you. As far as landing parts and impressing the right people goes, I think that comes with what I said above. There is some element of luck involved, but if you put in the work, seek out those opportunities, and perform well consistently, you will eventually be connected to those opportunities. It is important to be open to new opportunities as well. When I first got involved with Audio Description narration, I hadn't even heard of it. Now I've been working in that genre for more than 2 years, and I find it to be one of my favorite areas to work in. If I hadn't been open to the experience when the opportunity came along, that never would have happened.
Do you always wear your yarmulke to work? Do you break down stereotypes? If so, how? What does it mean to accept an award like this in a yarmulke as visibly dressed Jews are being attacked all over the world ? I always wear my yarmulke. I am very straightforward and proud about being Jewish. I have found that people really respect that. They may not always understand everything I do, or why I do it, but whenever possible, I try to explain and share my experiences. I find that when people see you as a person, and not just a religion or race or whatever, they are more easily able to identify with your humanity and connect with you. One of my biggest pet peeves is when I meet another Jewish person in entertainment (or anywhere, really) who sees my kippa and tells me they're 'a bad Jew'- meaning they're not observant. I hate that! You aren't a 'bad Jew' because you aren't practicing the same way I do. You're a Jew. Period. And we try to welcome them at our home for Shabbos so that they can connect to whatever spiritual components speak to them. We try to keep our place open for friends and colleagues to feel welcome, regardless of their background. I am so proud to have accepted those awards while wearing my yarmulke. Part of the reason I wanted to succeed in this field was to be able to show that there is a viable path to being an actor while also remaining frum. When I decided to do this, I didn't know of too many other Orthodox Jewish actors in film/TV- at least none that came from frum backgrounds (Mayim Bialik and Steven Hill, for example, both became more religious later on). I wanted to prove it was possible. I didn't really see removing my kippa as an option, honestly. It's just part of my everyday life. I wake up, it goes on. End of story. I am sad that Jews are attacked for wearing a yarmulke, just the same as I'm sad that anyone gets attacked just because of who they are or what they wear. At the end of the day, we just have to be true to ourselves and hope for the best. I have been so beyond fortunate to work in a diverse industry where people have the biggest hearts. I never felt intimidated or like I shouldn't be there just because I was wearing my yarmulke. Of course, I wouldn't want to put anyone in a dangerous situation to wear it, but I would hope the fear of losing work won't stop someone from wearing their yarmulke.
If you found this content meaningful and want to help further our mission through our Keter, Makom, and Tikun branches, please consider becoming a Change Maker today.