With Chanukah just days away, many people are looking past the Thanksgiving cooking crush and beyond to what they are making for the Festival of Lights. If you're tired of the same latkes every year, you're just like us! Not to worry, we've combed the internet to find these four innovative and tasty takes on the classic fried potato pancake dish and found amazing options from four kosher Instagram star chefs. While they all call for the standard ingredients of potatoes and a ton of oil (and love!) these unique new flavors are sure to surprise and delight your family and guests. Chanukah sameach and b'teyavon!
Spinach Sweet Potato Goat Cheese Latkes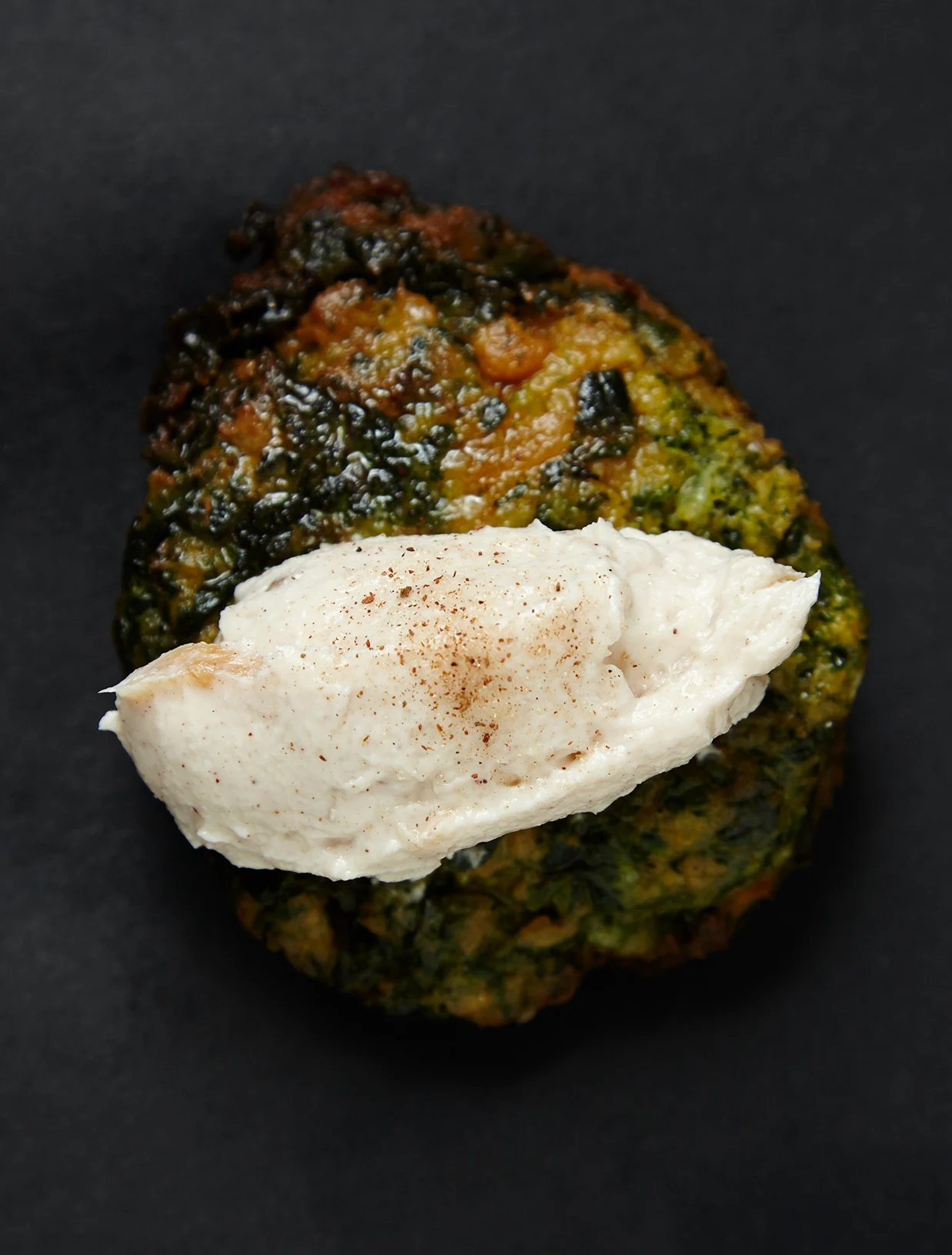 by Tamar Genger @tamargenger
These Spinach, Sweet Potato, and Goat Cheese Latkes combine two superfoods— spinach and sweet potatoes, into one totally delicious latke. It is a great way to re-purpose leftovers into a fresh dish that your family will love. In fact I invented it by combining leftover mashed potatoes with frozen spinach.
INGREDIENTS
10 oz. package frozen spinach, thawed and strained
½ cup mashed sweet potato from 1 large sweet potato
2 eggs
½ teaspoon salt
¼ teaspoon pepper
3 ounces goat cheese, crumbled
¼ cup panko (optional)
Oil for frying
INSTRUCTIONS
1. Mix spinach, mashed sweet potato, eggs, salt and pepper, and half of goat cheese until well combined. Mixture will stay together without the breadcrumbs, but some like latkes a little firmer, so add the panko if desired. Heat oil in frying pan and drop batter by small tablespoons. Cook about 3 minutes until browned, turn over and cook 2 more minutes. Remove to paper towels to drain excess oil.
2. While frying latkes, heat the other half of the goat cheese for about 15 seconds in the microwave. Stir well, adding a little milk if needed to get to a sauce-like consistency.
3. Serve latkes with goat cheese sauce.
Brisket Taco Latkes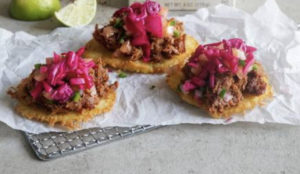 by Esty Wolbe @cookingwithtantrums
INGREDIENTS
1 box Potato Pancake Mix
2 eggs
2 and 1/4 cup cold water
1/8-inch hot vegetable oil
3 pounds marbled 2nd cut brisket
1 – 19 ounce bottle BBQ Sauce
1 large onion, thinly sliced
5-6 garlic cloves, sliced
Coee Garlic Rub
1 tablespoon ground coee beans
1 tablespoon dark brown sugar
1/2 tablespoon smoked paprika
1 teaspoon regular paprika
1 teaspoon coarse salt
1 teaspoon onion flakes
1 teaspoon granulated garlic
INSTRUCTIONS
Prepare the Latke Tacos
1. In a medium bowl beat eggs until blended; Add the cold water and mix well.
2. Stir in contents of pancake/latke package. Allow batter to thicken three to four minutes.
3. In large skillet, drop tablespoons of batter into 1/8-inch hot vegetable oil and brown both sides. Makes 45-60 latke pancakes.
Prepare the Pulled Brisket
1. Place the brisket in a crock pot. (Alternatively, this may be prepared in the oven at 275°F for four to six hours, until it shreds easily when pulled). Top with onions and garlic.
2. Pour BBQ sauce over the top. Add 1/4 cup of water to the BBQ sauce bottle, swish and pour into crock pot.
3. Sprinkle on the coee garlic rub and cook on low eight hours.
4. Remove brisket from sauce and pull apart with two forks until shredded.
5. Add a few tablespoons of cooking liquid to shredded brisket.
6. Place a mound of pulled brisket onto the center of each latke, gently fold and enjoy!
Jalapeno Popper Latkes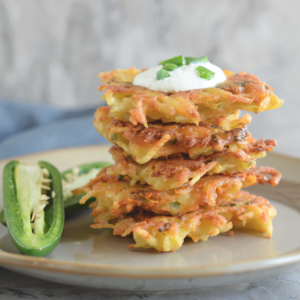 by Melinda Strauss @therealmelindastrauss
INGREDIENTS
2 lbs Idaho (or Yukon Gold) potatoes
2–3 large jalapeños
8 oz cream cheese, room temperature
1 cup shredded cheddar cheese
2 large eggs
1/2 cup bread crumbs
1 tsp kosher salt
oil, for frying
Jalapeño Sour Cream
3 Tbsp sour cream
1 Jalapeño
1/2 tsp kosher salt
INSTRUCTIONS
1. Peel the potatoes and place in a bowl of water until ready to shred. The water will help keep the potatoes from browning.
2. Cut the stems off of the jalapeños then slice in half and remove the seeds.
3. Using a food processor or a grater, shred the potatoes and jalapeños together. 4. Place inside of a kitchen towel or cheese cloth and squeeze as much liquid as you can out of the potatoes.
5. In a mixing bowl, fold together the cream cheese, cheddar, and eggs. Add in the shredded potatoes and jalapeños, bread crumbs, and salt.
6. In a medium heavy-bottomed pan over medium-high heat, pour in about 1/4 inch of the oil. Once the oil is hot (a drop of the batter placed in the pan should sizzle), use a heaping tablespoon to drop the latke batter into the oil, cooking in batches of 3-4 latkes. When the edges of the latkes are brown and crispy, around 5 minutes, flip using a spatula or two forks. Cook until the second side is browned. Transfer the latkes to a paper towel-lined plate to drain and sprinkle with salt while still warm. Repeat with the remaining batter.
7. Blend the sour cream, jalapeño, and salt together in a food processor, or chop the jalapeño and add to the sour cream with a sprinkle of salt. Top the latkes and serve.
HASH BROWN "POTATO KUGEL" WAFFLES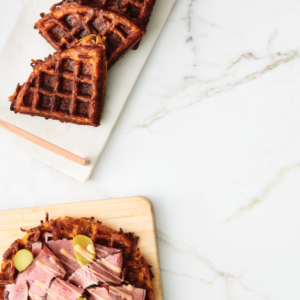 by Daniella Silver @daniellasilvercooks
INGREDIENTS
4 lb Yukon potatoes, peeled (about 8 medium)
1 large onion, chopped
1 egg
1 Tbsp kosher salt
1/4 tsp black pepper
4 Tbsp extra virgin olive oil (preferably light)
1 tsp sweet paprika
INSTRUCTIONS
1. In a food processor fitted with the shredding disk, shred potatoes and onions, using medium pressure. Transfer vegetables to a large colander set in the sink or over a bowl; press firmly to drain excess liquid.
2. Place drained veggies into a large bowl. Add salt, pepper, oil, and paprika. Mix well.
3. Turn on waffle maker and spray with nonstick cooking spray.
4. Spoon about 3/4 cup potato mixture into waffle compartment and smooth out evenly. Cook until potatoes are browned on both sides. Add more nonstick cooking spray if needed.
5. For deli hash brown pizza, follow recipe above. Serve on a large serving bowl or individual plates. Top with 1 lb sliced corned beef, 3 pickles, trimmed and sliced and drizzle with spicy mayo.
If you found this content meaningful and want to help further our mission through our Keter, Makom, and Tikun branches, please consider becoming a Change Maker today.