Rabbi Jack Abramowitz has spent his career helping people find meaning in living a Torah life. His articles on the Orthodox Union's website, OUTorah.org, as well as here on Jew in the City, consistently draw on relatable ways to give context to tough topics. His seventh book, Ask Rabbi Jack, features the Ask Rabbi Jack questions that come from Jew in the City. This collection of well over 100 questions and answers covers Jewish law, philosophy and everything from Science Fiction and Fantasy, to Jewish History and Holidays, as well as a range of questions related to COVID-19.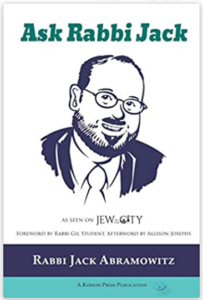 Abramowitz initially grew up Conservadox in Long Island, but his family became more observant as he grew up. He went to Hebrew school, Yeshiva day school and then continued to Yeshiva University. His parents became involved with Chabad when he was in 4th grade and moved more to the right. "A number of years later, I got involved with NCSY and my parents came along somewhat in my wake. I credit NCSY for presenting palatable religion in a way that spoke to me, that related to the world as I understood it."
Abramowitz elucidates that this is where his inspiration for teaching Judaism in a relatable way was born. "Most classes that you take in school are just there. That's just the way the [Hebrew school] education was. NCSY was enlightening to me because the people were observant, down-to-earth normal people with whom you could have normal conversations. They presented things in a way that seemed to have relevance." Abramowitz enjoyed the intellectual part of learning with NCSY, but the social aspect made it come to life. "It illustrated that [Torah] could be something both studied and lived."
Because of his involvement with NCSY, Abramowitz went to work for the national organization. "I was already on a path that, while it wasn't my intended career path, was something that I was involved with consistently throughout. It's where life took me." Ever since he was a young child, Abramowitz knew he was a "good explainer." He knows that he is good at breaking down difficult concepts to a variety of audiences and contextualizing things that seem absolutely [nonsensical.] "You don't have to agree with everything but you can understand it." People would send him random questions at NCSY and he suggested that they create a separate email address for it. Questions poured in and the main branch of the OU started forwarding him questions as well. When he didn't know the answer, he would take it up the chain, sometimes all the way to Rav Herschel Schachter, shlita, and Rav Dovid Cohen, shlita.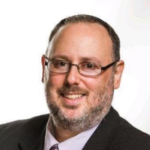 In his early days, Rabbi Abramowitz would first take his questions to Rabbi Dovid Orlofsky, "He's a great explainer. Honestly, he had a lot of influence on me…I'd have to say that he was my biggest influence." Once, Abramowitz was hospitalized on Sukkos and he was questioning why. The Jewish hospital chaplain came and discussed it with him. "It's hard to take the things you would say to other people and say them to yourself. Sometimes you need to have that sounding board."
Abramowitz has used this technique to debunk myths, explain misunderstandings and give topics nuance. "If you cherry-pick things, you can make any religion look horrible or wonderful. Context is important. You have to read the whole page. You can't just read the one line in a void and pretend you know what it means." When people bring questions that are out of context, Abramowitz provides it. Once people are enlightened on what things actually mean, they can choose to like it or not like it, but then because they understand it, "there's nothing to get upset about."
There are plenty of questions that he receives which may seem silly at first, but to the asker, they are serious. "They might seem silly to us because we know the answers, but they aren't to the people who ask them and this is how they learn." He remembers a question which he mentions in the introduction to the book. "They asked, 'If a glob of dough is stuck to the ceiling after a food fight, does it have to be removed before Pesach because a dog can't reach it?' I said to this person, 'you have a fundamental misunderstanding about being fit for a dog to eat and a dog's ability to access it. This is fit for a dog to eat, the dog's inability to climb a ladder doesn't really play into it."
From tackling Marie Kondo to answering questions related to Netflix's Unorthodox, Abramowitz's answers are always on-point and strike the balance between timeliness and timelessness, and the readers are responding. Lisa from Ohio shared the following feedback on Ask Rabbi Jack, As Seen on Jew in the City:
I am responding to Rabbi Weinreb's recommendation of "Ask Rabbi Jack". I ordered the book after the first time he mentioned it. I have a child (young adult) who is having some difficulty with the Orthodox lifestyle she was raised in. I took out the book at the Shabbos table and started just randomly picking out questions to discuss. Both of my kids enjoyed the way Rabbi Jack went through the explanations. This was a few weeks ago that we started it. Now we take turns choosing a question or two and read it at the table and end up discussing the subject. Thanks for your endorsement of this book. Glad I bought it. Good Shabbos!
Next on his list, Abramowitz plans to write a book about the Oral Torah, unless the positive response to Ask Rabbi Jack necessitates him writing a "Volume II" first. Ask Rabbi Jack is available on Kodesh Press, Amazon, Barnes and Noble and at Jewish bookstores.
If you found this content meaningful and want to help further our mission through our Keter, Makom, and Tikun branches, please consider becoming a Change Maker today.