Every Autumn, we anticipate cozy nights in our temporary homes as the weather starts to grow colder. But due to Covid this year, our need for wearable warmth comes earlier than Sukkos, as many people are doing all their Yomim Noraim davening (and often their only socializing) outside as well. While stiffly structured coats might be too bulky for these activities, and a lightweight cardigan may not be substantial enough for nights in the sukkah, these five outerwear trends are all highly customizable and comfy to boot, no matter which outdoor Yom Tov activity you're undertaking.
Statement Coatigans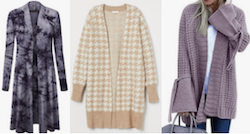 Heavier than a cardigan and more flexible than a coat, these hybrid items are dressier than a fleece but just as comfy. These versatile pieces can be work with or without a belt and often are adorned with pockets, interesting buttons or can be further dressed up with accessories like pins or collar-style necklaces. With luxe fabrics or soft knits, a well-made coatigan can take you from Fall through Winter (indoors) and back into Spring again. Coatigans aren't the only hybrid item on the list of trending outerwear this season, as the shirt+jacket or shacket is also keeping folks stylishly warm this season. (Left to right: Made By Johnny Tie Dye Cardigan, H&M Jacquard Knit Cardigan, Lamische Chunky Cardigan)
Blanket and Shawl Coats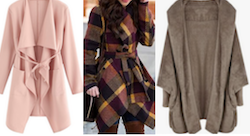 Cooler weather might make you want to stay inside, cozily wrapped up in your throw blanket or duvet, but now you can take that ultimate comfort with you in wearable form with this fall's blanket coat trend. From shawl-collared wrap coats belted over pencil skirts and boots, to blanket-style ponchos over a cute dress, this feminine and cozy topper is an Autumn essential. Try it in a pattern like a trending plaid to combine two trends in one. (Left to right: Waterfall Collar Wrap Cardigan, Chicwish Shawl Collar Coat, Hooded Dolman Sleeve Cardigan Coat)
Capes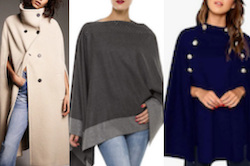 Effortlessly elegant and evocative of simpler times, these toppers will keep you insulated while looking sophisticated and stylish. But you don't have to look at back at fairy tales to get your cape inspiration. Just take a look at recent dresses worn by Meghan, Duchess of Sussex, or Queen Maxima or Queen Letizia to see how capes elevate any outfit to a state of royal chic. Try a cape sweater dress, a cape coat or a shoulder-hung cape for a variety of looks. (Left to right: Zara Limited Edition Cape Coat, Melifluos Ruana Cape Cardigan, MakeMeChic Button Front Cloak)
Lightweight Puffers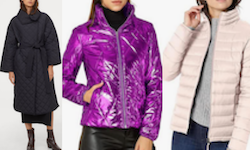 The puffer jacket might be ubiquitous in winter, but it's for an excellent reason: puffers provide fantastic warmth-to-bulk ratio with flexibility and a cute, sporty style. While a heavier-weight puffer's coziness might be compromised by their size, a lightweight puffer jacket gives you the best of both worlds. There might be no easier item in your wardrobe to provide instant heat in a cold sukkah. This style is now trending everywhere from high-end designers through accessible fashion houses like Amazon and H&M. (Left to right: H&M Quilted Coat, Allegra K Holographic Metallic Down Puffer Jacket, Amazon Essentials Packable Puffer)
Textured Teddy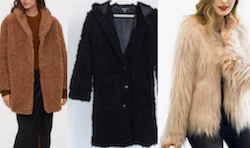 While teddy coats have been a fall staple for a few years now, this year's version has added texture and fluff, making it an irresistibly cuddly addition to your Yom Tov ensemble. Available in everything from understated and animal-print inspired neutrals, to wild colors like aqua and magenta, there is a teddy coat to match every personality and style. These coats' added fuzziness may make it an item you can't imagine taking off, even when you're back inside your home after Yom Tov is over. (Left to right: H&M Faux Fur Teddy Bear Coat, ASOS Missguided Hooded Borg Coat, Caracila Faux Fur Jacket)
If you found this content meaningful and want to help further our mission through our Keter, Makom, and Tikun branches, please consider becoming a Change Maker today.