What if you could find kosher food, sukkahs, and exciting activities your whole family would enjoy less than a 3 hour drive from the tri-state area? It might sound too good to be true, but that is exactly what the Chol HaMoed Sukkos Lancaster Extravaganza has to offer. Now there's a way to get away without going too far away. You can entertain the kids and create lasting Sukkot memories without breaking the bank – or schlepping, pots, pans, and a portable hut! These family-friendly adventures will surely put the simcha in your chag!
What to Do/Where to Eat:
Beloved theme park Hershey Park itself has a week's worth of attractions to enjoy, from Hershey's Chocolate World, to roller coasters and thrill rides galore, to the ZooAmerica experience, shows, and experiences for all ages. As always, these activities are anchored by the Hershey Park Kosher stand, also known as Central PA Kosher Mart. But they have gone a step further to make sure that your Sukkos Chol HaMoed experience is a convenient, enjoyable and memorable tiyul for frum families. The one-and-a-half-day Hershey Park Sukkot Extravaganza, available on the Central PA Kosher Mart site, features discount tickets, sukkahs on-site and glatt kosher food under Star-K supervision.
While the park will be closed to the public, it is open to anyone who buys tickets through the Kosher Mart. The Kosher Stand will be serving their famous curly Fries while the Pioneer Frontier Catering Area will be serving Meal Mart burgers, chicken, salad much more. To accommodate guests who wish to bring their own food, a sukkah will also be provided outside of the main gates. Park policy prohibits bringing food into the park. For nearby minyanim at shuls which also feature sukkahs, Congregation Kesher Israel in Harrisburg, PA and Congregation Degel Israel in Lancaster are both welcoming guests.

The Chol HaMoed Extravaganza will run from Wednesday, September 26th from 5-9pm through all day on Thursday September 27th. Contact Central PA Kosher Mart to purchase tickets.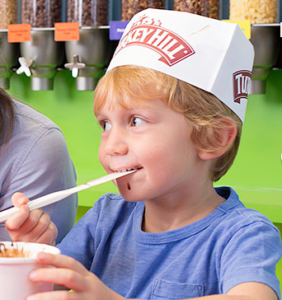 Certified kosher by OU, the Turkey Hill Experience goes far beyond a small dairy or an ice cream factory tour. Families can learn how Turkey Hill ice cream is made and enjoy all aspects of a visit to a full-fledged dairy farm and factory. Kids can sit in a milk truck and pretend to drive it, taking their experience of milking mechanical cows from the farm straight to their imaginary customers. Beyond that, you can create your own virtual ice cream flavor, ice cream package and even work on a commercial. Bring your own virtual ice cream creation to life as you create your very own pint of ice cream in The Turkey Hill Taste Lab. But ice cream is just part of what Turkey Hill is famous for, as the Tea Discovery Experience introduces tea from around the world. As always, you can enjoy free samples of their ice cream and iced tea products.
Where to Stay:
DoubleTree Resort by Hilton Lancaster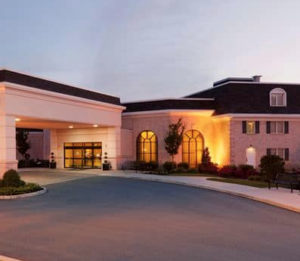 With many years of accommodating Orthodox Jewish families under their belt, the DoubleTree Resort by Hilton Lancaster is located approximately 45 minutes from Hershey Park in the heart of Lancaster County. Booking early to secure a suite ensures that you will have in-room dining space and lounge space in which to enjoy the food you bring back from the Kosher Mart. The hotel offers Kosher Continental Breakfast the morning of September 27, if booked on the Sukkot package.  Outdoor prayer and dining tents along with a sukkah are all available. They also are happy to provide private swim times and also outdoor grills and seating. In addition, there is a business center, a fitness center, very large pool with a water playground, private dining accommodations and a full concierge service. With all of the families there for Chol HaMoed, you might even be able to find a minyan onsite.
Other noteworthy places to see include the Amish Farm and House and Cherry Crest Farms. For more information, contact Sally at centralpakoshermart@gmail.com.
If you found this content meaningful and want to help further our mission through our Keter, Makom, and Tikun branches, please consider becoming a Change Maker today.