This ain't your Bubbie's brisket. For the third year in a row, a kosher chef has placed in the winner's circle at Brisket King, NYC Biggest Brisket Competition, with Chef Josh Massin of Teaneck's Nobo Wine and Grill coming in third place this past Sunday. Now in its seventh year, the competition and tasting featured lines around the Williamsburg, Brooklyn block where it was held.
With chefs from all over the tri-state area, as well as Canada and England, it was judged by mainstream foodie representatives such as former Food and Wine magazine editor Dana Cowin, the Food Network and other personalities from the gourmet world. So why do religious Jews such as Massin, and winners from the past two years, Izzy's BBQ's Sruly Edelman and Wandering Que's Ari White, consistently best their non-kosher competition? To Massin, it's simple. "I think brisket is the most agnostic of all the food trends in the United States. Food has always been an obsession of the Jewish people, and the American pop culture finally caught up with the Jews."
Massin's brisket-laden ramen bowls deeply impressed the judges as well as the many tasters, who were seen Instagramming their wares and snapping their bowls shut to take them home after the event. Edelman said, "Credit to Josh for cooking an innovative dish, which even in the non-kosher world is very new." With over thirty competitors and close to 600 attendees, judges said that the top three were very close. Massin is both humble and proud of the day. "It's very validating for me as someone constantly working on my craft with the goal of having a great restaurant and not just a great kosher restaurant, to see a room full of people who were not Jewish coming back for more ramen."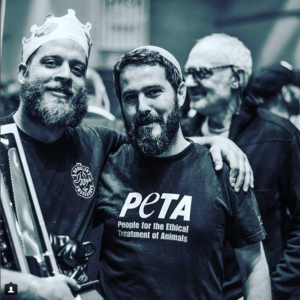 According to Massin, brisket is a special case in the mainstream food market. "It's something that we're inherently on a level playing field with non-kosher producers…it's not pork, we're not substituting coconut milk. We can focus all our energy to making the best possible recipe and win." With any winning recipe, the true secret to winning isn't just the innovation with or familiarity with the dish. "It has to do with the ingredients, care and intentionality you use in bringing out those ingredients. Start with really good kosher beef. Treat it thoughtfully and cook it with care."
As the Brisket King NYC competition becomes more widely-known, so too do its winners. According to Ari White, they used to have different categories and an overall winner. One year he won each. Now, it's an overall competition which makes things both easier in some ways and harder in other ways. Edelman says, "The kosher world has been far behind the non-kosher world. It's up to you to determine how high you want your food quality to be…there really is no excuse. I'm [only] worried about results, [and] based on results, we're not doing too bad."
Edelman's restaurant, the famous Izzy's BBQ, has since gained a huge cult following. "We're trying to make the best product out there possible. The fact that we won Brisket King was a tremendous help. The restaurant is also featured heavily on the hip foodie site Eater, and their YouTube video on Izzy's has generated tons of views. "It's starting to become a thing that people are trekking from all over or flying here to come straight to us. I feel very, very blessed."
The competition wasn't without incredible difficulty for Massin. "We kept losing electricty and couldn't boil water. At some point, we were just serving brisket without the ramen and the broth." But that didn't stop people from lining up for a taste. "We probably served about 350 people. It was really well received. People were just as stoked about the ramen as they were about the brisket." That was far from Massin's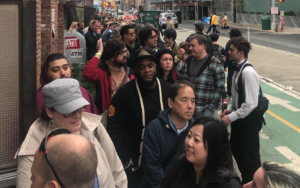 only challenge. "We were originally supposed to use two 200,000 btu propane burners. At 5pm the day before, they called me and told me I couldn't use it. I was ready to throw in the towel. Sruly [Edelman] talked me off the ledge. He told me to bang out what I could bang out and go home a winner." So that's exactly what Massin and his team did. "We brought 3 induction burners. Then they said we should have told them ahead of time if we needed electricity. We brought extension cords though and eventually worked it out."
The best thing about a competition like this is that it reminds these exceptional kosher chefs and the entire kosher population, that the larger world of food, is their proverbial oyster. Massin relates, "It gets us out of the fishbowl of kosher food. The greatest cap for progress for kosher food is to be judged by all food instead of just next to the next kosher guy. We don't care what kinds of hats the people who come into our restaurant are wearing – we just want to do the best we can."
If you found this content meaningful and want to help further our mission through our Keter, Makom, and Tikun branches, please consider becoming a Change Maker today.