---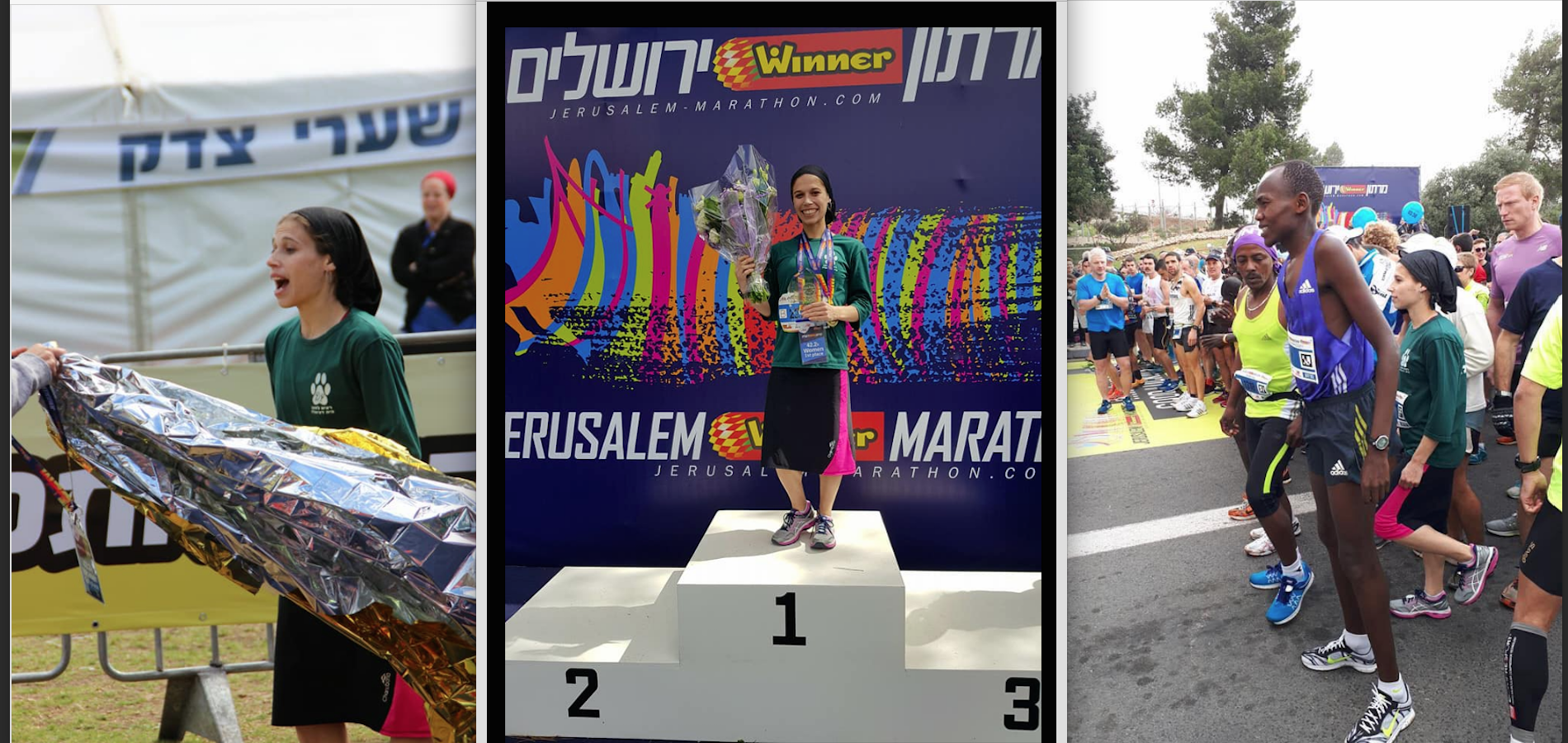 Haredi Mother of Five Wins Fastest Israeli Female at Jerusalem Marathon!
Beatie Deutsch, the Haredi Jewish mother of five who made headlines when noticed by George Takei, Business Insider and more for running the Tel Aviv Marathon while 7.5 months pregnant, made history again by winning the top spot by Israeli women competing in the Jerusalem Marathon. Deutsch is still in shock. "I knew I had a shot at it, but it actually happening was crazy. I was trying to go for 3:20 and I finished with 3:09 – my best time ever." Jerusalem is known for having the hardest course out of any in Israel. "I really feel like Hashem was carrying me through the entire time."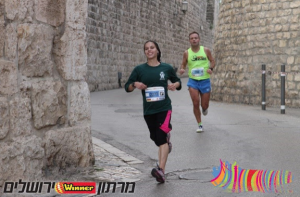 Deutsch was running for a higher purpose, besides the Kiddush Hashem she is thrilled to have made. "I raised money for 2 initiatives. One Family Fund and for Beit Daniella, named for my cousin who passed away 3 months ago. She took her life at age 14 after battling anorexia. Her family is trying to build a therapeutic rehab center for teenagers struggling with mental illness." Deutsch was training intensively but took the time to put together the campaign for Beit Daniella with less than a week to go before the marathon. She had no idea it would go so viral. "Running in a skirt, apparently it's a big thing. To run in [Daniella's] merit was a big honor." While Deutsch was initially worried about the mainstream Haredi reaction, she and her husband visited a prominent rabbi who was very supportive. It's been a big kiddush Hashem, realizing you don't have to be half-naked to run a marathon… and win a marathon!" Deutsch's husband has been instrumental to her success with his support. "He's very athletic himself. He's a road biker and we run every motzaei Shabbos together. He came with me for the last 10 miles. He's finished the last 2 marathons with me too." Deutsch's husband is also the closest person she has to a coach, helping her learn about nutrition and pacing. "He reads up on things. He's also been supportive to let me go to the track at bedtime. He's made himself available for it. It means a lot."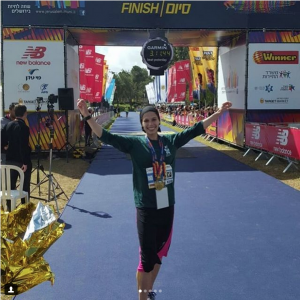 Modest female athletes have a hero in Deutsch, who has a strong Instagram presence through her account MarathonMother. Deutsch was highly skilled in gymnastics as a child but stopped at age 12 for modesty reasons. "I was happily frum so I accepted it and I started in Tae Kwon Do." When Deutsch discovered running and how it translated easily to wearing skirts while striving for athletic excellence, it was a natural fit. "I've always enjoyed sports and I want other women to be able to channel it in a positive way." More than that, Deutsch has been approached by girls who thank her for normalizing working out in a skirt. "Girls tell me they are so happy…because they don't see people running in skirts. I'm happy that I can shatter that stereotype too. People have sent me messages – not just Jews. The fitness movement seems to be hand in hand with showing off your body but that's totally not the case. The more people see women choosing to exercise in a more modest way, the more normal it becomes."
In terms of balancing her running with motherhood, Deutsch's priority is crystal clear. "My kids know they are my number one priority…Running is a very healthy outlet. It's my only 'me' time." Additionally, it provides her with something she can't get elsewhere, an outlet for her competitive spirit. "I'm naturally a type-A, competitive person and I don't want that in my household. To have an outlet for that is amazing. I'm able to be more relaxed and calm with my family and kids." While running may not be the right fit for every mother, she encourages women to find what works for them and make time for it. "Obviously its a major balance. I'm lucky to work in a job where I have a more flexible schedule. If it's important to you, you can find a way to do it."
That balancing act might require extra creativity when met with the demands of an observant lifestyle, but it also enhances it greatly. "The marathon was on erev Shabbos. After it, we had to get back and get the house clean and all that." It also gave Deutsch the strength she needed to persevere.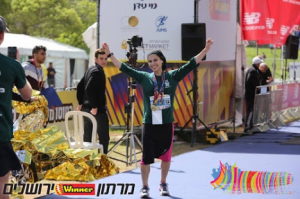 "Hashem was guiding me every step of the way. I'm grateful to use the gift that He gave me. That's why we're here. To use what we have to make a difference in the world."
Deutsch almost didn't make it to the starting line. "During my training I discovered that I had celiac. I was severely anemic…I remembered feeling so down. My training was compromised – it was 5 weeks before the marathon, it felt like all my goals were down the drain." She told herself there would be other opportunities and took a break to get her health on track. But with an iron infusion and beginning a gluten-free diet, she rebounded. Even with her baby up sick most of the night before the marathon, she persisted. "There are always ups and downs. You can't let the downs get you down. Have faith, be positive and talk to Hashem. You can get through anything."
Want more great content like this delivered to your inbox? Sign up for our weekly newsletter here: