Last Tu Bishvat, Jew in the City was thrilled to introduce our readers and radio show listeners to Leshomra, an Israeli organization dedicated to teaching Haredi children about loving nature and increasing environmental awareness. Their work is so crucial as there are too many members of the Orthodox Jewish world who regularly litter and have not embodied the Torah values of protecting Hashem's world. While no one knows exactly why certain parts of the Orthodox world are less conscientious about disposing of garbage, one theory is that disposable products only came into existence 50 years ago, and while secular audiences were privy to marketing campaigns to teach about the ill effects of litter, the most insular parts of the Orthodox Jewish world never got such messaging.
Because of our publicity of LeShomra they were contacted by a Cheder in Manchester called Toras Emes. As a result, this school will be implementing the Leshomra program for their boys this Spring. "They feel that their boys will really benefit from our green education program," says Naomi Elbinger of Leshomra. "[They will be] learning more about the importance of taking care of our environment and growing all kinds of things in their mini farm." This is the first time that the program will be run outside of Israel, where the program is seeing unprecedented growth.
The Manchester program faced several obstacles in coming to fruition. One was that the curriculum and materials are in Hebrew. "Thankfully, the teacher who will be leading [it] has an excellent understanding of Hebrew and will adapt the program internally." In addition, the program is designed for Israel, which can plant and grow all through the winter, but the English climate won't allow for that. "In Israel we are subject to a few agricultural mitzvos that are emphasized in our program, but are not relevant outside Israel. However, the school feels that the core of our program is extremely relevant for their students and they are confident they can adapt it successfully." Toras Emes will grow vegetables for their cool Northern English climate – different from the sun-drenched school yards Leshomra usually plants.
Leshomra has attracted quite a lot media attention, including feature articles in the Times of Israel and the Jerusalem Post. "In honor of Tu Bishvat, two major articles are being printed in the Orthodox press: one in Hamodia and one in Ami Magazine. These articles are in English and are very important for us in extending our reach and attracting support." Schools usually find out about Leshomra through CEO Avishai Himelfarb's networking with high-level municipal and educational authorities. "In Jerusalem, we are cooperating with the municipality, and they notify the city's Haredi kindergartens about our program and invite them to apply."
The city of Bnei Brak, a Haredi stronghold, is proud to be introducing Leshomra educational farms in kindergartens. "The goal of the mini-farms is learn the basics of the mitzvos related to the Land of Israel, as well as appreciate different kinds of plants and understand how the seasons work and vegetables grow." The teachers all have been trained by Leshomra. Their experience with nature is both in the classroom and hands-on, making an indelible impression. The children become thorou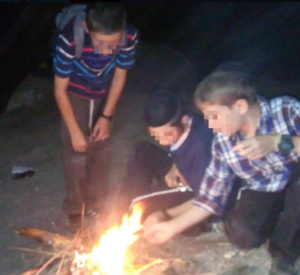 ghly excited by the prospect of watching their plants flourish, that their excitement is contagious both to the teachers and in their own homes. "This week, we offered a workshop on growing plants and improving the neighborhood environment to employees of the municipality. Over 40 employees signed up. This is one of our first forays into adult education, and the response certainly shows that Haredim of all ages are drawn to this topic and are serious about improving their environment." Leshomra also recently ran a program called "The Great Outdoors" in Telzstone. From harvesting vegetables to learning how to make wine themselves, the boys were thrilled to have a tactile role with nature. "They practiced their newly acquired orienteering skills on a night hike. They baked their own pitas on the open fire and had a dip in Ein Lavan Spring." This program was not only sold out, but already has a waitlist for next year.
"This school year we've doubled the number of Beis Yaakov kindergartens that are running Leshomra's "Our Little Farm" – a Torah-based green education program. Thanks to cooperation from the Municipality of Jerusalem." The program is also continuing in 61 kindergartens in Bnei Barak and Kiryat Sefer (which has been so well-received that it is now self-sufficient and subsidized without Leshomra's help.) Some of the 3rd-time-round teachers report that they can run the program without direct support from Leshomra. "The Farm is already running in 121 Charedi kindergartens around Israel – reaching 250 teachers and over 3,000 children."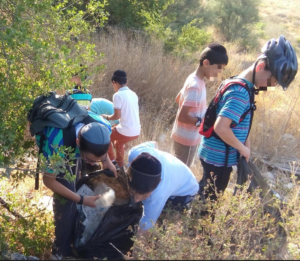 With expansions to 23 afterschool programs in Jerusalem, Beit Shemesh, Elad, Telzstone and Modiin Illit, over 650 kids will be involved in the "Great Outdoors" and "Our Little Farm" programs this year, including four new ones in the hasidic community of Belz. "We have been invited to run programs on topics including springtime and keeping our neighborhoods clean in hundreds of Haredi classrooms where day camps are run during the pre-Pesach vacation days. Since…everyone is thinking about cleaning, Leshomra hopes to expand that to learning about showing consideration for others and protecting our local environment by taking care of our trash."
Beyond schools, Leshomra is becoming the address for all things green and Haredi. "We are developing a new hands-on program with JNF in Jerusalem that will involve Haredi school children, as well as families." Now, their main challenge is that there are so many schools that want to join, but as a small organization with limited budget, they can't yet do everything they would love to do. In their most ambitious and difficult project to date, Leshomra is creating a green-based curriculum for middle schoolers, in partnership with the Zra'im Pedagogial Center. "Some might say it's impossible. We plan to launch it in Talmud Torahs around Israel."
For more information, visit Leshomra.org.
If you found this content meaningful and want to help further our mission through our Keter, Makom, and Tikun branches, please consider becoming a Change Maker today.