I'm not one of those DIY people. I'm creative, but most of the time, I simply can't be bothered. I'd rather pay someone to DITFM (do it for me!) But when Purim comes around, I get a little crazy – crazy INSPIRED – that is. It started off several years ago with the Shushan Times and it's only gotten worse from there. Now my kids have high expectations, so maybe I should warn you before you get started! For me, the perfect theme includes matching costumes, clever note delivery with funny language. A home-baked item is an added bonus. Click each image to enlarge. Every five years my family moves, mainly to recycle our old shalach manos ideas, but now, well, I guess I ruined that plan.
The Shushan Times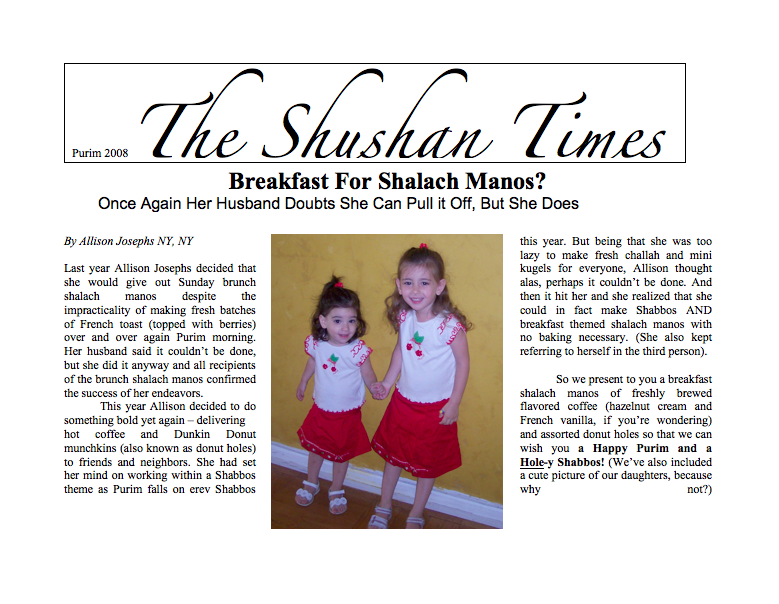 This is a brunch Purim theme and works best for a Sunday Purim, like this year! We gave our recipients French toast, orange juice and fresh berries one year. Alternatively it could be a bagel and cream cheese, ice coffee, mini cereal boxes, a banana, smoothies or yogurts, with your note as a reference to the New York Times or any favorite morning newspaper.
What You'll Need: your favorite breakfast foods and a personalized copy of The Shushan Times. People are actually really excited to get fed breakfast when everyone is so busy delivering shalach manos. You're welcome.
Doctor  / Medical Theme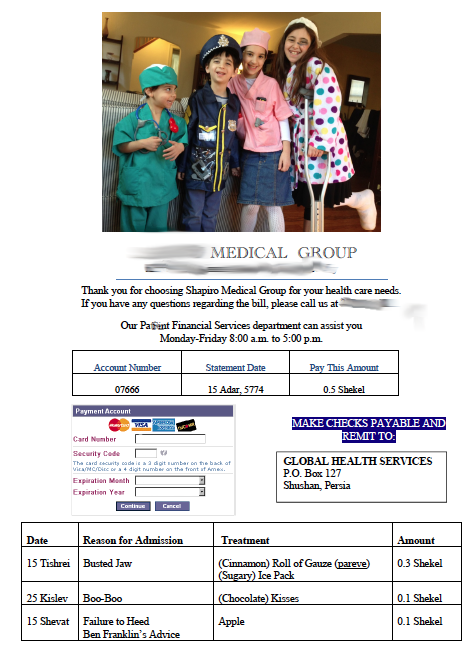 Hand over the Mishloach Manot, stat! For the year we did a medical theme, we went to the irreplaceable Amazing Savings to find small boxes that resemble medical kits. We included an invoice which listed the services we provided, a cinnamon "roll of gauze," an ice (pop) pack, chocolate kisses and an apple to keep the doctors away in the future. The kids each had a blast dressing up as patient, doctor, surgeon and hospital security, respectively.
What You'll Need: medical kit boxes, invoices, cinnamon rolls, chocolate kisses, ices – the kind in bags which we pretended were icepacks, and apples.
Wild West Theme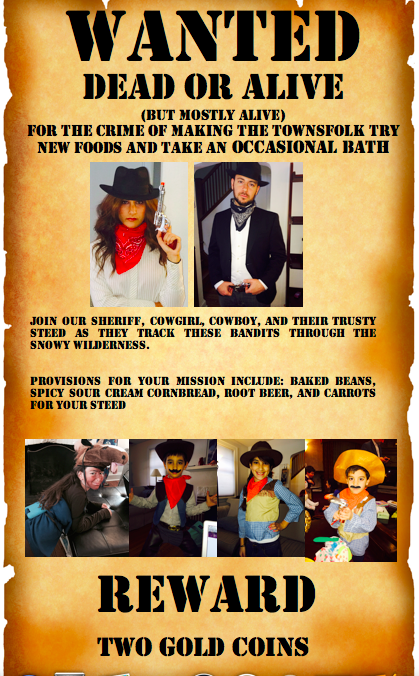 Howdy pardners, there are few Purim themes more fun than the Wild West. We found a great way to put our own twist on it, with my husband and me as the criminal bandits and our children the righteous Sheriffs, townsfolk and steed. We had some fun describing the "crimes" my bandit husband and I had committed. We found burlap sacks and created an authentic Wanted Poster for the note. A menu of cornbread, root beer, carrot sticks, candy baked beans and gold coins as a reward finished out the theme. You can often find sheriff badge stickers on a roll online and including one in each bag will grant you more deputies from among your friends.
What You'll Need: Burlap sacks, wanted posters, coins for the reward, carrot sticks, candy baked beans, root beer, and homemade corn bread
Pirate Theme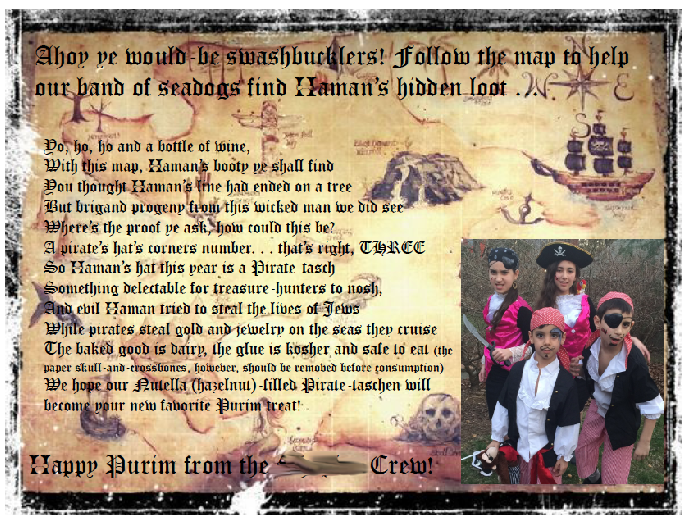 Arrren't you glad we've included a Pirate theme, me mateys? For the year we sailed the seven Shushan seas, an amazing idea hit me – HAMENTASCHEN ARE SHAPED LIKE PIRATE HATS. I'll say that again:  HAMENTASCHEN ARE SHAPED LIKE PIRATE HATS! This was almost as exciting a discovery as the time I realized that the Man with the Yellow Hat who takes care of Curious George may actually just be a banana…..We named the pirate hat hamantaschen "pirataschen" and filled up our treasure chests with loot.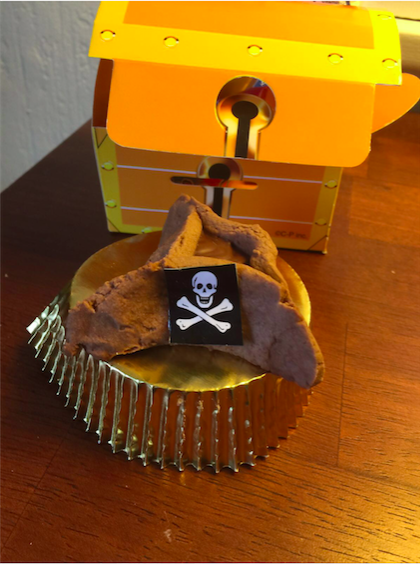 Our boys and girls alike loved dressing like pirates, and that remains a favorite part of the dress-up closet. Pirate's Booty is the perfect treat to include, alongside a ring pop, gold coins and "Pirataschen" (chocolate-filled cocoa dough with edible glue and a skull and crossbones on top. We also included a treasure map to show off our gramman.
You will need: Treasure chests (see Amazing Savings, Oriental Trading and other Purim stores), parchment on which to print your map, gold coins for loot, assorted other goodies.
Flowers / Garden Theme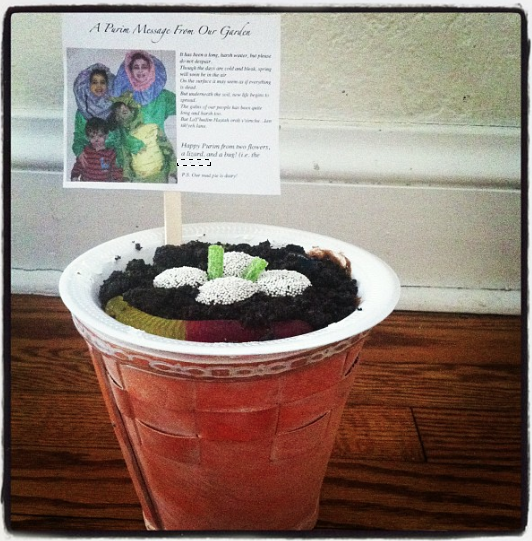 What better way to celebrate the close arrival of Spring and its beautiful blossoms than with a garden theme? That year, our girls each dressed up as flowers, and the boys were a lizard and a frog. We put delicious, chocolately mud pie in a flower pot with gummy worms to top it. The reception to this one was amazing and I was immediately asked for the mud pie recipe.
You will need: Flower pots, small plastic bowls, wooden popsicle sticks and paper for your sign, gummy worms, non-pareils / sno-caps, sandwich cookies, chocolate pudding, whipped topping and milk (see recipe here).
Pesach Cleaning Theme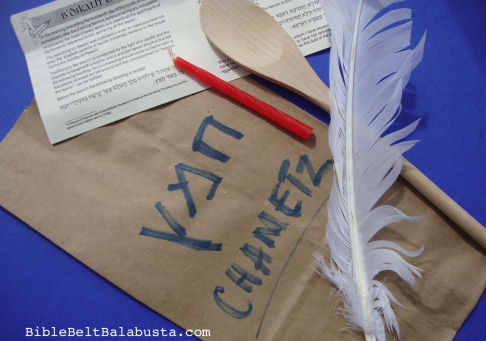 Did someone just say the P-word? Well, we thought it would go down easier in this context. One year, we made fun of all the rest of the shalach manos by giving our recipients non-chametz treats to eat such as Bissli, along with candy – so they could snack on those while cleaning up all the chametz "that everyone else provided." We used a brown paper bag with a spoon, feather and a candle, alongside our goodies so that the Pesach spirit was well-received.
You will need: A brown paper bag marked chametz, a wooden spoon, a feather, a "Chanukah" type skinny candle, and kosher l'Pesach treats.
Purim Sameach!
If you found this content meaningful and want to help further our mission through our Keter, Makom, and Tikun branches, please consider becoming a Change Maker today.