---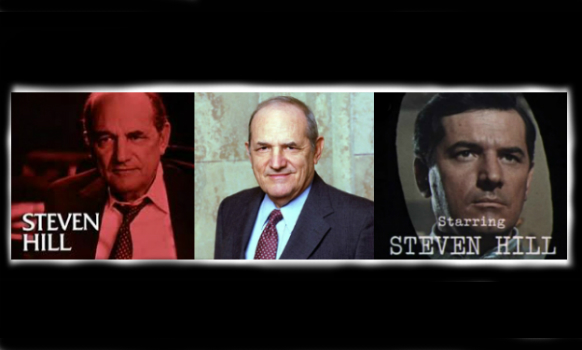 Remembering Steven Hill: Emmy-Nominated Orthodox Jewish Actor
Emmy-nominated actor and Orthodox Jew, Steven Hill, died today in New York at the age of 94. During his half-century Hollywood career, this trailblazing shomer shabbos actor was best known for his roles in Mission: Impossible and Law & Order.Hill was born in Seattle and soon after a stint in the Naval Reserve during World War II, he moved to New York to pursue acting. Legendary acting maven Lee Strasberg chose Hill, along with Marlon Brando, Montgomery Clift and Julie Harris as founding members of The Actors' Studio, the famous workshop known for its rigorous teaching of "method acting." Martin Landau once said of Hill, "When I first be came an actor, there were two young actors in New York: Marlon Brando and Steven Hill. A lot of people said that Steven would have been the one, not Marlon. He was legendary. Nuts, volatile, mad and his work was exciting." Strasberg once said in a New York Times interview years later, "Steven Hill is considered one of the finest actors America has ever produced."
Hill appeared in his first film in 1950 and worked steadily for the next decade. He won a Sylvania Award in 1954 as Best Television Actor for Man On the Mountaintop – directed by Arthur Penn, who worked with him again on Law & Order. Hill was nominated for an Emmy Award in 1960 as Bartolomeo Vanzetti in The Trial of Sacco and Vanzetti. But an appearance in a play in 1961 made Hill question what it meant to be a Jew.
According to his son, Hill went to a Seattle shul and realized that the Torah was eternal, while stardom was transitory. He forged a close relationship with the Skverer Rebbe in the early sixties, and named one of his sons for him. Hill lost a part opposite Steve McQueen that could have made him a superstar, but refused to compromise on his duty as a religious Jew. When Hill was about to become the lead in Mission: Impossible, the Rebbe guided him on how to write his contract so that shabbos observance would be upheld. Sharing the studio lot with the production was Star Trek, whose lead, William Shatner, once commented how Hill recruited him, Leonard Nimoy and the show's producers to form a minyan. He tried persuading co-stars Martin Landau and Barbara Bain, who were married to each other, to make their home kosher. Mission: Impossible found creative ways to handle Hill's absence during Friday night tapings, such as simply having him announce a mission or have another actor perform stunts in disguise. Ultimately they did not ask him back for season two.
But even as Hollywood went on without Hill, who moved to Monsey to be closer to the Skverer Rebbe, the relationships he forged there were touched by his devotion to Judaism. As was recounted at his packed funeral, Dustin Hoffman once said to him, "Steve we don't know what to do with our lives. But you know!" A grandson of Hill's noted that Hill still had a 1960's "Mazel tov" card from Hoffman, congratulating him on his wedding.
After a ten year hiatus from acting, Hill returned to the screen, appearing in productions that honored his need to not film on shabbos. He made a further impression in films such films as Yentl, The Firm, Running on Empty and Billy Bathgate and on such television shows as One Life to Live and most prominently, Law & Order, where he played District Attorney Adam Schiff for over a decade. During this second wave of acting prominence, Hill was able to enjoy acting more because he knew that it wasn't his ultimate purpose. He persevered in his quest to enjoy acting as just a career, keeping his starring role as a Jew first and foremost.
Hill leaves behind his wife, nine children and many grandchildren and great-grandchildren, all of whom are honored and inspired by the amazing Kiddush Hashem that Hill made, on screen and off.
Want more great content like this delivered to your inbox? Sign up for our weekly newsletter here: