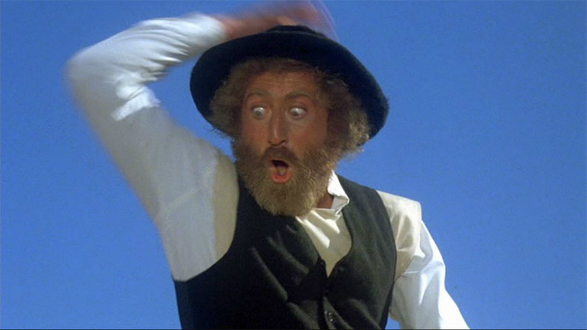 American acting icon and double Academy Award Nominee Gene Wilder passed away yesterday at the age of 83. Born Jerome Silberman in Milwaukee, Wilder made his way to New York to pursue his dreams. From his start at The Actor's Studio and his best-known, starring roles in Willy Wonka & The Chocolate Factory and his collaborations with Mel Brooks such as Young Frankenstein, Blazing Saddles, The Producers and History of the World, Part I, Wilder's impression on film history is indelible. But it is his lesser known role in a little gem of a film called The Frisco Kid that made the most significant mark on me.
To call myself a former self-hating Jew is a bit of stretch. I did not hate myself, nor did I hate other Jews. But growing up in the secular South, I was deeply insecure about my Judaism, and felt especially embarrassed when sharing a physical location with Jews doing any kind of ritual observance. I could never place my finger on it, but I always looked at Orthodox Jews (especially Hasidim) as "the Other," like they were living in a different world. A different century. With no interest in being like everyone else.
The only pride I took in being Jewish was eating authentic rye bread and quoting Mel Brooks movies. All of that began to change, though, when I discovered  The Frisco Kid when I was a teenager in the early nineties. It launched my fascination with "Old World" Judaism, Yiddish culture, and  more importantly, it gave me the first Orthodox protagonist I could root for and connect with. Up until then, every Orthodox Jew I encountered in popular culture was a passing character. This was the first time I actually heard any of them say anything, and after coming from the lips of the great Gene Wilder – Orthodox Jews went from being unapproachable to a delightful curiosity. It might not have been a full turnaround, but it was certainly an important step in preparing me to meet the Chabad rabbi I would connect with a few short years later in college who took my journey to Hasidic Judaism to the next level.
Released theatrically in 1979, the film is a fish out of water story about a gentle Hasidic rabbi (played by Wilder) who befriends an outlaw to survive in the Wild West. Although John Wayne was originally supposed to play the outlaw Tommy Lillard, the part eventually went to Harrison Ford, who had just launched to movie stardom in Star Wars.
Intimately familiar with Wilder's other comedy Western, Blazing Saddles, I assumed that The Frisco Kid was going to take a similarly irreverent approach towards Judaism (and especially Orthodoxy). I sat down expecting a roast of Judaism – not a poignant celebration of Jewish values and an introduction to a way of life I would eventually adopt as my own.
What could have been a one-note joke about a clueless schlemiel lost in the wild is actually a story of self-determination and personal growth. A rabbi who lives by the book learns the value of human life and true spirituality through his experiences with outlaws and Native Americans. Wilder's performance as Avram Belinski is nothing short of remarkable – evolving from naive innocent to world-weary gunfighter.
Make no mistake, though, The Frisco Kid is absolutely a comedy. Few scenes in any film give me greater delight than Wilder's Polish rabbi trying to put on a real, American cowboy accent, or explaining to Harrison Ford what a "tuchus" is, or getting a silent monk to say "you're welcome," when he passes the salt shaker.
Although I first thought of a Hasid in the Wild West as a non-sequitor, I've since met many devout rabbis that remind me of Wilder's character. I honestly consider Rabbi Avram Belinski to be the first shaliach I ever encountered.
If you found this content meaningful and want to help further our mission through our Keter, Makom, and Tikun branches, please consider becoming a Change Maker today.
If you found this content meaningful and want to help further our mission through our Keter, Makom, and Tikun branches, please consider becoming a Change Maker today.