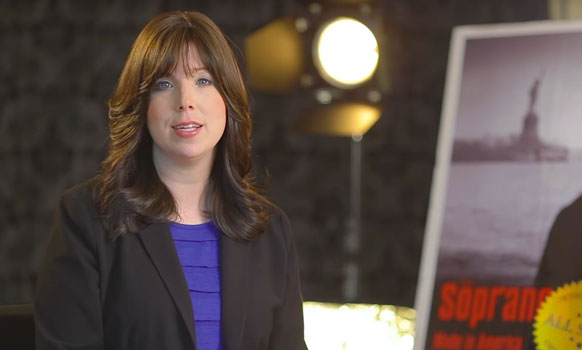 When most people think of celebrity chef and Orthodox Jewish All Star, Jamie Geller, the obvious image that springs to mind is an aproned, spatula-wielding author of several best-selling kosher cookbooks, and most notably, Joy of Kosher. However, Geller's professional origin story begins not behind a counter, but behind a camera.
As a child growing up in a suburb of Philadelphia, Geller attended a Conservative Hebrew school and synagogue while dreaming of being "the next Oprah or Diane Sawyer." Aware that breaking into media is more about who you know than what you know, armed with an ambition not seen in most fourteen year olds, Geller laid the groundwork for a freshman year of college internship at CNN in a most unusual way.
During high holiday services that year, she learned that a synagogue member's sister, who was visiting that day, worked at CNN. Geller didn't waste the opportunity to make a connection, in the bathroom, no less. "I'll be at NYU in four years, " she told the stunned producer as they waited in the lavatory, "and I'm going to call you when I get there." Four years later, Geller was in fact a freshman at NYU and she did call the producer who got her the internship at 'Showbiz Today.'
Although it was outside the professional wheelhouse she'd been aiming towards, Geller discovered soon after signing on how much she loved the job, even getting to attend high-profile awards shows; a coup for an eighteen year old college student. After two and a half years on staff, Geller was offered a full time job, which she accepted, graduating from NYU early to do so.
Meanwhile, Geller's sister had gone to Israel where she found religion, but began to worry about her sister in New York, surrounded by the shows, parties, and celebrities. Geller's sister and mother were concerned that she wouldn't marry a Jewish boy. So they signed her up for weekly parsha classes in Manhattan, geared toward young, single Jews. Geller began attending, and fell in love with the religion, something that she hadn't expected, given all the negative stereotypes of Orthodoxy she'd heard growing up.
After attending a shabbaton, Geller decided that her next step in spirituality would be to begin to observe shabbos. However, this raised a professional issue; 'Showbiz Tonight' went live at four-thirty every day. This meant that in winter months, when candle lighting was precisely at that moment, Geller would be absent from her post. So she quit. Giving up such a job for observance, Geller says, seemed an obvious choice. "When you discover truth, how can you deny it?" she asks.
Geller decided to use her now open schedule in a most productive way, flying to Israel, where she enrolled in seminary. Shortly after she arrived, two astonishing events occurred in rapid succession. First, 'Showbiz Tonight' was canceled and almost everyone on staff lost their jobs. Second, while going for a walk in Jerusalem one day after class, Geller received a phone call from a producer at HBO, asking her if she could be on the set of 'Sopranos' by Thursday. "I'll be there," she told him.
Geller would remain at HBO for a number of years as a producer on various shows including 'Sopranos,' 'The Wire,' 'Entourage' and 'Sex and the City.' She got married during this time and served as an unofficial representative for Orthodoxy, doing her best to break down myths and misconceptions. She laughs as she recalls hearing other producing staffers cautioning famous actors and higher ups from the company not to shake her hand. HBO was also always accommodating of her kosher dietary needs and Sabbath observance.
In terms of the transition from HBO to queen of the kosher kitchen, as Geller's observance grew, her comfort with the subject of the content she was producing decreased, and she contemplated a way to put her talents and passions to better use. Geller was a producer on the Food Network for a time, and transferred many of the skills gained there to her own kitchen at home.
When Geller's husband suggested she write a cookbook, she decided to give it a whirl. What began as a new wife and mother's experimentations in her kitchen mushroomed into a successful and influential social media platform. Geller – who recently made aliyah with her family – has worn many hats: producer, author, cook. But more important than all the others is that of a religious Jew, a hat she's been wearing since those parsha classes years ago, the ones that made her cry with the beauty of it all.
If you found this content meaningful and want to help further our mission through our Keter, Makom, and Tikun branches, please consider becoming a Change Maker today.
If you found this content meaningful and want to help further our mission through our Keter, Makom, and Tikun branches, please consider becoming a Change Maker today.