If you were at last week's Kosherpalooza, you know how awesome it was. Tons of food from so many vendors lined the walls and Instagram celebs milled about at this kosher consumer show. I was swept up in the joyful energy and shared love everyone had for really good, interesting and delicious kosher food.

Here, some of the most notable ones in my humble opinion. What did you think? Comment with your faves below!
Tuscannini's Truffle Sauce



This truffle sauce was the first thing I ate and for sure one of the most memorable. It's from their new

Black Summer Truffle Collection

and I'm still dreaming about it, thinking up different ways I can incorporate it into my upcoming Shabbat meal plans. Truffle roasted potatoes? Can I actually serve gnocchi at a Shabbos meal? If you love that decadent truffle flavoring on well, anything, this is a must-buy.

The Ghost Pepper Jack Cheese from The Cheese GuyIf you're like me and you love the heat, this chalav stam cheese needs to get added to your shopping list. It has a kick that comes through more intensely in the seconds after you eat it. It's not overpowering though (if you can handle it). Paired with a savory cracker and maybe a dollop of tzatziki — MMMM perfection. Maybe top a salad with it, add it to taco night or melt it into pizza or pasta — really, I'm salivating thinking about it. P.S. Their melty brie was also unreal!

PAREVE Milk Chocolate Chips from Pure Food by EsteeThis one surprised me. How can a "milk" chocolate chip be pareve? Well, somehow Pure Food by Estee did it. They explained by increasing the cocoa content, they were able to make a chip super creamy without making it dairy. It's their newest product and surely going to be a best-seller for getting that milky vibe even after eating meat.Also notable from this company were their granola coffee bites. If you want a little caffeine boost without drinking a whole cup of coffee, you can snag this snack instead! They come in five different flavors and will give you that perfect boost of energy and satiety.
CBD Peanut Butter Cups and Sparkling Water



Interestingly, CBD was a big trend at Kosherpalooza. While I didn't taste it myself because I'm breastfeeding and wasn't sure about the effects there, I was fascinated by its ubiquity and form.





Instead of just savoring a piece of chocolate at the end of the day, you can actually get some calming effects from PcPops in the form of a

peanut butter cup

. If you'd rather drink your CBD,

Bimble

offers three different varieties — Cucumber, melon & lime, blueberry, lemon & ginger and grapefruit, basil and mint.





If you just want the CBD without any gimmicks, Kosherpalooza also offered CBD gummies from a company called

Loosiez

in various forms, all certified by the OU.

Halva & Caramel Chocolate Bark from The Nuttery

This one took me by surprise. I'm not normally a big halva girl, but the combination of the savory halva with the super sweet caramel and chocolate was just about perfection. The way the flavors mixed together made the halva less intense and balanced the sweetness really nicely. The texture was slightly soft and melty while still holding its shape. Even though it wasn't one of my initial go-tos, I keep thinking about it and am 100% looking into how to get more! The Nuttery, please let me know!
Canned cocktails

It seems like the secular world has enough canned cocktails to fill a speakeasy, while the kosher world is lacking. Now, we're catching up. Thomas Ashbourne Craft Spirits has a line of concoctions that are delicious and pretty chic. There's a Cosmo that was made in partnership with Sarah Jessica Parker, a Margarita, an Old Fashioned, an Espresso Martini and a "Hardscatto" which ups the alcohol content normally found in your regular sweet wine. The mix will make a fun addition to any summer BBQs or beach days you have going on this season. (Of course, please drink responsibly because they are certainly strong).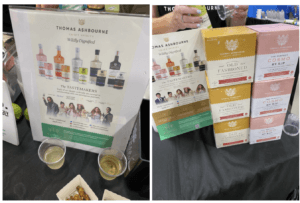 Did you make it to Kosherpalooza? What did you love? What would try from the list above? Let us know in the comments!
If you found this content meaningful and want to help further our mission through our Keter, Makom, and Tikun branches, please consider becoming a Change Maker today.