When I was a kid, my parents would take me on trips to Florida where the only kosher food available was what you could buy in a supermarket, and the only cooking utensil we brought with us was a sandwich maker.
Now, two decades later, the tools for kosher cookery have only improved – and kosher foodies still have an itch to travel. With Covid still not quite gone, an economy on the rocks and general stress, getting away to a place with some scenic views could be the perfect solution this summer. Now there are more options for sleeping, praying, and eating near many of the internet's most popular and photogenic hiking destinations.
But probably still pack your trusty Betty Crocker, just in case.
The destination: Located in California's Sierra Nevada mountains, this park is absolutely enormous with plenty to see and do. However, many visitors spend their time in Yosemite Valley, which is home to the Half Dome, El Capitan, and other natural monuments, along with stunning ancient sequoia trees and majestic waterfalls.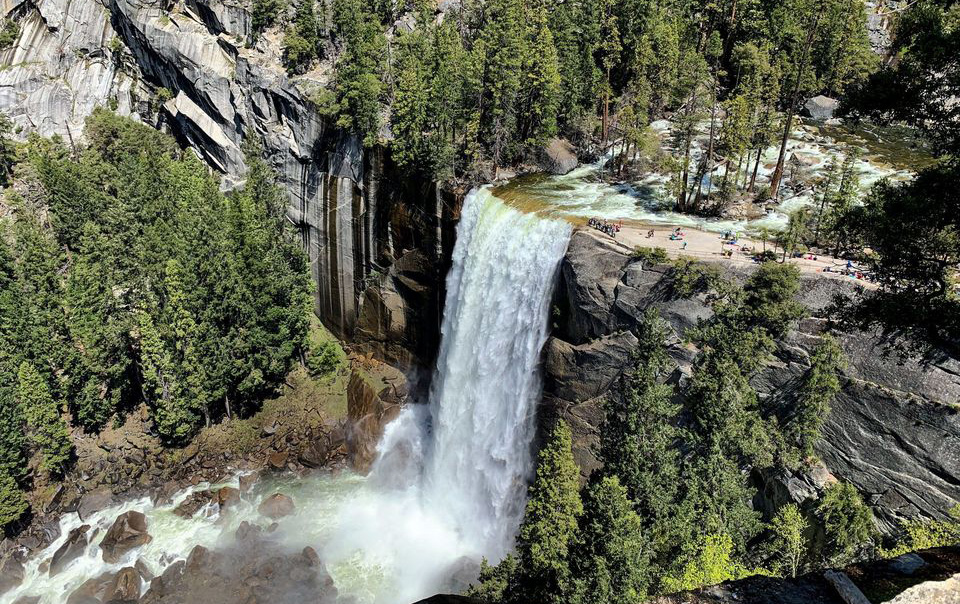 The kosher: The Chabad House of Mammoth Lakes is located right next to the national park, and one of the recent additions to the local Jewish landscape. It's a prime place to find a minyan – especially during prime tourist season – and the Chabad House offers takeout food and Shabbos catering.
The destination: Famous for its slot canyons and deep red and orange hues  – . In order to get to these slot canyons – the most popular being the Narrows – you will have to hike through the river, which is strenuous if refreshing in the desert heat.
If you're ready to drive a little farther, consider driving to Grand Staircase–Escalante National Monument to see two other magnificent slot canyons – Peek-a-Boo Canyon and Spooky Slot Canyon.
The kosher: Chabad of Southern Utah is located in St George, an hour away from Zion and two hours away from Grand Staircase. Their website features a robust list of hotels and Air BNBs in the area, including those within walking distance of the Chabad, catering, and a list of the (admittedly few) local stores that sell kosher groceries. The closest dedicated  kosher supermarket is in Las Vegas, so consider supplementing catering with your own food.
Vancouver, British Columbia, Canada
The destinations:
Lynn Headwater Regional Park: with the benefit of being located within the city limits of Vancouver, one of the perks of this picturesque park is the ability to get there via public transportation. Trails range from easy boardwalk strolls to semi-steep backcountry trails.
Joffre Lakes Provincial Park: is like walking into a jewelry box. Yes, the trees really are that green and the water is really that blue! The lakes – all three of them – are full of "glacial silt," which reflects the light of the sky and turns the lakes the brightest of turquoise. Vancouver is the closest major city to the Lakes, although be prepared for a 2+ hour drive: we promise it's worth it!
The kosher: For over 25 years BCK has been the largest, recognized and accepted, Orthodox kosher certification agency based in Western Canada. With a list of kosher restaurants and groceries located in Vancouver conveniently posted on their website, you won't have to think twice about where to go for lunch or dinner.
Banff National Park, Alberta, Canada
The destination: situated at the eastern edge of the spine of the Rocky Mountains, Banff is home to pristine lakes and canyons carved over time by glaciers and water. Summit shortcuts, gondolas, and bridges allow day-trippers to experience the beauty of the Rockies from their peaks. Banff is also a short drive from Jasper National Park. 
The kosher: the closest city with kosher amenities to Banff is Alberta: the Chabad Lubavitch of Alberta has a dedicated community campus and many local resources to source food, minyanim, and even a listing of shuttle services. Additionally, the more localized Calgary Jewish Federation has a webpage dedicated to where you can purchase kosher food in the area.
If you found this content meaningful and want to help further our mission through our Keter, Makom, and Tikun branches, please consider becoming a Change Maker today.