Imagine a video that explores antisemitism, but erases Orthodox Jewish and Zionist experiences (the two most attacked categories of the Jewish people right now) from the conversation. You don't have to imagine. Jubilee, the popular YouTube channel, published a 52 minute episode on Passover eve on this topic with these holes. I briefly appeared in the episode, which you can see here. They had two other short moments with two other Orthodox Jews speaking – only one who was visibly Orthodox – and he only had a brief comment.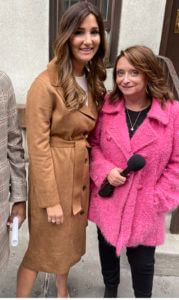 According to the YouTube description: Idina Menzel, Ilana Glazer & Moshe Kasher are joined by Skylar Astin, Michael Ian Black, Rachel Bloom, Rabbi Sharon Brous, Tommy Dorfman, Alex Edelman, Hannah Einbinder, Jordan Firstman, Lori Gottlieb, Bryan Greenberg, ADL CEO Jonathan Greenblatt, Hari Nef, Josh Peck, Zac Posen, Ruth Reichl, Rachel Sumekh, and Michael Zegen for some amazing meals and timely chat. Together they celebrate their Jewish heritage, identity, & culture, and discuss the rise of antisemitism and its effects on the Jewish community. While they engage in their discourse, they also dine on delicious dinners prepared by esteemed chefs Nancy Silverton and Einat Admony, and culinary historian Michael Twitty. Rachel Dratch also joins the special episode as an on-the-street reporter, speaking with Jewish people and allies in New York City. Don't just take a seat at the table; take a stand. 
Now, the good news is that Jubilee is tackling this issue. They've had one episode on Asian hate before this, so that they did their second Recipe for Change episode on the Jewish experience is commendable. They got a bunch of celebrities to discuss being Jewish and facing antisemitism. This is something we don't see too often. Most Jewish celebrities are not so quick to discuss their Jewish experiences publicly, as being too Jewish publicly is not considered especially cool. Additionally, antisemitism isn't an issue too many people care about. As there is increasing sensitivity towards minorities, which we see via sensitivity trainings, corporate advocacy, and improved depictions in media, Jews are mainly left out of these spaces and conversations. So we need to acknowledge that Jubilee has tackled the issue. At the same time, the episode had serious flaws that can't be ignored.
Recipe For Change's shtick is that conversations about minority experiences happen around a table over food. This episode had three tables with eight people each. And with Orthodox Jews making up over 13% of the Jewish population currently, there should have been 3-4 Orthodox Jews at the table. Except there were none. Zero. Zilch. Nada. They literally didn't give a single Orthodox Jew a seat at the table.
The episodes claim to have been filmed on Shabbat and the food does not seem to be kosher. So not only were Orthodox Jews not included, the production, which was meant to be about Jewish culture, was not accommodating to Jews who actually adhere to their culture.
Do you know who was at the table? Ex-Orthodox, Reform, Secular, Black, Brown, LGBT, Traditional Jews and a convert. There was one Israeli Jew, who didn't speak too much on Israel. More on that soon. Diversity is an important thing. But it needs to actually be diverse to actually accomplish diversity.
While there were no Hasidic Jews at the table, Rachel Bloom, one of the participants took a swipe at Hasidic Jews, noting "they probably wouldn't say I'm Jewish, right?" According to Jewish law, Jewish status is not related to Jewish practice or belief. So any Hasidic Jew who actually knows Jewish law would recognize that Rachel is indeed Jewish. Are there ignorant and closed-minded people in the community? Of course. But is that the angle that an episode tackling antisemitism really wants to take, when Hasidic Jews are the ones taking the majority of the Jew-beatings these days? Apparently.
Furthermore, if they had brought a Hasidic Jew to the table, Rachel could have had a real person to meet and connect with, as opposed to the way Hasidic Jews are often handled – seen and spoken about (derogatorily) from afar – but never interacted with personally.
Tommy Dorfman, who is trans and completely secular, commented at one point that she doesn't even experience antisemitism. Tommy experiences anti-trans hatred. Which makes sense. Because people generally experience hate around the parts of themselves which are most noticeable to others. Which is why having the visible Jews – the ones who wear yarmulkes, skirts, wigs, hats, beards – the ones who frequent synagogues, kosher stores and Jewish schools on a daily basis – are the ones we'd want to hear from especially in an episode about Jew hatred. They are the ones facing gang attacks, machete and crowbar jumpings, stabbings, and car rammings.
We heard about white nationalist antisemites in the episode. They have a special penchant for synagogue shootings. But we did not hear about the less comfortable crimes being committed by members of the Black community and Muslim terrorists. Yes, these topics don't feel politically correct, but what is the recipe for change if not to touch the discomfort so we can fix the problem?
We could have heard how Orthodox Jews are sick of being depicted as oppressed and miserable or only worthy of respect when they leave their identity. We heard none of that.
When the topic of Jewish pride came up, lots of funny answers were offered. Jewish humor was one point of pride. Not dying was another. Only Jonathan Greenblatt mentioned that Shabbat as a point of pride. Not a single other participant mentioned a Jewish text or other Jewish observance as a reason they are happy to be Jewish. And while they attempted to end the episode with a Jewish ritual item – decorating a mezuzah (case) – the mitzvah itself was not actually explained. We never actually heard that a mezuzah is a sacramental parchment with the name of God and the Shema prayer inscribed on it. In fact, I don't know if God was invoked in the entire episode. Which is pretty weird, since bringing one God to the world is the very thing that launched our people into existence.
Rabbi Abraham Joshua Heschel was mentioned positively, which was nice. But he was mentioned because he fought for social justice. What if he had just learned Torah and done quiet acts of kindness. Would he be a person worthy of respect? Would he have deserved to live in peace?
Israel was only obliquely mentioned in that the participants noted that Jews were being attacked over the summer when the war in Gaza was raging and that was scary. It was good that they mentioned that, but Jewish college kids on campus are being regularly assaulted if they support Israel. They are being told they support an apartheid state, that they are Nazis. There is but one Jewish state in the entire world, and it is regularly being attacked on every front. To have an episode on antisemitism not go there is irresponsible.
Just as Dara Horn wrote about the Anne Frank museum shockingly erasing the yarmulke of one of its employees (by forbidding him to wear it to work) and the Israeli flag from its language section, so too, an episode on antisemitism has erased Jewish observance and the Jewish homeland from the conversation.
Jubilee does a lot of great work. Their mission is: to create a movement of empathy for human good. They write that, "People want to connect on a deeper level, be challenged, empathize with one another and share vulnerably; and they want to do it in an engaging way." I agree, and I hope this feedback will encourage them to continue accomplish their mission with more insight in where they fell short.
If you found this content meaningful and want to help further our mission through our Keter, Makom, and Tikun branches, please consider becoming a Change Maker today.