Jonathan Josephs, an Orthdox Jew who works at the BBC World News Channel, made a historic first when he presented the news on live television while wearing a yarmulke. He works as a show producer for the network, but had to step in last minute when the anchorman of the World Business Report went home sick. He has done live reporting in the past but this was the first time he was presenting on a show.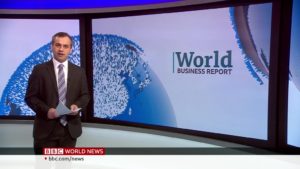 Between writing most of the script and the director guiding him during the show, Josephs believes the broadcast went well and considers it a "proud achievement." Joseph says,"I do feel proud. It's right that there is that representation on the BBC. It shows the Jewish community is diverse and we do different things." A couple weeks before Josephs made his debut on BBC, the network had received criticism over their antisemetic reporting of an antisemitic attack on teenagers on a Chanukah. Josephs has worked at the BBC for 15 years and reflecting on his time at the company, he says, "I've been able to keep shabbat with no problem…the BBC is a place full of diversity and I am happy to be part of that." (Pictures are a courtesy from BBC.)
Read the full story here.
Watch the clip here.
If you found this content meaningful and want to help further our mission through our Keter, Makom, and Tikun branches, please consider becoming a Change Maker today.