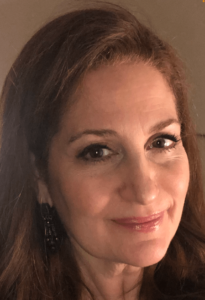 "Upper West Side Story" would be the perfect name for a show about a modern Orthodox girl with a passion for theater, and the star of the show would be Amy Guterson. This off-broadway actress who studied theater with some of the greats, like Uta Hagen, went on to found a Chasidic seminary for the arts called Tzohar.
Guterson grew up as a religious Jew in Long Island and went to Stern College, where she was the first ever theater major, with a minor in fine arts. "I decided to go into the thing that really made me happy, seeing that there was no path trod on ahead of me." The school was very supportive, but Guterson felt that there was a lack of arts throughout her education. "I was attracted to creativity."
For Guterson, she became engaged when she was asked to be creative. That led to her asking questions and figuring out other paths of creativity. "We were exposed to the arts, and culture and film, I could see what was around me even though it didn't feel accessible in a professional way."
Guterson studied with huge names in theater: along with Hagen, she learned with famed director Mike Nichols. She worked in off-Broadway theater and Yiddish theater, acting professionally for a few years before deciding to take Judaism seriously again. "That's when I got more into Chassidus, which I really didn't know that much about before." Her husband was a baal teshuva through Chabad and the lifestyle attracted Guterson. "There are several creative paths that I've tried to find ways of utilizing my talents, and creating places for others and ways for others to express their own talents." This led to the creation of a women's theater group called Kol Isha. This group ran for 15 years before Guterson moved to found Tzohar.
There were certain mainstream theater groups that were open to Guterson, such as an improv group in Pittsburgh. She also acted in the Torah-based miniseries Agent Emes. But she doesn't regret her inability to act professionally. "I guess I've been meant to create these vessels for others. Sometimes your limitations open you up in new ways. That's definitely what it's been for me." Guterson decided to put her trust in Hashem and take a different view. While nothing else that she does – educator, theater director, film director, producer and more – fills the void of acting, she is happy to be doing things that she loves. "I'm doing things that I care about."
What followed was a way for women to learn to express themselves artistically. Tzohar has been around for eleven years. The name comes from Parshas Noach, and refers to a skylight in the ark or else a precious stone that emanates light. They view the girls as being able to radiate as well. "I really felt that the arts and Chassidus would go well together."
Tzohar began as a Chabad-only seminary but they are now attracting girls from Lakewood and the Modern Orthodox community as well. "I thought where could they go to find out about all parts of themselves? Where can they stay in the Jewish world and develop their artistic selves?" A gap year of Torah, Chassidus and Art was born. While more schools have developed their art curriculum since then, at the time the seminary was founded, it was an anomaly. Guterson takes pride in helping to shape the whole person in a Torah-based way. "God made you Jewish, a young Jewish woman who knows that you are educated and that you come from an observant family, but God also gave you talents, and you are aware of them. And you're aware of your creativity and your need to use your creativity."
Along with Chassidus, students explore creative writing, playwriting, screenwriting, theater, filmmaking, visual arts, dance and music. The approximately 18 students per year are all exposed to all of them. "We do a lot of personal work every morning. They are hearing their own voice for the first time. Not their mother's voice, not their teacher's voice, but 'what do I think, what questions do I have? Who am I?'" The girls then choose an artform to express their Chassidus and their connection to their talent. Guterson and her fellow teachers are thrilled by "just seeing the huge personal growth that happens, and the excitement for their Judaism and their expression and their arts." Not all the girls go on to become teachers. But they all have something in common. "They really grow as creative human beings and as people who see the world in a totally different way."
Guterson is proud that her students not only defy stereotypes about what an Orthodox Jewish young woman can do, but they will change the perception worldwide with their talents. "With all that's being put out there [now] about Orthodox women [in the media], I think that this is a game changer. These women in the future will create some of the media that you're seeing out there." The proof is here. One of Guterson's students is an animator who has already worked on Marvel movies. Another creates prosthetics. "They are using their creativity and moving out there in different ways that haven't really been done before. It's really exciting to see…They are not hidden off in a little bubble. They are out there in the world."
Learn more at tzoharseminary.com.
If you found this content meaningful and want to help further our mission through our Keter, Makom, and Tikun branches, please consider becoming a Change Maker today.