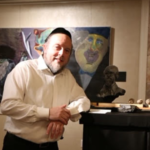 The first-ever Hasidic fine art Gallery opened this week in Williamsburg, Brooklyn, at the Condor Hotel. Exclusively exhibiting works by talented Hasidic artists, the themes range from Jewish History and Hasidic culture to the sublime wonders of the natural world. The first of its kind in New York, the gallery aims to provide a unique space for Hasidic professional artists to display their craft & creativity, as well as to introduce & educate the greater NYC populace to the thriving Hasidic community. Last week's ribbon cutting reception was attended by Brooklyn Borough President and mayoral hopeful Eric Adams, Brooklyn District Attorney Eric Gonzalez and NYC Council member Kalman Yeger among 100 other guests, said gallery director Mayer Kohn. Featured artists include: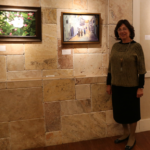 Satmar Hasidic Miriam Lefkovits, a 70-year-old daughter of a Holocaust survivor, who paints in realism; 22-year-old Hillel Weiser, a Viennese expressionist watercolor artist; world-famous singer and Skverrer Hasid Lipa Schmeltzer, who creates rhythmic musical visual art; Lubavitch Argentinian Rosa Katzenelson's abstract oil paintings; Zalmen Glauber, sculpture artist known as the real-life Shtisel. Read more here.
If you found this content meaningful and want to help further our mission through our Keter, Makom, and Tikun branches, please consider becoming a Change Maker today.