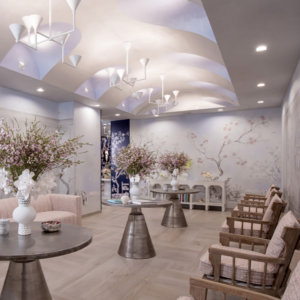 While mikvahs are used by Jewish women all the time for the observance of Family Purity, they are also the special place where a non-Jew completes his conversion, as Rus did in the megillah we read every Shavuos.
One of Hashem's names is Mikvah Yisrael, not only because mikvah means hope and God is our hope, but because mikvah is a fully immersive, protective experience, when we are most vulnerable, and with the attack on Israel right now, channeling Hashem as a force of protection around our brothers and sisters in harm's way is a comforting thought.
Communities all over the world have built their mikvahs even before their yeshiva schools, and some of them are stunning, spa-worthy luxurious oases. Although these elegant structures are a worthy tribute to these precious mitzvos, the true beauty of a mikvah comes from a feeling of spiritual connection, which is not limited to these locations. Join us below on a journey to some of the world's most visually stunning and elaborate mikvahs.
Cedarhurst, NY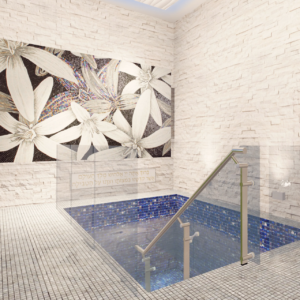 The Grove Street Mikvah isn't just one of the most stylish and modern mikvahs in the world, it is also one of the most thoughtful. From the touch panel in each prep room from which to ask shailas, to the basket of custom-wrapped chocolates by the sink at the exit, to the chic magenta, gold, black and white color scheme, attendees feel like they have been to an exclusive and refreshing experience when they leave. The stunning floral mosaics in the mikvah pool rooms themselves help add focus and beauty to the experience. To visit: http://www.grovestreetmikvah.org
The Mikvah, Crown Heights, NY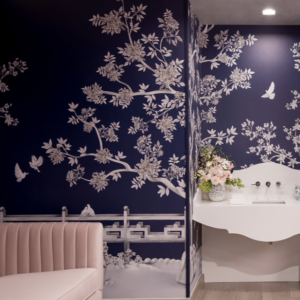 Perhaps the most intricate and largest mikvah ever built, this state-of-the-art center features 28 prep rooms and four pools, as well as an onsite manicurist to help women get their nails in top shape after their immersion. An underground parking garage, luxe amenities and custom music selection also add to the experience. Extra-large immersion pools and handcrafted artistic mosaics add to the comfort and beauty of this incredible paean to the mitzvah of mikvah. To visit: https://themikvah.info
Deal, NJ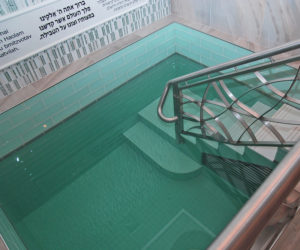 This breathtaking mikvah is known as the Deal Ladies Mikveh, and a recent renovation gives it a modern elegance enhanced by beachy neutral shades as befits its location. Built in mosaic prayers come in Hebrew, English and Transliterated to accommodate all who need the words. If you need to take a dip, why not make a trip out of it. Deal is an ideal vacation destination for the kosher traveler, with luxe nearby hotels, plentiful kosher restaurants (and an Urban Pops location seasonally) and the legendary Jersey Shore just blocks away. To visit: call 732-531-1712
Livingston, NJ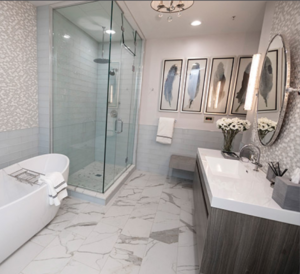 Mikvah Chana is constantly updating, and is known for attracting celebrities like Paula Abdul to speak at its annual benefits. Recently, they renovated a suite onsite in honor of a Mikvah board member who passed away. In an effort to make a serene space that would be as soothing as it was spiritual, Naomi's suite was created in a white, soft blue, and gray color palette, with new plumbing fixtures, light wood elements, as well as upscale soap and shampoos. To visit: https://mikvahchana.com/
Toronto, Canada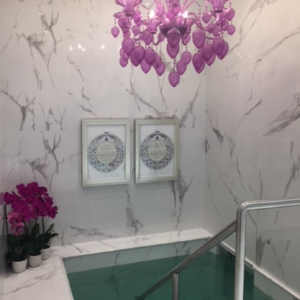 Done in soothing whites and grays with pops of color which are coordinated to each room, the Beer Miriam mikvah features venetian glass chandeliers and cool marble touches. This creates a feminine retreat for those in the Toronto community or anyone visiting. One of the community's most beautiful facilities, they hope to provide a retreat that can pamper and imbue meaning at the same time. To visit: https://www.beermiriam.ca/
Henderson, NV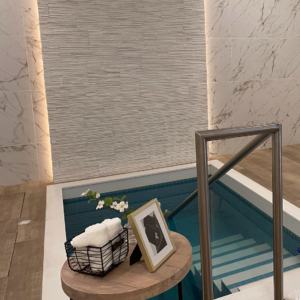 The beautiful desert oasis on the outskirts of Las Vegas is home to a rapidly growing Jewish community, as well as the breathtaking Henderson Mikvah, which was just completed a few months ago. With pale, wood-look tile flooring, white marble walls and clean, modern amenities, this mikvah boasts refined design and convenience to its users, be they part of the local community or just visiting (though be warned, many who visit here eventually move in!) To visit: https://hendersonmikvah.org/
Carolina, Puerto Rico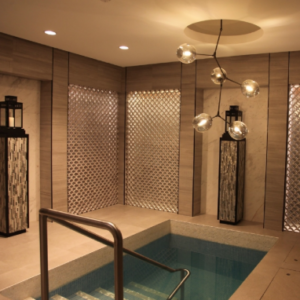 Modern chic meets tropical cool at the mikvah of the Rohr Jewish Center of the Caribbean at Chabad of Puerto Rico. Beyond being a beloved tourist destination for kosher travelers, visitors and residents alike can enjoy the amenities of this mikvah, which as part of the center, has a shul, kosher market, kosher takeout and more, all housed within its walls. From flickering candles to the scale-inspired panels around the mikvah itself, a trip here might just be the highlight of your vacation. To visit: https://www.jewishpuertorico.com/templates/articlecco_cdo/aid/3569451/jewish/Mikvah.htm