The Reverend Dr. Martin Luther King, Jr. once called Rabbi Abraham Joshua Heschel "a great prophet." In the photo, Heschel presented King with the Judaism and World Peace Award. How did the leader of the civil rights movement come to form such a deep bond with an Orthodox Jewish rabbi?
Heschel was a Polish-born American rabbi and philosopher, descended from notable rabbis on both sides of his family including the Maggid of Mezeritch, the Rizhiner Rebbe, Reb Levi Yitzchak of Berdichev and the Apter Rav. He was the nephew of the Novominsker Rebbe. After attending yeshiva and receiving semicha from Rav Menachem Zemba when he was just 14, he pursued his doctorate at the University of Berlin at the same time as Rav Joseph B. Soloveitchik and the Lubavitcher Rebbe. While living in 1938 Frankfurt, he was deported to Poland, and just before Germany invaded Poland, he escaped to New York. Part of his family was killed in the Holocaust and he never returned to Europe.
According to scholar Aaron Leiblich, when Heschel was growing up, the expectation was that he would one day become a Hasidic leader. As his father passed away when Heschel was nine, the boy began learning with his uncle, the Noviminsker Rebbe [who was the grandfather of the recently deceased one]. Heschel wanted to be buried near his uncle, whose esteem was important to him. After the war, Heschel went to the Tisch of the Kopitzhinitzer rebbe, who was his brother-in-law. A relative said to him, "We hoped that you would be the Levi Yitzchak of our generation and save Hasidism. And I thought I would be your Hasid. Alas, you have come to sit at my table."
Heschel might not be widely-known in Orthodox Jewish circles because he taught at the Conservative Jewish Theological Seminary (JTS). At the time in which he taught there, many rabbis there were totally shomer halacha (kept an Orthodox lifestyle) and the communities were much closer in terms of point-of-view than they are today. In fact, Heschel was deciding between taking a job at Yeshiva University and JTS simultaneously, and reportedly, Rav Moshe Soloveitchik advised Rav Yitzchok Hutner to teach at JTS a decade before Heschel taught there. Heschel was a dedicated observer of Torah for his whole life.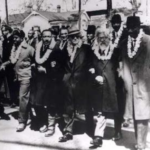 Heschel taught medieval Jewish and Hasidic philosophy as well as Kabbalah. His writings, including the widely-read books Man Is Not Alone, God in Search of Man, The Sabbath and The Prophets, showcased the fact that all humans fundamentally desired a relationship with God. This caught the attention of King, and Heschel became close with him. Heschel participated in the third Selma to Montgomery march, alongside John Lewis and Dr. King. According to Heschel's daughter Susannah, Heschel was quoted as saying that he "felt [his] legs were praying," when he marched, epitomizing some of the Hasidic philosophy with which he was raised by using one's whole being to do something holy. Heschel presented King with the Judaism and World Peace prize. He said of King, "Where in America today do we hear a voice like the voice of the prophets of Israel? Martin Luther King is a sign that God has not forsaken the United States of America. God has sent him to us. His presence is the hope of America. His mission is sacred, his leadership of supreme importance to every one of us." King responded that Heschel was "indeed a truly great prophet… Here and there we find those who refuse to remain silent behind the safe security of stained glass windows, and they are forever seeking to make the great ethical insights of our Judeo-Christian heritage relevant in this day and in this age."
If you found this content meaningful and want to help further our mission through our Keter, Makom, and Tikun branches, please consider becoming a Change Maker today.