It's a yeshiva break like no other. With the second wave of Covid now affecting most communities in full-force, many people are facing quarantine or lockdown during a time that they would usually be traveling with their families. If you all are (hopefully!) healthy and the local quarantine mandates in your area are not restrictive, you might be looking to have something else to see in a safe, socially-distanced way with your family. (If not, you can always read this to have in mind for when you can travel again!) Please check state or local government rules and safety measures being implemented before departure, along with the personal comfort and health of your family. Check for specific site-maintenance closures on the dates you may be visiting. Additionally, if you'll be driving on icy roads, please check to be sure that your car contains winter-safe driving needs and a survival kit, and has had up-to-date maintenance. Here are some ideas for local-ish places to explore from some major Orthodox Jewish communities. Enjoy your break!
New York Metro Area
The Poconos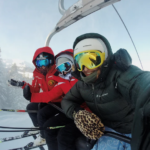 The usual Yeshiva break spots of indoor water parks may not be as inviting this year due to the relative inability to social distance and limited tickets, but that doesn't mean that travelers from New York and New Jersey need to discount the Keystone state for their adventures. While there are many places to go skiing and enjoy winter sports in the New York area, few places offer the range of amenities and ease of use for religious travelers that Pennsylvania's mountains do. Scranton and Wilkes Barre have nearby kosher options, though Chabad of Pocono offers food delivery to several locations. With lift tickets to ski and snowboard, snowmobiling, sledding, ice skating and more all available (and all relatively safe and solitary activities), this option may provide a great escape and change-of-pace for your family.
Connecticut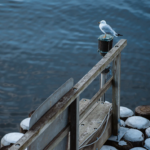 With kosher amenities aplenty (two new restaurants just opened last month – Ladle and Loaf, Fin and Scale) as well as one of the Northeast's only kosher Indian food among other options, kosher travelers have takeout opportunities aplenty when visiting the Constitution State, whose activities are all easily driveable within a day if you prefer to stay at home. For outdoor things to do, head to Essex for a winter wildlife river cruise, or try the New England Air museum's outdoor exhibits and take-home build-a-flyer kits. At Powder Ridge, you can try your hand at snowbiking, a hybrid sport that combines mountain biking and skiing (not for the faint-at-heart), or snow tubing, for some outdoor, socially-distant family fun.
Miami Metro Area
St. Augustine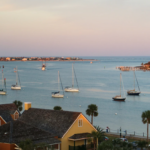 This historic city, billed as America's oldest one, is partway between Daytona and Jacksonville. While Jacksonville, 45 minutes north, has many kosher options, the sightseeing in St. Augustine is worth the stop. Their aquarium might be small, but it is outdoors, providing marine life close-ups to fans of all ages. The lighthouse and surrounding state park have acres to explore and history to engage with, while having the sunny Atlantic as a backdrop. There are water sports, alligator farms and historic jails to see as well. Try renting a house or one of the beachcomber cottages, or else stay in Jacksonville and hit up attractions in St. Augustine on your way up or down the coast.
Key West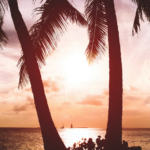 The southernmost point of the southwestern United States, the overseas highway drive is one of the most scenic, socially-distanced activities you can do. Once you arrive in Key West, try out Fort Zachary Taylor State Park, where sandy beaches, nature trails and snorkeling are all available, right next to a Civil War-era fort. Reenactments may not be everyone's thing, so if not, the Butterfly and Nature Conservancy offers a way to get up close and personal with animals, or rent kayaks and paddleboards at Higgs Beach. There are house rentals available if you don't want to head back to Mainland Florida so soon. Mam's Best Food offers kosher breakfast and lunch fare, as well as a small kosher grocery with Shabbos catering.
Chicago Metro Area
The Forge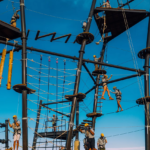 While there's no place to stay nearby that makes it an overnight destination per se, the incredibly intricate outdoor adventure park The Forge: Lemont Quarries has no end to the Covid-safe activities for the whole family to enjoy. From mountain biking pump tracks to augmented reality outdoor escape games to the Eight Towers Adventure (climbing towers, ziplines, high ropes course, rappelling stations), to their expansive kids' zone, there are two days worth of run-the-kids-until-they're-ragged activities to do here. They are also featuring a Winter Classic Shinny Tournament at their brand-new skating venue and kids as young as six up through adults can compete in this hockey tournament safely at any skill level. For kosher food, there is nothing in the immediate area, so pack picnics from home or Chicago-area restaurants.
Sheboygan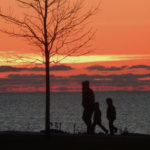 This Wisconsin city is a well-known getaway for Chicagoans, Wisconsans and Minnesotans. With an active arts culture (much of it outdoors thanks to their Wandering Wisconsin / Sheboygan Walking Tour project, Prairie Moon Sculpture Garden and more), as well as a slew of outdoor activities from snowshoeing and fat-tire biking to curling and cross-country skiing, there are plenty of things to do. To stay overnight, the American Club offers private cabins, some of which are brand new, and there are family-friendly villas at the Blue Harbor Resort. You can stop to pick up kosher food in Milwaukee on your way up the coast of Lake Michigan, or else stop at Aldi or Woodlake Market near the resorts.
Los Angeles Metro Area
See the Snow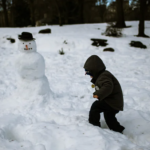 Do you want to build a snowman? While Mammoth and Big Bear might get all the buzz for being the go-to winter sport locales for Southern Californians, there are destinations much closer that are still worth the effort to put on tire chains and escape to for a "snowcially-distanced" getaway. Mount Baldy is just an hour from LA and has snow tubing and skiing. Mountain High in Wrightwood offers activities for all ages. Running Springs is closer than Big Bear and offers board activities and snowmobiling and Mt. Pinos has three free snow-play areas if you want to bring your own toboggan or sled and get into the powder on your own. Bring your food from home and look into local cabin rentals for a great place to stay near the frosty fun.
Central Coast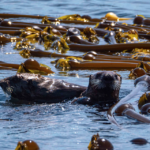 With scenic drives, plenty of places to stay and open outdoor activities, a visit to California's Central Coast is a worthwhile choice for a Covid-safe LA winter getaway. Admire the redwoods that were unaffected by this past summer's wildfires in Big Sur, see adorable sea otters and larger-than-life sea lions frolic in their natural habitat in Morro Bay, visit a charming town that is a complete replica of a quaint Denmark village in Solvang and rent a bike surrey to cruise the beach in Ventura. Stop by for a picnic and wine tasting (with a stay in Oxnard thereafter – house rentals, the Embassy Suites Mandalay Bay and more are available) courtesy of the delicious Tierra Sur Winery enroute back to LA.
Baltimore / Silver Spring
Historic Virginia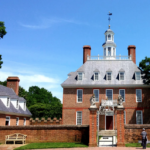 If you've never been to the other Williamsburg (not the Brooklyn one!), their off-season for tourism is the perfect time to explore famous first American settlements without the crush of other families. Historic Jamestowne may be temporarily closed through January 31st, 2021, but views of the area from beyond it are open, as is all of Colonial Williamsburg. There, you can enjoy open-air carriage rides, try-your-own musket firing, explore the Governor's Palace's expansive outdoor grounds and more. The Colonial Williamsburg resorts offer an array of amenities overnight, and there's a Menchie's Frozen Yogurt in town. Richmond and Norfolk provide some additional kosher food options an hour in either direction. Closer to home, St Mary's City is Maryland's answer to colonial civilization, and boasts hiking trails, a 1600's ship replica, a tobacco plantation and a Native American settlement to educate and entertain.
Cleveland
Cincinnati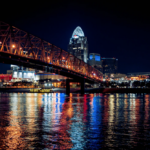 Heading to the Southwestern part of the state might not seem like a getaway at first, but when you see all of the Covid-safe outdoor activities and kosher options there, you may just wonder why you haven't been vacationing there all along. From wandering the massive grounds at Pyramid Hill Sculpture Park and Museum, to exploring the Highfield Discovery Garden's whimsical plant displays, to meeting animal friends at the (currently open) Cincinnati Zoo and Botanical Garden, and a fossil-finding park, there is plenty to do. For food, Kinneret Grill offers Israeli specialties, Marx's Hot Bagels meets your breakfast needs and Amma's Kitchen's Indian food is superb. To stay, there is an assortment of upscale hotels downtown, modest hotels around the suburbs, or try to find a house rental in Amberley or Golf Manor to be near the Jewish community and its amenities if needed.