While some who celebrate Shavuos do so with dairy, many of us are either lactose-intolerant (hi, we're Jewish!) or are plant-based for health or ethical reasons. But that doesn't mean a Shavuos menu filled just with raw vegetables or tofu; skipping the dairy doesn't mean we're avoiding deliciousness at all as you can see by the roundup below. Although some of these recipes are on the healthier side (which can be appreciated by more than just the vegans in your family), many of these dishes are indulgent and just as delicious as their dairy counterparts. Either way, even the meat-and-dairy eaters at your table are sure to be impressed with this collection of recipes.
Enjoy and happy cooking!
Savory:
Vegan Mac 'n Cheese by Naomi Hazan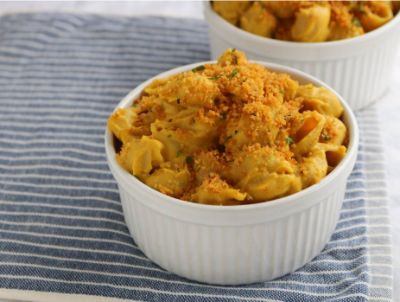 Vegan Mac 'n Cheese Sauce
– 3 tablespoons avocado oil
– 1/3 cup all-purpose flour (or gluten free flour)
– 2 medium sweet potatoes, cooked
– 1 cup raw cashews, soaked for 1 hour
– 1 clove garlic or 1 cube Gefen Frozen Garlic
– 1/4 teaspoon cayenne pepper
– 1 teaspoon salt
– 1 teaspoon Reine Dijon Mustard
– 1 teaspoon Gefen Soy Sauce
– 3 tablespoons nutritional yeast
– 1/2 teaspoon dry rosemary
– 3 and 1/2 cups Gefen Unsweetened Almond/soy milk
– 1 teaspoon lemon juice
– 1/2 teaspoon turmeric powder
– 1 pound Tuscanini Pasta, cooked according to package directions
Prepare the Mac 'n Cheese
1. In a saucepan, whisk the oil and the flour until it forms a paste, stir over medium heat for three minutes.
2. Meanwhile, blend all the other ingredients on high until extremely smooth. Add the mixture to the saucepan and whisk constantly for five minutes on medium low heat.
3. Simmer until the sauce has thickened. Toss with cooked pasta, top with crispy bread crumbs, and serve hot.
Quinoa Crust Roasted Veggie Pizza by Estee Raviv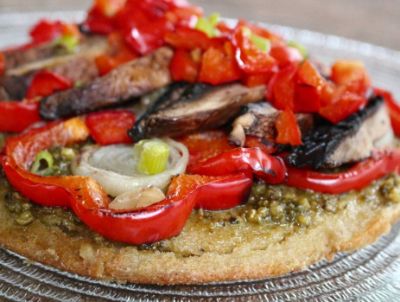 Quinoa Crust
– 1 teaspoon Haddar Baking Powder
– pepper
– 1 teaspoon Gefen Olive Oil for the pan
– 1 cup quinoa, soaked overnight with plenty of water, and drained
– 1 teaspoon salt
– 1/4 cup water
Roasted Veggies
– 1 red bell pepper, sliced
– pepper
– Gefen Olive Oil
– 1 onion, sliced
– 2 tablespoons basil pesto (homemade or store-bought such as Ta'amti Pesto)
– 1 portobello mushroom, sliced
– salt
1. Turn oven to broil.
2. In a food processor, add drained quinoa, baking powder, water, salt, and pepper. Blend until smooth. Set aside.
3. Place sliced vegetables on a baking sheet lined with Gefen Easy Baking archment Paper. Drizzle with olive oil, salt, and pepper. Broil for a few minutes on each side until golden brown. Set aside.
4. In a nonstick pan on low heat, heat olive oil then add quinoa batter. Cook for about five to seven minutes until edges are golden brown. Finish in the oven under the broiler, or flip crust to the other side for two minutes (until golden brown).
5. Remove from the oven and while still hot, spread the pesto on top (this makes it melt into the crust).
6. Top with veggies and serve immediately.
Tip: If you like your crust thin, you can divide the batter into two crusts.
Variation: You can also bake the crust in the oven on a baking sheet lined with parchment paper and greased with olive oil. It will cook pretty quickly and should look pale but completely cooked (like a pancake), about 15 minutes. Then spread the pesto while it's hot, and lay the veggies. You can bake it again for five to 10 minutes to warm through.
Baked Potato and Onion with Thyme and Silan by Kosher.com Staff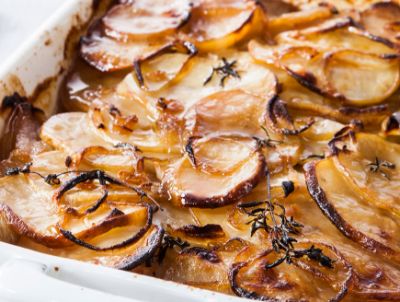 Main ingredients
– 6 potatoes, thinly sliced
– 2 onions, thinly sliced
– 5 sprigs of thyme, leaves only
– salt, to taste
– pepper, to taste
– 4 tablespoons Galilee's Delicacy 100% Dates (No Sugar Added) Silan
– 4 tablespoons olive oil
1. Preheat the oven to 360 degrees Fahrenheit and grease an eight- by 12-inch tray.
2. Arrange the potatoes and onions in alternating layers. Season each layer with thyme, salt, and pepper and drizzle a tablespoon each of Galilee's Delicacy 100% Dates Silan and olive oil on each layer.
3. Cover the pan with aluminum foil and bake for 45 minutes, until the potatoes are soft.
4. Before serving, uncover and bake for 10 more minutes at 390 degrees Fahrenheit.
Indian Cream of Tomato Soup by Paula Shoyer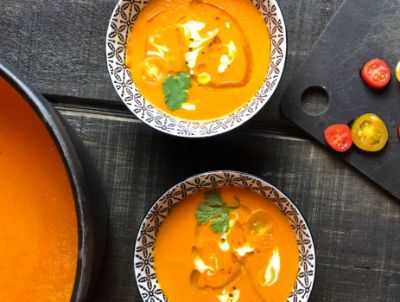 Cashew Cream
– 1 cup raw cashews
– 2 cups water, divided
Soup
– 2 tablespoons oil
– 2 onions, chopped into 1-inch pieces
– 3 large garlic cloves, roughly chopped
– 2-inch piece of ginger, chopped
– 1 jalapeno, seeded and chopped
– 1 large tomato, seeded and chopped
– 2 teaspoons turmeric
– 1 teaspoon salt
– heaping 1/4 teaspoon black pepper
– 1 jar Tuscanini Crushed Tomatoes (24.7 ounces)
– 4 cups vegetable stock
– 2 tablespoons roughly chopped cilantro leaves, for garnish, optional
Prepare the Soup
1. Four hours before making the soup, place the cashews into a bowl and add one cup of cold water. Let sit.
2. To make the soup, place the oil into a soup pot and heat over medium heat. Add the onions, garlic, ginger and jalapeno and cook for six minutes, stirring occasionally, until the onions are clear. Add the tomatoes and cook for two minutes. Add the turmeric, salt and pepper and cook for one minute, stirring often.
3. Add the crushed tomatoes and then add ¼ cup of the water to the jar, shake and then add to the saucepan. Add the stock. Bring to a boil, then cover and reduce heat to low to simmer for 10 minutes.
4. Drain the cashews and place into the bowl of a food processor. Add the remaining 3/4 cup water to the bowl and process until very creamy, for about two minutes, scraping down the sides as needed.
5. When the soup is cooked, use an immersion blender to purée the soup for three whole minutes. Add the cashew cream, setting aside about one tablespoon in a bowl to use to garnish the bowls. Purée for another minute. Add more salt and pepper to taste.
6. Serve garnished with a few dribbles of cashew cream in the soup bowl and add chopped cilantro if desired.
Crispy Mini Meatless Pies by Ruth Fox and Vicky Cohen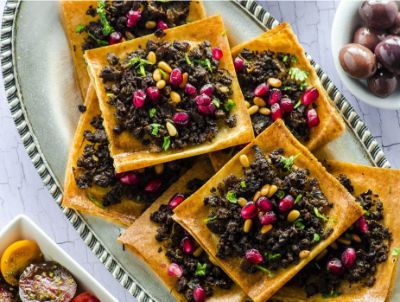 Main ingredients
– 2 tablespoons plus 1/2 teaspoon Bartenura Extra-Virgin Olive Oil, divided
– 1 medium-size onion, diced (about 1 cup)
– 10 ounces extra-firm tofu, patted dry
– 1/2 cup chopped fresh parsley
– 3 tablespoons sun-dried tomatoes packed in oil, diced
– 1/4 cup pomegranate molasses
– 1 teaspoon salt
– 1/2 teaspoon ground cinnamon
– 1/2 teaspoon baharat or ground allspice
– 2 tablespoons raw pine nuts
– 9 Gefen Spring Roll Wrappers
– 1/4 cup vegetable oil
Directions
1. Heat one tablespoon of the olive oil in a large, nonstick pan. Add the diced onion and cook over medium heat for 10 minutes, until translucent.
2. Crumble the tofu into a medium-size bowl. Add the cooked onion, parsley, diced sun-dried tomatoes, pomegranate molasses, salt, cinnamon, and baharat and mix well.
3. Using the same pan, heat one tablespoon of olive oil. Add the tofu mixture and cook over medium-high heat for 10 minutes, stirring occasionally. Transfer to a bowl and set aside.
4. In the same skillet, heat the remaining 1/2 teaspoon of olive oil. Add the pine nuts and toast for one to two minutes, stirring frequently and watching carefully to prevent them from burning. Remove from the heat and set aside.
5. Preheat the oven to 375 degrees Fahrenheit. Line two baking sheets with Gefen Easy Baking Parchment Paper.
6. Brush each spring roll wrapper on both sides with vegetable oil. Cut each wrapper in half and fold each half into a square (you will end up with 18 squares).
7. Spoon a heaping tablespoon of tofu mixture into the middle of each wrapper square, lightly pushing it down so it almost covers the surface of the wrapper.
8. Sprinkle the toasted pine nuts on top and transfer to the lined baking sheets (nine per sheet). Bake for 12 to 15 minutes, or until golden brown.
Tip: To make sure the wrappers don't dry out while you fold them, pile them on top of one another and cover with a clean towel until they are ready to be filled and baked.
Sweet:
No Bake Fudge Balls by Naomi Hazan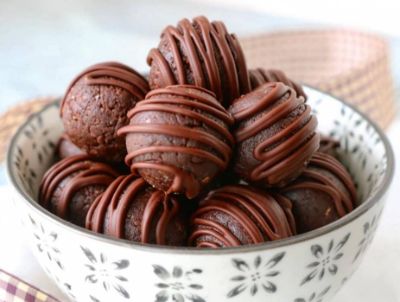 Main ingredients
– 9 medjool dates, pits and stems removed
– 1 teaspoon vanilla extract
– 1/4 teaspoon salt
– 1/3 cup Gefen Cocoa Powder
– 1/4 cup chocolate chips
– 1/4 cup coconut shreds
– 1/4 cup Gefen Almond Flour
– melted chocolate, for drizzling
Prepare the Fudge Balls
1. In a food processor, chop the dates until extra fine.
2. Add in the vanilla extract, salt and cocoa powder and blend. Then add in the rest of the ingredients and blend until a dough ball forms.
3. Form walnut size balls and place on a plate. Freeze for 20 minutes to allow the balls the harden.
4. Drizzle melted chocolate overtop and freeze again until the chocolate has set. Store in freezer until 30 minutes before serving.
4-Ingredient "Krembo" Bites by Erin Grunstein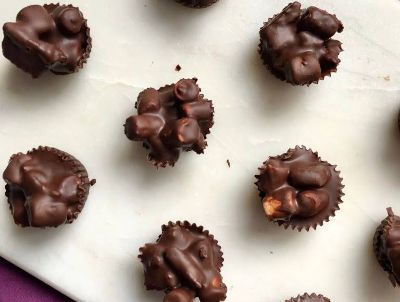 Main ingredients
– 1 and 1/2 – 2 cups Glicks Semisweet Chocolate Chips
– 1/3 cup cookie butter (I use @biscoff lotus)
– 1 cup Elyon Mini Marshmallows
– 1/2 cup broken up lotus cookies or graham crackers
Prepare the "Krembo" Bites
1. In a double boiler, melt chocolate.
2. Once melted, mix in cookie butter until incorporated and remove from heat.
3. Allow to cool slightly (so marshmallows don't melt) and mix in marshmallows and cookies.
4. Spoon into parchment-lined mini muffin tin (or scoop little clusters onto Gefen Easy Baking Parchment-lined baking sheet).
5. Refrigerate until set.
Fresh Fig Tarts by Shaina Benzaquen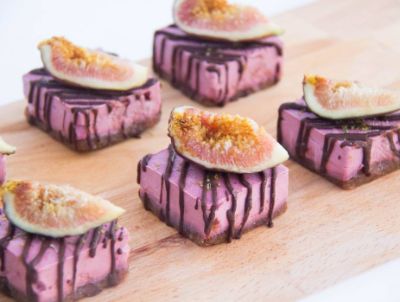 Crust
– 1 cup dates
– 1 cup almonds
Filling
– 1 and 1/2 cups cashews, soaked for four hours
– 1/3 cup melted coconut oil
– 1/2 cup maple syrup
– 1/2 cup coconut cream
– 5 fresh strawberries
– 1 package freeze-dried strawberries (1 and 1/2 cups)
– 4 fresh figs, plus more for topping
– 1/4 cup melted Elite Chocolate
Prepare the Crust
1. Process the dates and almonds in the food processor until well combined.
2. Form your crust on the bottom of your silicone mold.
Prepare the Filling
1. Add the the soaked cashews, coconut oil, maple syrup, coconut cream and fresh strawberries in the blender and blend until smooth.
2. Then add the freeze-dried strawberries and figs and blend for about two to four minutes.
Assemble
1. When the mixture is fully blended fill your silicone molds.
2. Place them in the freezer for about an hour.
3. Once you have popped out your fully frozen tarts, melt the chocolate in a double boiler.
4. Drizzle lightly over your tarts and top with fresh fig slices. Enjoy!
Egg-Free, Dairy Free Chocolate Crunch Cake by Sweet Moments: Rega Matok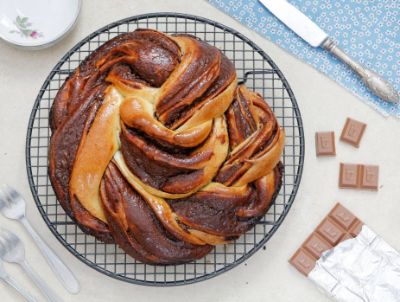 Dough
– 3 and 1/2 cups (500 grams) flour
– 1 tablespoon Gefen Dry Yeast
– 1/2 cup (100 grams) sugar
– 1/3 cup oil
– 1/2 teaspoon salt
– 1 – 1 and 1/4 cups water
Chocolate Filling
– 1/2 cup (100 grams) coconut oil, melted
– 7 ounces (200 grams) Elite 70% Dark Chocolate
– 2 tablespoons (20 grams) sugar
For Brushing / Glaze
– splash of Gefen Soy Milk
– 1/3 cup (70 grams) sugar
– 1/3 cup water
Prepare the Dough and Filling
1. Put flour, yeast, sugar, oil, salt, and one cup water into mixer bowl and knead three to four minutes on low-medium speed, until a lump of dough begins to form. If dough is too dry, gradually add a little more water. Knead additional six to seven minutes until dough is soft and smooth.
2. Transfer dough to lightly floured work surface. Knead gently with your hands and form a ball shape. Put dough into lightly greased bowl, cover, and let rise one to two hours, or until doubled in size.
3. Melt coconut oil and chocolate in microwave in a bowl or over a double boiler and mix until smooth. Add sugar and mix.
4. Cool mixture 30–60 minutes at room temperature until it reaches a spreadable consistency.
Shape, Bake and Glaze
5. Roll out dough on a floured surface into a 1/5- inch- (five- millimeter-) thick rectangle and spread evenly with chocolate filling.
6. Roll up tightly jelly- roll-style and cut lengthwise into two long strips of dough with filling showing. Twist strips together into a screw shape. Roll up the "screw" around itself into a spiral.
7. Place in lightly greased pan. Cover and let rise for one hour before baking.
8. Heat oven to 350 degrees Fahrenheit (180 degrees Celsius).
9. Gently brush dough with a little soy milk. Bake 30–40 minutes or until cake has risen and is golden and firm.
9. Bring sugar and water to a boil in a small saucepan. Cook additional two to three minutes until all the sugar is dissolved and it forms a smooth syrup.
10. Brush cake liberally with syrup. Cool a little at room temperature and serve.
Note: Don't skip the glaze — it helps keep the cake moist. Cake can be frozen up to a month when wrapped well in plastic wrap.
8PM – Cookie Dough Truffles by Chayie Schlisselfeld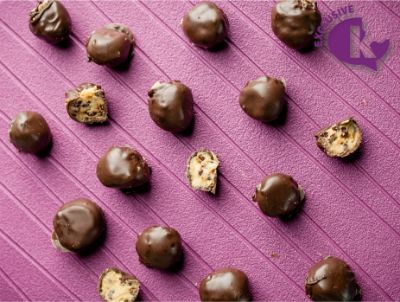 Main ingredients
– 1/2 cup (1 stick) margarine (use soy-free, if needed)
– 1/3 cup sugar
– 2/3 cup brown sugar
– 2 tablespoons Gefen Almond Milk
– 1/4 teaspoon salt
– 1 teaspoon Gefen Vanilla Extract
– 1 and 1/4 cups flour
– 1/2 cup Gefen Mini Chocolate Chips
– 10 ounces semi-sweet baking chocolate, for dipping
Make the Truffles
1. In the bowl of an electric mixer, combine margarine with the sugars until light and fluffy.
2. Add almond milk, salt, vanilla, flour, and chocolate chips and mix well (the chocolate chips can be mixed in by hand).
3. Form dough into one-inch balls and arrange on a baking sheet lined with Gefen Easy Baking Parchment Paper. Freeze for 30 minutes.
4. Meanwhile, melt chocolate in a double boiler. Using a fork, dip the chilled cookie dough balls into melted chocolate to cover. Tap fork on side of pan to remove any excess chocolate coating, and return to the lined baking sheet. Freeze until ready to serve. Yields: 24.
If you found this content meaningful and want to help further our mission through our Keter, Makom, and Tikun branches, please consider becoming a Change Maker today.