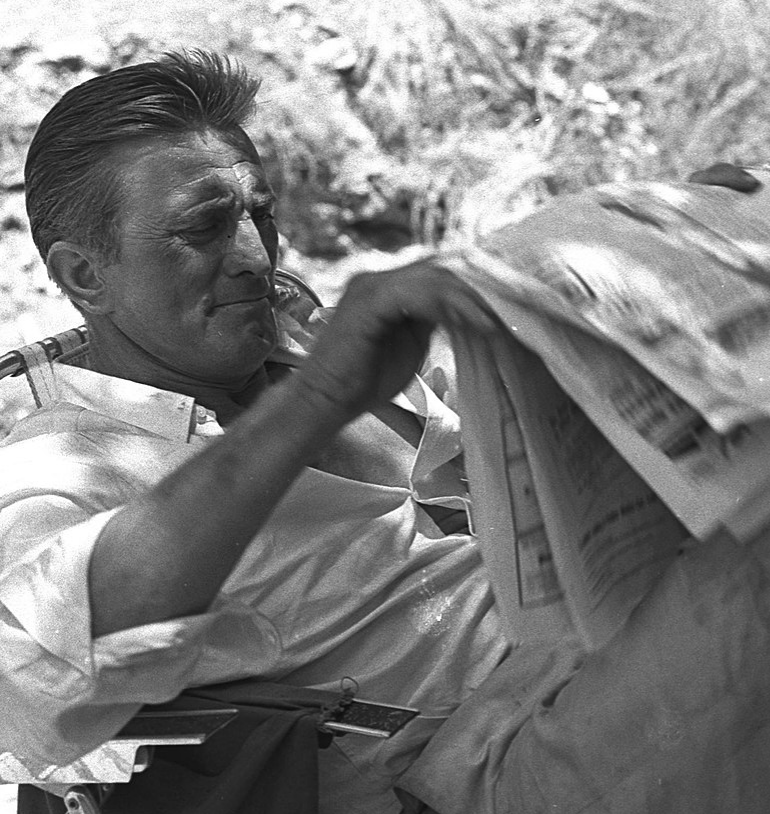 Screen icon, Kirk Douglas, died yesterday at age 103. Born Issur Danielovitch to a Russian Jewish immigrant family, he built an incredible 87-film-long career and is beloved worldwide for his performances in films like Spartacus, 20,000 Leagues Under the Sea, Paths of Glory and Lust for Life. He received an Academy Award for Lifetime Achievement and the Presidential Medal of Freedom.
While also enjoying a prolific career as an author, he is well-regarded for his outspoken connection to Judaism and Torah learning. Douglas's Jewish journey began with an observant upbringing, which he moved away from as he got older, and then made a return to, later in life.
Douglas attended cheder as a child and his parents dreamed that he would become a rabbi. Douglas later said "I was pretty good in cheder, so the Jews of our community thought they would do a wonderful thing and collect enough money to send me to a yeshiva to become a rabbi…[but] you don't have to be a rabbi to be a Jew." He also noted in "Kirk and Anne: Letters of Love, Laughter and a Lifetime in Hollywood," "I grew up praying in the morning and laying tefillin, but I gave up much of the formal aspect of religion."
That all changed 1991 when a helicopter crash made him focus on Judaism. In his book Climbing the Mountain, Douglas recalled his search for his identity, wondering why he had been spared while others had perished in the crash. "I came to believe that I was spared because I had never come to grips with what it means to be Jewish," he said.
Part of how he answered that call was by engaging in daily Torah study with a variety of rabbis at different Los Angeles synagogues, including Aish HaTorah. He also celebrated a second bar mitzvah at age 83. "Today, I am a man," he is quoted as telling the glitzy Hollywood crowd in attendance.
Douglas also valued tzedaka. He is well-known for having given over $100 million to charity during his lifetime, including to Torah organizations. He dedicated the Kirk Douglas Theater at the Aish World Center across from the Kotel. The theater shows films solely on the history of Judaism and Jerusalem. When his son, actor Michael Douglas, won the Genesis Prize, an award given to individuals who make a great impact on Jews and the Jewish world, and dedicated the award in honor of his father, who inspired him accordingly.
Once Douglas became a regular student of Torah, he wanted to share the knowledge with others. His Jewish books include Young Heroes of the Bible, a take on stories from Tanach made for children. He felt that the lessons of Judaism would be of great impact on young readers. "All religion should try to make you a better person and a more caring person. Whenever religion does that for you, it's a good religion…I'm proud to be a Jew."
In 2000, in a story not too different from his own Douglas made a guest appearance on "Touched By An Angel" and played an elderly man, Ross Burger, who no longer believed in God. When Ross found out that his devout son was dying from a brain tumor, he had to find his own faith again.
Having grown up with a strong connection to Judaism, Douglas always fasted on Yom Kippur. "I always fasted on Yom Kippur," he once said famously. "I still worked on the movie set, but I fasted." Douglas' second wife, Ann,e converted to Judaism before they celebrated their 50th wedding anniversary. He is quoted as saying, "She said I deserved to marry a nice Jewish girl." Together, they celebrated Shabbos. He said, "When we light the candles we have a little service and say in Hebrew a small prayer where we're thanking God for everything we have. I like that. I think that is a prayer that everybody should say."
If you found this content meaningful and want to help further our mission through our Keter, Makom, and Tikun branches, please consider becoming a Change Maker today.