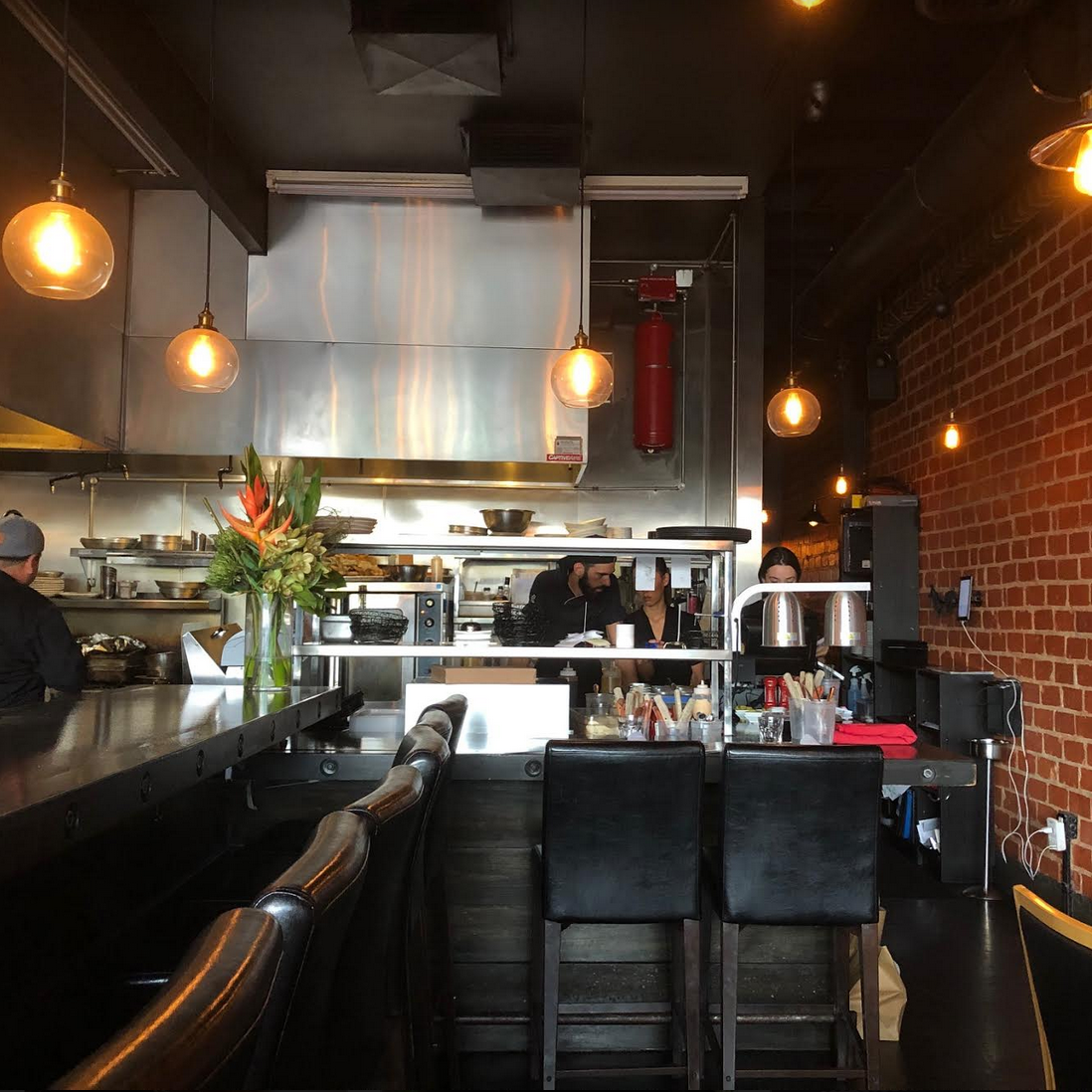 From the packed tables and line for seating on the patio, to the sleek bar filled with far more than just the typical schnapps, L.A.'s newest meaty kosher restaurant is attracting far more than just the usual crowd. Already known for its roasted meats, innovative sides and chic styling, Charcoal is making waves from its inland, Beverly Flats address (while still between the Hancock Park and Fairfax Orthodox Jewish communities, its hip address and popular patio mean that the local studios will populate it as well). While Charcoal is poised to take over the space next door for additional seating, grabbing a reservation is still your best bet to enjoy the vibe and the fire-roasted selections.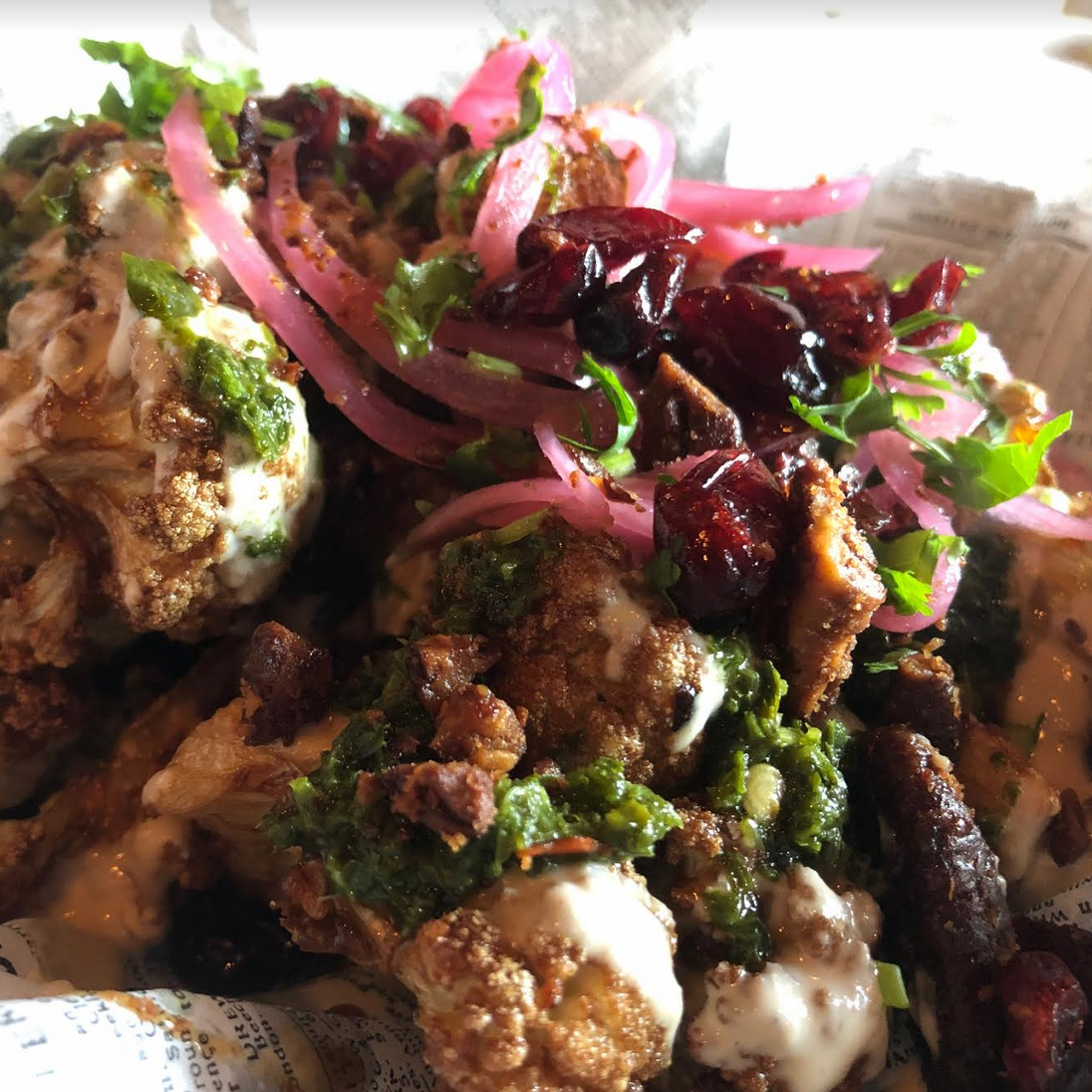 The mostly-black interior gives way to a statement brick wall adorned with a sparse arrangement of wine bottles, modern lighting and simple but comfortable chairs. Green Israeli whole olives and pickles with a punch grace the table in generous portions. For appetizers, the tahini-and-silan-topped roasted cauliflower combines flavors of almonds, fresh herbs and dried cranberries to umami effect. Wild mushroom hummus is so deeply flavorful, authentic and creamy, you'll wonder why you don't order your hummus this way whenever you're out for falafel. Their house-made pita is fluffy and steaming hot. The lamb shawarma tacos are topped with aromatic pink onions, spicy gremolata and tahini. They balance typical Mediterranean flavors with those of Mexico effortlessly.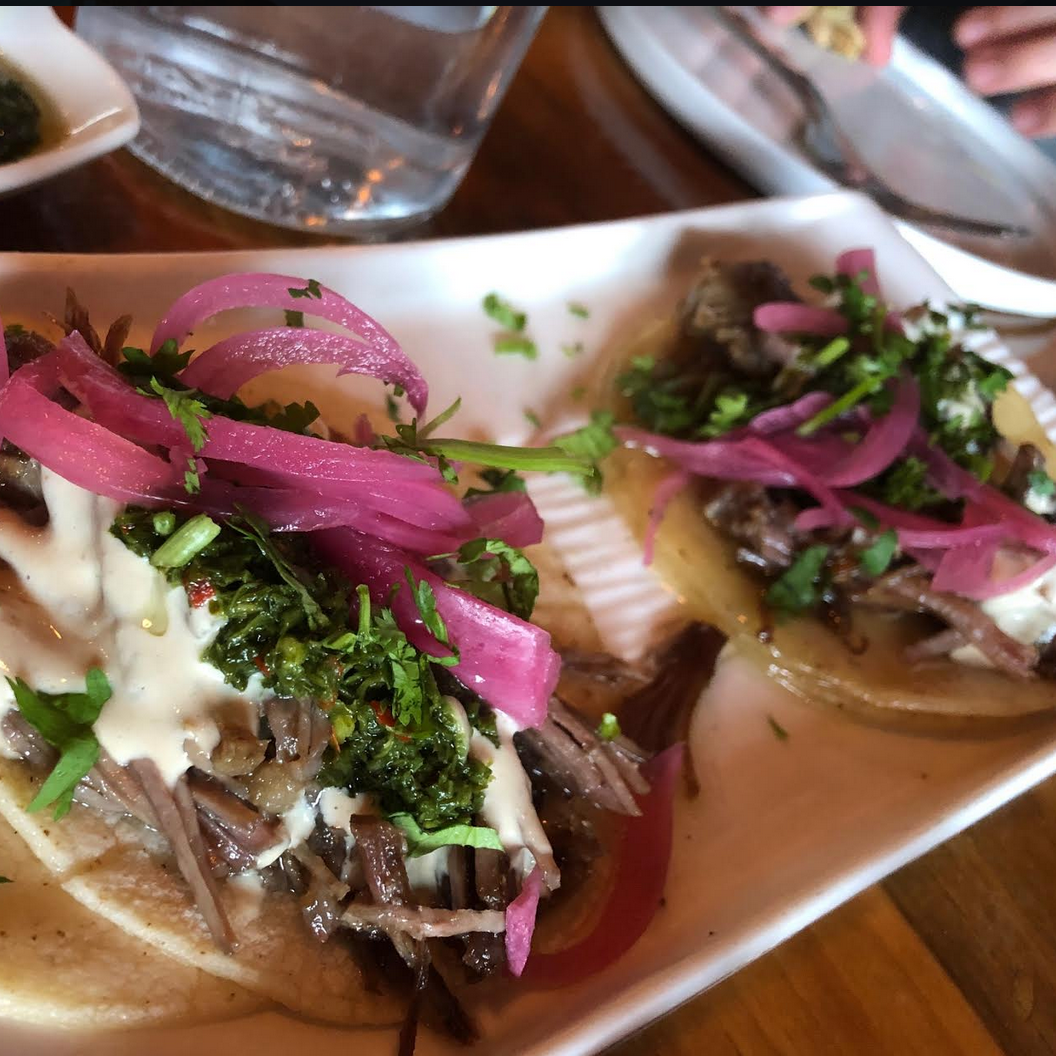 Other appetizers offered are house-made falafel, wagyu-stuffed mushrooms, charred eggplant baladi, chorizo chicken sliders and more. An assortment of salads, to which one can add chicken or steak, come packed with interesting combinations of vegetables, toppings and dressings.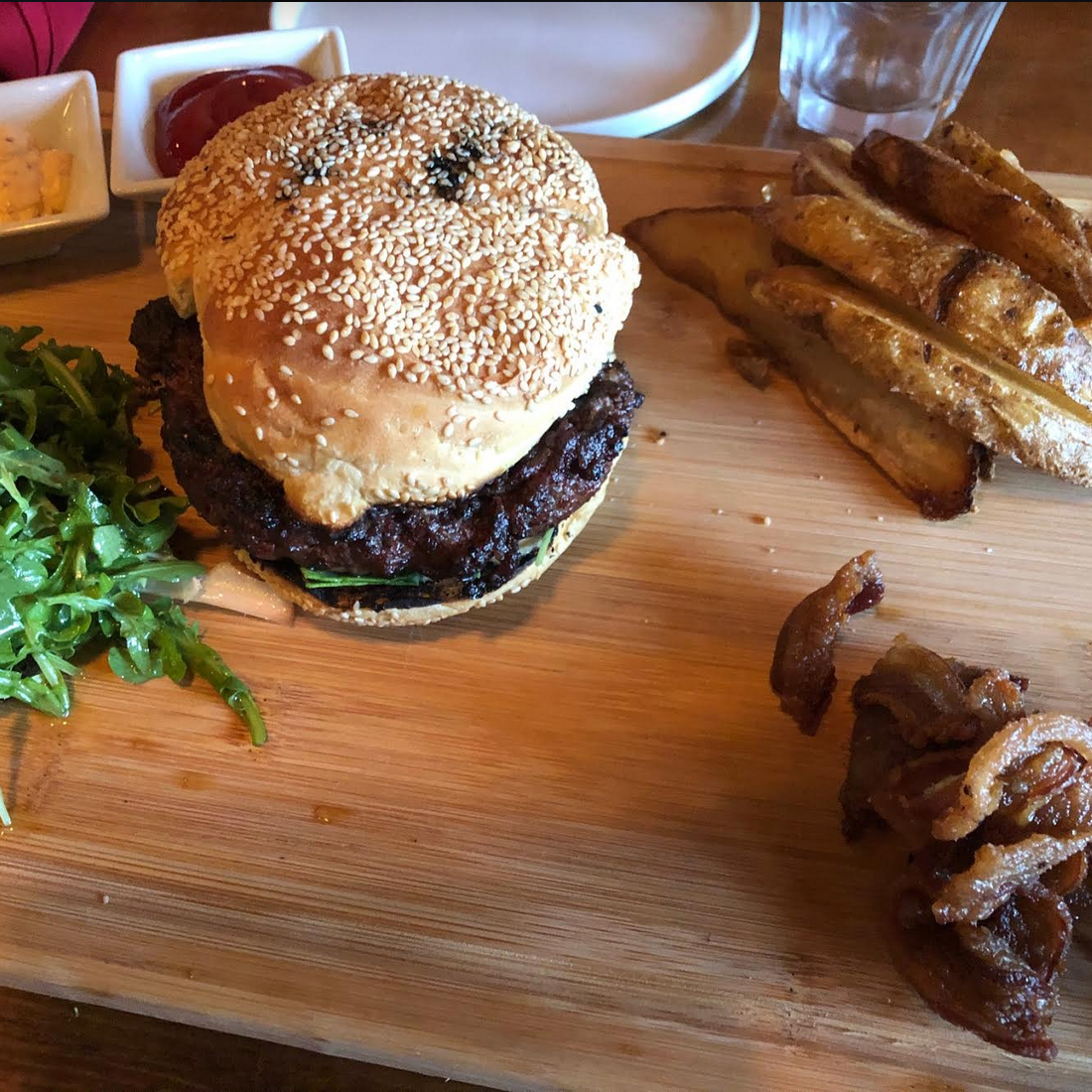 In the main entree section, the wagyu beef burger is enormous and comes with candied lamb bacon (never enough) and mixed green with garlicky steak fries. The short ribs are a menu standout and come two different ways: one is an asian-inspired soy-infused style atop mashed sweet potatoes, broccolini and roasted garlic. Although sauceless, the other is also fall-apart tender and comes with steak fries and roasted peppers. Other entrees include bone-in rib eye, baby lamb chops, boneless half chicken, fish of the day and schnitzel.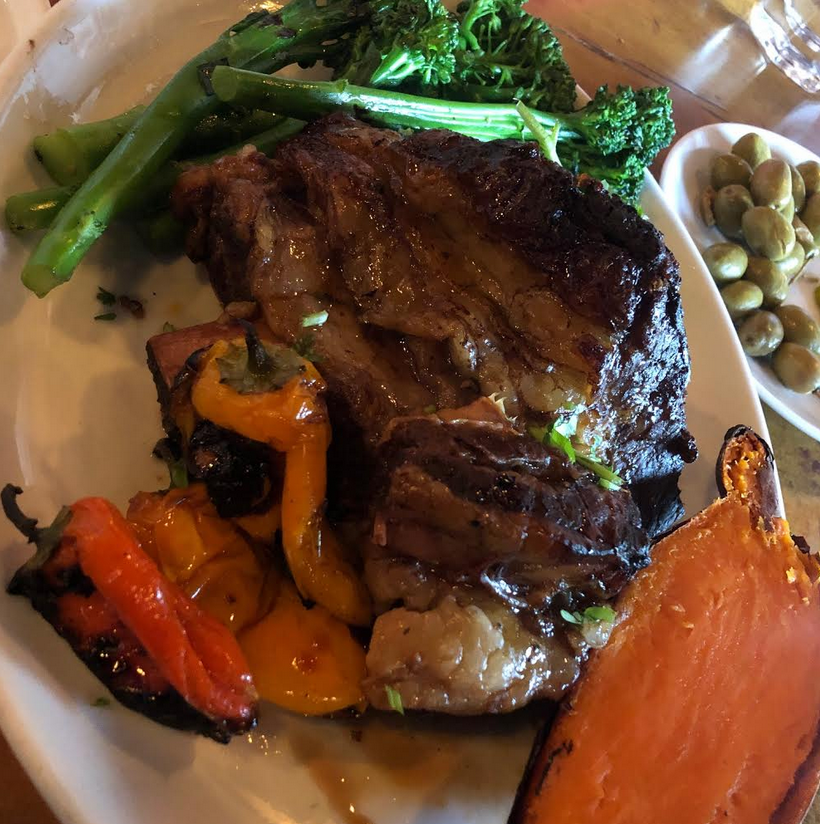 Dessert selections include such creative combinations as rosewater pistachio panna cotta malabi, halva tiramisu, filo-shredded pavlova alongside the usual suspects of lava cake, apple crumble and more.
The drinks menu is small-but-innovative and includes offerings of gin muddled with cucumber and activated charcoal (naturally), strawberry basil vodka, a lychee and elderberry-infused vodka+lime as well as a rum + blood orange concoction served with a smoking rosemary sprig.
The wines are all Israeli and a small but unique selection. The Shiloh Shiraz is light without being sweet, and the Ma Maison champagne is dry enough to not be cloying. If you are a kosher foodie and find yourself in Los Angeles, Charcoal is not to be missed.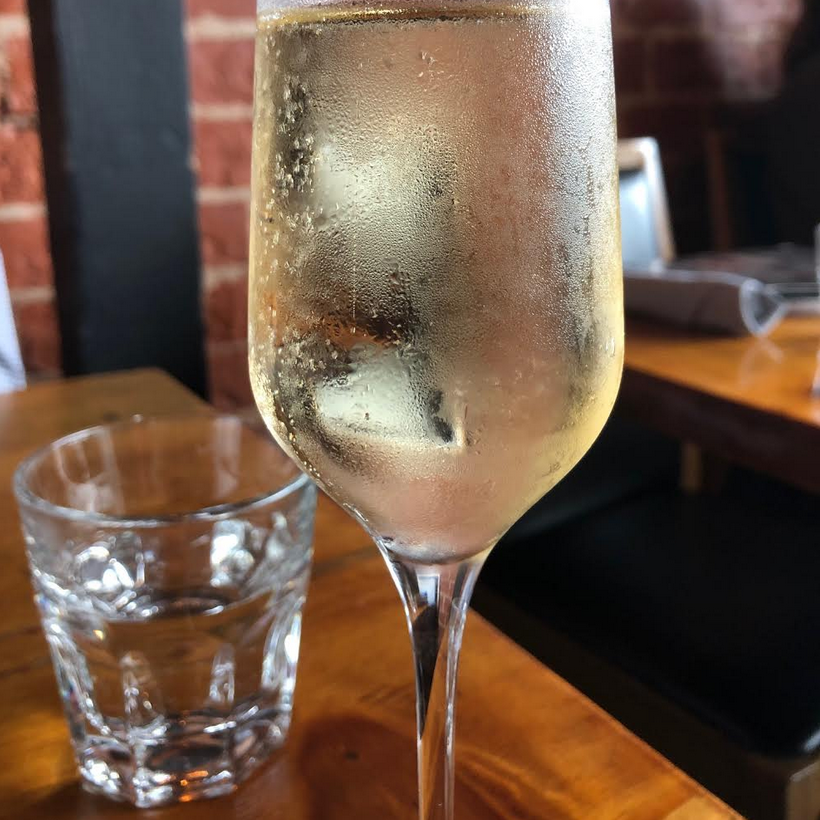 If you found this content meaningful and want to help further our mission through our Keter, Makom, and Tikun branches, please consider becoming a Change Maker today.