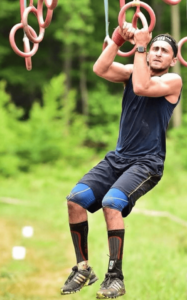 Since 2004, obstacle-course racing (OCR) has exploded in popularity with an estimated 7 million participants in 30 countries pushing human limits as they carry rocks, climb under barbed wire, throw spears, and do burpees on courses up to 30 miles long! It's the perfect setting for a nice Orthodox Jewish young man from Miami Beach, named Michael Neuman.
When Neuman is not covered in mud or climbing ropes on one of the Spartan races (a type of OCR) he is crushing, he can be found practicing psychotherapy. Recently he became the first Orthodox Jew to podium in a Spartan race. As Neuman was moving up the ranks in the sport of OCR, he got the call to compete in the Super Bowl of OCR competition, Lebron James' new CBS show, Million Dollar Mile. "It's not everyday that you see an Orthodox athlete especially at this level."
The premise of the show is that contestants run a mile through an obstacle course on the streets of LA while a professional athlete chases them. "If they catch you, you lose everything, [but] if you beat them, you win [up to] a million dollars." The opportunity was perfect for the athletic Neuman, who had been waiting for such an event. "I went on to make a kiddush Hashem." He was inspired to start training after hearing a Holocaust survivor speak three years ago, mentioning the new wave of anti-semitism that has been erupting. "She said, 'speak up and make a kiddush Hashem…' I went on with my yarmulke. You go in with a smile and show Jews and especially kids that you can be strong and proud."
"I'd never been able to be an [organized sports] athlete because all the leagues are on Saturdays." Instead, Neuman focused "on other meaningful things. I'm a psychotherapist and I use active psychology and movement to apply psychological interventions more effectively." After growing up in a loving frum home, Neuman went to Yeshiva before studying Psychology. "My family is extraordinary and accepting of their kids and their life missions." The community surrounding Bauman has also been very supportive. "Everyone is overall very excited to see this…We all have to do our part in the world. Hashem sent me this weird experience. It's pretty extraordinary."
The participants that Neuman has met at races may look at him askance at first, but then "at the end of the race, we're all hugging, smiling and… becoming friends." It is a time where Neuman gets to create a new image of who an Orthodox Jew can be. "I'll be on the start line and I'll feel everyone staring. It must be odd for them to see it. It's a good thing to break down the stereotypes. [They say,] 'I didn't know that Orthodox Jews could do this stuff.' I'm doing what the Holocaust Survivor said. I'm speaking up in this way."
While athleticism is just one way to make a stand for Jews in a positive way, Neuman is encouraging of anyone creating a positive influence while being proudly Jewish. "Anti-Semitism is unfortunately flourishing, but we're not going away or laying down. We have opportunities like this to speak out against stereotypes and prejudice." Neuman is especially excited for children to take this imspiration and literally run with it. "It's an incredible sport for kids to get into because it teaches you a parable for life. When there's an obstacle in front of you, what do you do? For a kid, there's a wall in front of you, do you try to get over? Sometimes you don't. but the next time, you try again."
Neuman knows this firsthand. "It really does teach you not to quit. I've vomited in many races." But he doesn't give up, despite any setbacks. "I give it my all. I've learned that the race that I've won at, I was talking to Hashem. I thought I had lost. I said, this is the position you're in, let's give it everything you have." Neuman's faith gives him "drive to continue to move forward." Especially in that moment where all hope seems lost. "You have to do it with simchas hachaim. This is where Hashem wants me to be. You can say, 'hey there's a purpose to this.' It's still hard, but it can be beautiful too."
To set your DVR, Million Dollar Mile airs on CBS this Motzaei Shabbos at 9pm. 
If you found this content meaningful and want to help further our mission through our Keter, Makom, and Tikun branches, please consider becoming a Change Maker today.