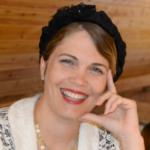 In the 1940's, Vered Ben Sa'adon's Dutch grandmothers grew up close to one another in terms of distance, yet were living worlds apart. As teenagers, one of them hid from the Nazis while the other aided them.
Like Anne Frank, her paternal grandmother, Liesje de Vries, not only lived in hiding for years, she also wrote a diary. (When Ben Sa'adon was twelve, she received it from her grandmother.) After the war, Liesje married another survivor, and they had two sons before her husband passed away, including Ben Sa'adon's father.
Ben Sa'adon's grandmother remarried, this time to a Dutch non-Jewish widower, who had a daughter from a previous marriage (Ben Sa'adon's mom). Liesje's son fell in love with his non-Jewish stepsister, Els. They married, and Els began to get interested in Judaism, bringing her husband along to observance. The family left Amsterdam and moved to Jerusalem with their two small daughters (one of whom was Vered Ben Sa'adon), who were converted alongside their mother.
While Ben Sa'adon doesn't have many memories of not being Jewish or living in Amsterdam, she recalls when her painful background came to the forefront on a trip to Holland, where her family researched their history. Her mother discovered that not only did her uncle collaborate with the Nazis, but her mother (Ben a'adono's grandmother) did as well. Ben Sa'adon was proud of her mother for having the courage to research the family history without blaming herself. "Of course I know that I choose to be a Jew…That's the best Jewish answer we could give. I'm sure that if my grandmother was alive, that would have been her nightmare, but that's the best we can do. Hashem is doing everything around us, and of course, that's a part of it…I didn't choose the story. The story chose me, but maybe there is a reason…I know it's not [just] the story of the Ben Sa'adons, it's the story of the Jewish nation, of the Jewish people."
Today Ben Sa'adon lives with her husband and five children in Samaria where they run the Tura Estate Winery. If Ben Sa'adon's past is thorny, her present life is too. "Living in Samaria and being a Jew is not an easy combination." She has made peace with it, though, and knows that just like the State of Israel was born from the Holocaust, with the current struggle, something good will come in the future. She has unfortunately seen friends killed and lives daily with the tension and fear of life over the Green Line. "We love living where the vineyards are located. We are surrounded by struggle, but in the end there is a reason. Why we live here is because we love the land of Israel. I chose it, but it's a part of me. I can't imagine a non-Jewish Vered. I'm a proud Jew and a proud Israeli citizen."
Ben Sa'adon does not just hail from an unusual past, her career is atypical as well, as there are very few religious female winemakers. For generations women concentrated on their families as their husbands managed the vineyards. Now that is changing. "While it's still complicated to do this while raising my children, I have a lot of [pride]. I feel its important that women can have an influence over our lives." Ben Sa'adon and her husband decided to grow grapes in an effort to help settle the land. They started selling the grapes but they found resistance because of where the grapes were grown, so instead they began bottling their own wine. They now produce more than 100,000 bottles a year worldwide: in the New York/New Jersey area, California and Florida, Hong Kong, Uruguay and Panama.
"Samaria was known for having the best wines in Israel 2,000 years ago. In the Gemara, it is written that the wine from here was taken to the Temple in Jerusalem." When the country was taken over by other leadership, the wineries were destroyed and went fallow. "Yirmiyahu said, when the Jews went to Rome during the exile, '…The Jewish people will come back to their land and again plant vineyards and make wine.' We have an honor to be a part of it." They have since won more than 50 awards from around the world in blind tests to avoid the bias of anti-Israel politics.
While Ben Sa'adon's life reads something like a prophecy, her attitude is one of humble hopefulness. "I feel every day like it's a miracle." The beauty of their life, the success of the wine, all feels beyond the natural to her. "I can see people that came especially to Tura from so far away…every story that we're hearing, every conversation that we have with people is a miracle." The benefits of living in the Shomron surpass the dangers of living there. Ben Sa'adon refuses to let fear be a part of it. "I'm proud to be an ambassador of Samaria and of Israel."
If you found this content meaningful and want to help further our mission through our Keter, Makom, and Tikun branches, please consider becoming a Change Maker today.