While Hasidic women are commonly seen pushing children filled strollers, some of them, like Chumi Borenstein, push themselves to great heights on bikes to help sick children in need. Bike 4 Chai, perhaps the biggest biking fundraiser in the Tri-State Area, is taking place today and tomorrow, raising millions of dollars and increased awareness for children battling cancer and other serious diseases. With over $9.6 Million raised so far for this year's event, the Chai Lifeline Bike-a-thon is known for rallying together Orthodox Jewish men and boys from all over the world. They run the gamut from Modern Orthodox to Yeshivish to Hasidic, and all are there for the purpose of riding 180 miles through New Jersey, Pennsylvania and New York over two days. Its sister event, Tour de Simcha, unites Orthodox Jewish women with a similar goal. The latest incarnation of Tour de Simcha raised over $1.2 Million for Camp Simcha, a summer camp for families needing a respite from their struggles with childhood illness.
While her husband was all for her participation, some of his family was uncertain about it. Due to stringencies within the Hasidic community in which Borenstein lives, there was a similar reaction when she started to drive a car. "There were just a few people that we didn't tell until they found out. We just didn't want to [take] any risk. Biking is the same thing…the way I dress when I bike may not be what people approve of. People are worried that you can't be fully tznius while you're biking, but that's not true."
Borenstein rides with leggings and a skirt, and has never had an issue with tznius or mobility when she rides. Aside from her husband's positive response, many of her friends were inspired to get on the bike too. Additionally, she has received a lot of positive feedback in her fundraising efforts. "For all the negative there has been double positive." While she picked and chose very carefully to whom she campaigned, it has become easier. "I don't like asking people for things. I keep it between me and my friends. I reached out to my father's community…There's much more support over there. I reach out to where I know there is support."
That accepting community where Borenstein grew up is in Glasgow, Scotland, where her father was the rabbi and she grew up surrounded by all kinds of Jews. When she married her husband, she moved to Boro Park. "My parents are from Manchester. At the time the Glasgow Kollel had the best offer for him so they moved up there…with the idea that they would go for a couple of years and then move back to Manchester." A year after they moved there, the shul there need a chazzan and he moved into that role and eventually the role of rabbi. That was 27 years ago. Borenstein grew up with an open mind about athleticism. "Anything that was acceptable was fine so long as we were tznius at the same time." Even in her current community, she sees a more open-minded change occurring for the good. "Boro Park has definitely changed. People are accepting more and the younger crowds are not so boxed in." In terms of the youngest crowd, Borenstein gets great support from her children. "My son is five. He thinks its great. He tells all his teachers 'my mommy bikes…' he's my little supporter."
Last year, Borenstein was able to ride 50 out of the 75 miles and his hoping to go further each time she participates. Borenstein is thrilled to be a part of something that brings together Orthodox women from all different communities and viewpoints. "It's a big mix of people involved: [Sefardim from] Deal, a lot of Lakewood Yeshivish ladies. It's a really big mix." With that diversity comes differences in the attire they wear to bike as well. "You'll have loads of people with tichels and 3/4 sleeves as people with shorts and short sleeved t-shirts." The feeling of achdus, togetherness, that comes from the experience is the highlight of the event. "You'll ride along next to someone. It doesn't matter to you if they're Hasidish or Yeshivish or not frum at all. We're all doing something for the same cause and we're all in it together. When it comes to that, labels and tags…it doesn't make a difference."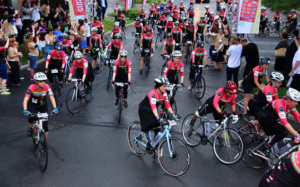 The experience has given her a deeper appreciation for all kinds of Jews. "At the end of the day, whatever you are, there's always something you're working on. There's always something you're trying to get better at, to change, to do something for yourself. Everyone has their own life, whether it's easy or hard, we're all tackling something."
If you found this content meaningful and want to help further our mission through our Keter, Makom, and Tikun branches, please consider becoming a Change Maker today.