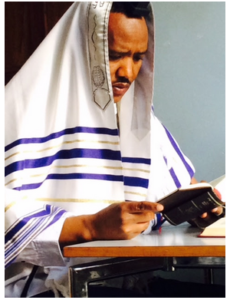 When you conjure up Mount Kilimanjaro and the Serengheti desert, it's hard to picture a Jewish community residing nearby. And yet, there they are – the Mayanot Yehudim (Mayahudim) community of Arusha, Tanzania. Not only are they 70-people strong, their leader, Peres Parpaih, is so committed to guiding the kehilla in Torah-true ways, that he learns six days a week with Rabbi Yerachmiel Landy of Passaic, New Jersey.
While Parpaih lives in the Arusha Province, about 75 miles from the Kenyan border, his Jewish community is surrounded by Muslims and Christian missionaries. It has been there for generations, as the current population are descendants of Yemenite and Moroccan Jews who moved there in the 1800's.
The two custodians of the community since Peres was young were Peres' father and a scholar who taught Torah. But then Peres' father passed away, and the Torah teacher silently sold his farm and disappeared. Without their longtime leaders, a Torah (destroyed in the 1970s in fights between the Christian evangelicals and the Jewish community), or a synagogue (nationalized and turned into a church), they were at a loss as to how to continue. Parpaih had a vision, faith, a deep-seated commitment to his community, conviction to move it forward, and a visceral need to learn.
An attorney and professor in the local university, Parpaih had some Jewish education, but he felt limited. He reached out to Partners in Torah to find a mentor who could guide him in his role as leader of the Jewish community of Arusha. Parpaih and his study partner, Rabbi Yerachmiel Landy, only skip their regular learning on Shabbos. Otherwise their daily learning seder consists of Jewish law, parsha, Midrash, and Hebrew. "I am now stronger and more confident in my knowledge," explains Parpaih. "When I teach, I am assured that I am teaching the right thing." Rabbi Landy is planning a trip to visit Parpaih and his community, and his visit is eagerly awaited. "It will be great when he comes! We will be so honored! We have no rabbis in our community; I am the [only] Rabbi in my community."
With three young daughters, ages 2, 7 and 10 Parpaih has some concern about where they will get their Jewish education and eventually find husbands. Some members of the community have relocated to Israel, but Parpaih himself isn't going anytime soon. "The community here needs us; they are not very well educated. They're scared of immigrating, so we try to develop them here; we try to strengthen them where they are. As leader of the community, I can't leave. They will have no one." While this would be a claustrophobic situation for most people, for Parpaih, he accepts it as his mission and purpose. Despite any feelings of apprehension or fear, he instead meets it with rock-solid faith. "I read the Midrash so I have no fear. Joseph and Abraham had no fear, so I don't either."
Parpaih and his community may be isolated physically, but they are certainly connected spiritually. With his connection to Rabbi Landy and a daily seder to aid him, he is never far from the the greater kehilla of committed Jews around the world. "We love the worldwide Jewish community, and we will return home – to Israel – when the time is right."
To learn how you can get a Parter in Torah, click here.
If you found this content meaningful and want to help further our mission through our Keter, Makom, and Tikun branches, please consider becoming a Change Maker today.