Growing up as non-observant Jews, we ate whatever we wanted. And we loved our treif food. Bacon, veal parmesan, shrimp cocktail, and even escargot were part of our repertoire. When I started believing in God and Torah in my teens, one by one, I kissed those delicacies goodbye.
I was determined to live up to my new values, but my love of treif tastes never ended. I remember laying in bed one night shortly after I had become fully kosher, attempting to taste the foods in my mind that my mouth could no longer eat. I made a deal with Hashem that there better be something greater than a bacon cheeseburger when I got to heaven.
But then I got an idea – why wait for the World to Come to indulge in my favorite flavors? Why not bring heaven down to earth? And so I began to recreate my favorite non-kosher dishes with kosher ingredients. Soy meat and bacon were easy sub-ins for numerous childhood favorites. Pollock was a great replacement for shrimp. But then one day a few years ago while eating an amazing New England fish chowder at a local kosher restaurant, it hit me that maybe "oyster" mushrooms could replace clams. New England Clam Chowder had been a comfort food growing up and while a cod or halibut give an incredible fish flavor and some chewiness, I was pretty sure that King Oyster mushrooms would be the perfect clam replica. I finally tested my theory and my first bite was so good, the little treif-eating Jewish girl inside cried some happy tears into my chowder.
This post is sponsored by Kosher Catch, Southern New England's only exclusive source for fresh locally caught Kosher Fish, which also delivers throughout the Tri-State Area.
Yield: Makes about 14 cups; serves 8 as a main course
Equipment: A 4- to 6-quart heavy pot with a lid, a slotted spoon, a wooden spoon, and a ladle.
Ingredients: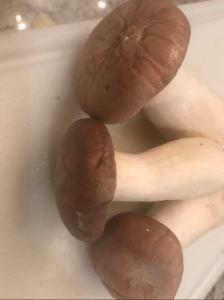 4 ounces soy bacon
1 stick + 2 tablespoons unsalted butter
2 medium onions (14 ounces), cut into 3/4-inch dice
6 to 8 sprigs fresh summer savory or thyme, leaves removed and chopped (1 tablespoon)
2 dried bay leaves
2 pounds Yukon Gold, Maine, PEI, or other all-purpose potatoes, peeled and sliced 1/3-inch thick
5 cups Strong Fish Stock, Traditional Fish Stock, or water
Kosher or sea salt and freshly ground black pepper
3 pounds skinless cod fillets, preferably over 1 inch thick, pinbones removed
2 cups heavy cream
6 king oyster mushrooms
For garnish: 2 tablespoons minced fresh chives
Preparation:
1.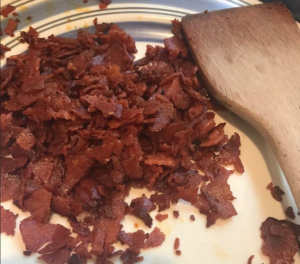 Heat a 4- to 6-quart heavy pot over low heat. Soy bacon is crumbled into bits and sautéed in 2 T of butter until crispy but not burnt. Once bacon is crispy, throw in the rest of the stick of butter to create the "pork rind drippings" the real recipe calls for and cook until butter melts. Use a slotted spoon to transfer the cracklings to another dish to reserve for later, leaving the butter and "bacon" flavor in the pot.
2. Add the onions, savory or thyme, and bay leaves to the pot and sauté, stirring occasionally with a wooden spoon, for about 8 minutes, until the onions and softened but not browned.
3.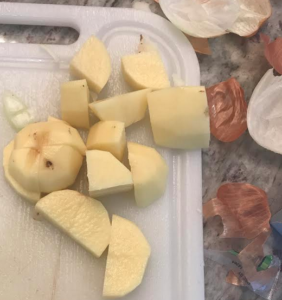 Add the potatoes and stock. If the stock doesn't over the potatoes, add just enough water to cover them. Turn up the heat and bring to a boil, cover, and cook the potatoes vigorously for about 10 minutes, until they are soft on the outside but still firm in the center. If the stock hasn't thickened lightly, smash a few of the potato slices against the side of the pot and cook for a minute or two longer to release their starch. Reduce the heat to low and season assertively with salt and pepper (you want to almost overseason the chowder at this point to avoid having to stir it much once the fish is added). Add the fish fillets and cook over low heat for 5 minutes, then remove the pot from the heat and allow the chowder to sit for 10 minutes (the fish will finish cooking during this time).
4. Gently stir in the cream and taste for salt and pepper. Once the cream is stirred in, take 6 king oyster mushrooms. Dice them into bite sized pieces and sauté in butter until they soften and get chewy. Throw them into the soup.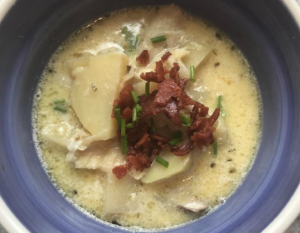 If you are not serving the chowder within the hour, let it cool a bit, then refrigerate; cover the chowder after it has chilled completely. Otherwise, let it sit for up to an hour at room temperature, allowing the flavors to meld. When ready to serve, reheat the chowder over low heat; don't let it boil. Warm the soy bacon in a low oven (200 °F) for a few minutes. Use a slotted spoon to mound the chunks of fish, the onions, and potatoes in the center of large soup plates or shallow bowls, and ladle the creamy broth around. Scatter the soy bacon over the individual servings and finish each with a sprinkling of minced chives.
Based on the recipe: epicurious.com » New England Fish Chowder
If you found this content meaningful and want to help further our mission through our Keter, Makom, and Tikun branches, please consider becoming a Change Maker today.
If you found this content meaningful and want to help further our mission through our Keter, Makom, and Tikun branches, please consider becoming a Change Maker today.