Shavuos is a time to whip out all the dairy recipes. It's also a time to get creative with meal planning as it can be a lot of dairy meals. Try getting out of your comfort zones of pizza and pasta and try some new dishes…salads, quinoa, fish, spaghetti squash and don't forget about making a spectacular cheesecake!
xoxo,
Daniella
CANDIED CASHEW SALMON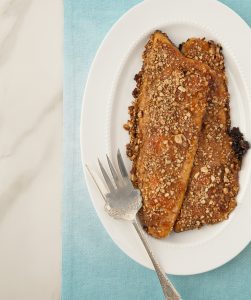 parve, Passover, gluten free, yields 6-8 servings
This is one of my new favorites to serve my company. Easy and elegant, the crunchy cashew topping adds an extra layer of richness to this flaky pink fish. As long as there aren't any nut allergies at the table, this is a guaranteed hit.
Ingredients
1 skinless boneless fillet of salmon or salmon trout (about 2 lb/1 kg)
kosher salt
freshly ground black pepper
3 Tbsp apricot jam
1 cup candied cashews (see Norene's Notes, below)
Method
Preheat oven to 425°F. Line a rimmed baking sheet with parchment paper.
Place salmon onto prepared baking sheet. Sprinkle generously with salt and pepper. Spread apricot jam evenly over salmon.
Using a food processor or mini prep, process cashews until coarsely chopped. Do not over-process. Sprinkle nuts over salmon.
Bake, uncovered, for 15-18 minutes, or until salmon flakes easily when pierced with a fork.
Norene's Notes:
Variation: Switch up the recipe by using different candied nuts (almonds, pecans, walnuts). They are available in many supermarkets. If not make your own, see below.
Candied Cashews: Combine ¼ cup water and 1 cup sugar in a medium saucepan. Bring to a boil over medium heat. Stir in 3 cups cashews, salted or unsalted. Cook, stirring often, until liquid has evaporated and nuts have turned a deep golden brown. Spread on a parchment-lined baking sheet. When cool, break apart any clusters. Store in an airtight container for up to 2 weeks or freeze. Also delicious as a topping for mashed sweet potatoes or squash, or when added to salads!
SPAGHETTI SQUASH LASAGNA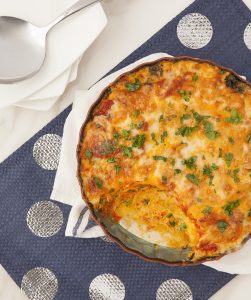 dairy, Passover, gluten-free, yields 6 servings
A simple comfort-food dish that's layered with creamy mozzarella, Cheddar, and Parmesan, it's easy to forget there's actually no pasta in this lasagna at all! This is a great dairy-based dish to serve for company, yet is easy enough for weeknight suppers. Perfect for Passover!
Ingredients
1 medium spaghetti squash (about 3 lb/1.4 kg)
2 cups marinara sauce
2 cups chopped fresh spinach
¼ lb/125 g mozzarella cheese, sliced
¾ cup grated Parmesan cheese
2 cups shredded Cheddar cheese
Method
Preheat oven to 350°F. Line a rimmed baking sheet with parchment paper.
Cut squash in half lengthwise; discard seeds and pulp. Place squash, cut-side down, on prepared baking sheet. Bake, uncovered, for 35-45 minutes, until tender.
Coat the bottom and sides of a 10-inch round glass or ceramic quiche dish with nonstick cooking spray.
Use a fork to separate squash strands. Place a layer of squash strands into prepared baking dish. Spoon on 1 cup of marinara sauce. Sprinkle with half the spinach and half the cheeses. Repeat with a second layer, ending with cheeses.
Bake, covered, for 30 minutes, until piping hot. Uncover; bake an additional 10 minutes, until golden.
Norene's Notes:
Using your Noodle: For short strands, cut spaghetti squash in half lengthwise. For long strands, cut it into 1-inch rings. Discard seeds and pulp. Place on baking sheet and bake, uncovered, for 35-45 minutes, until tender. Separate squash strands with a fork.
RASPBERRY SWIRL WHITE CHOCOLATE CHEESECAKE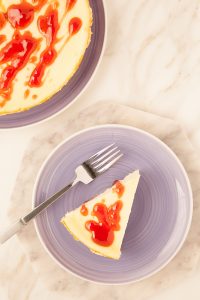 dairy, gluten-free option, freezes well, yields 12-15 servings
Understated and elegant, this easy, elegant cheesecake will take you by surprise. It's the perfect dessert to serve for Shavuot or Chanukah.
Crust
1½ cups ground graham crackers (regular or gluten free) (18- 24 crackers)
2 Tbsp brown sugar, lightly packed
⅓ cup melted butter
Filling/Topping
4 (8 oz/250 g) bars cream cheese, cut into chunks, (at room temperature)
1¼ cups sugar
3 Tbsp lemon juice (preferably fresh)
4 eggs
2 cups white chocolate chips, melted
½ cup strawberry or raspberry jam
Method
Preheat oven to 325°F. Coat bottom and sides of a 10-inch spring form pan with nonstick cooking spray.
Crust: In a medium bowl, combine crumbs with sugar and butter; mix well. Press crumb mixture evenly into prepared pan. Bake for 10 minutes, until golden.
In the bowl of an electric mixer or food processor, beat cream cheese and sugar until light. Add lemon juice and eggs; beat until smooth and creamy, scraping down sides of bowl as needed.
Fold in white chocolate. Pour batter over crust.
Fill a pie plate halfway with water and place on bottom rack in oven. Place cheesecake on middle rack. Bake for 45-55 minutes. When done, edges will be set, but the center 2 inches will jiggle slightly.
Turn off heat, prop oven door partially open with a wooden spoon, and let cheesecake cool in oven for about 45 minutes to finish baking and firm up.
Cover; refrigerate for several hours or overnight.
Shortly before serving, drizzle with heated jam.
Norene's Notes:
Variation: Prepare filling as directed. Omit crust. Line 24 muffin pan cups with paper liners. Place a chocolate wafer into each liner. Top with cheesecake mixture. Drop a teaspoonful of jam on top of each mini cheesecake; swirl with a toothpick. Bake in preheated 350°F oven for 10-12 minutes, until set. Garnish cooled cheesecakes with chocolate shavings.